Mobil 1 5W-30 Extended Performance Full Synthetic Motor Oil, 5 qt.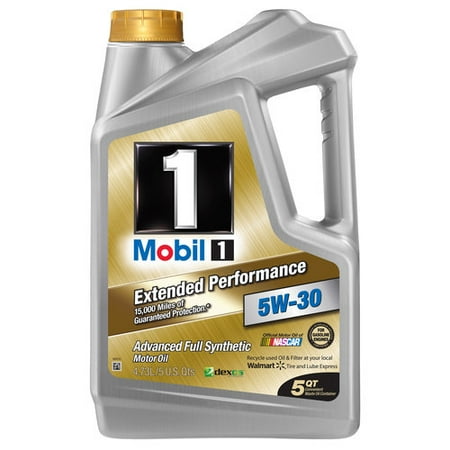 MSRP :

$61.99





Sale :

$29.98

Sold & shipped by Walmart
Product Description

Additional Information

Reviews
Product Description
Keep your enging running like new with the help of this Mobil 1 5W-30 Extended-Performance Full-Synthetic Motor Oil. It is an advanced full-synthetic engine oil that is designed to provide exceptional wear protection, cleaning power and overall performance. This Mobile 1 full-synthetic motor oil bottle will support your car through oil change after oil change, helping to enhance and extend your engine's life. Its enhanced frictional properties help deliver superb viscosity control. These, alongside its cold weather capabilities, help it to deliver stronger fuel economy for your vehicle. Mobil 1 meets or exceeds the requirements of the industry's toughest standards and outperforms conventional oils. Mobil 1 technology comes as standard equipment in many different vehicles, including select high-performance vehicles.
Additional Information

Mobil 1 Extended Performance 5W-30 Full Synthetic Motor Oil, 5 qt:
Advanced full-synthetic formula helps to prevent deposits and sludge build-up to enable long engine life
Excellent overall lubrication and wear protection performance under many operating conditions, from mild to severe
Precise balance of performance additives helps to provide outstanding engine protection at oil change intervals of up to 15,000 miles or 1 year, whichever comes first
Outstanding thermal and oxidation stability
Exceptional control of oil breakdown helps maintain stable oil viscosity
Helps to maintain long engine life and is compatible with engine seals
Excellent low-temperature capabilities
Quick cold weather starting for fast protection and extended engine life
Helps to provide less stress on your starting system
5-qt motor oil bottle
Reviews
jmigli01
Quality oil
I use this oil on my 2003 toyota tacoma 2.4 l motor every 15,000 miles. I have 140,000 on the truck I never had a problem
helphos
Quality oil
Mobil 1 is a great product. Makes my engine last much longer than other oils. Take off the front wheel to give yourself more room to drain the old oil. See pic
Commuter
Mobil 1 Extended Performance Synthetic - 5W30
i will start out by giving thanks to Walmart for their exceptional prices on synthetic motor oils, thank you! In my unbiased opinion I strongly believe there's no other synthetic motor oil out there that can trust like I do Mobil 1. Let's face the facts, this company has been developing and researching synthetics longer than any other company currently out there. That is why my 2007 Toyota Camry (newly purchased, first and only owner) has 342k miles on it, and still rides and feels like when I purchased in 2007. The dealership that I service my car in told me that Mobil 1 is very good stuff for engine protection. They also said it wouldn't surprise them if my engine goes over 500k without any engine damage or even terrible wear. I commute every day 200 miles and I'm not one bit worried that I will stuck on the side of the road do to engine failure. Thank you Mobil 1 for giving me the peace of mind of not having to worry about being stranded! Hope my review helps you decide which synthetic oil to put in your vehicle.
EdFromOhio1
Dexos1 approved! Better than paying dealer prices
I've changed oil in my cars myself for decades. We recently purchased a Chevy Cruze LT, and with GM's requirement for "Dexos approved oil" for their warranty, that put a surprising kink in things. It turns out that not many oils are Dexos approved. But this one is, plus it gives you confidence that it will last longer than the car thinks it can in case you do run it to where your car says to change it. That all being said, I think 15,000 miles is stretching it. My oil looks pretty dark after 5,000-6,000 miles, which is the interval I tend to change it. The car says it still has 50% oil life remaining, but it's cheap insurance to me to keep the oil fresh. My other car has 375,000 miles on it (and still going) and my previous car had 275,000 on it when I sold it. Both are 4-cylinder engines. I attribute that longevity to regular oil changes using quality oil & filters as well as keeping up on other routine maintenance.
07Honda
Prefer Pennzoil Ultra
I have used Mobil 1 Synthetic for years, and I recently used Mobil 1 Extended Performance. I honestly don't have any complaints about Mobile 1 EP. I have a 2007 Honda Accord 4 cylinder with 130,000+ miles. I have used Mobil 1 Synthetic 5w-20 for the first 125,000 miles, and then I used MB1 EP 5w-20 for one oil change between 125,000 and 130,000 miles. I honestly can't tell a difference between the two. However, at the 130,000 mark, I switched to Pennzoil Ultra in 5w-30 and I can honestly notice a difference for the better. With the Pennzoil Ultra, my engine is quieter and smoother. I can't tell you specifically if the reason that my engine is running better is because of the Pennzoil Ultra, or because I switched from 5w-20 to 5w-30, or perhaps both. All I can tell you is that I used to be a loyal Mobil 1 fan for over 20 years, and I have now switched to Pennzoil Ultra. I am going to use it in my 09 Toyota Rav4 Limited with 4 cylinder next, and will give an update at that time.