Mobil 1 5W-30 Extended Performance Full Synthetic Motor Oil, 1 qt.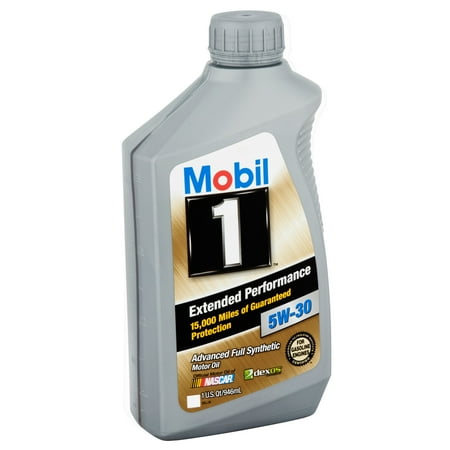 MSRP :

$87.54





Sale :

$9.16

Sold & shipped by Walmart
Product Description

Additional Information

Reviews
Product Description
Mobil 1 Extended Performance 5W-30 Full Synthetic Motor Oil provides outstanding engine protection.
Additional Information
Product Features
Extended performance
15,000 miles of guaranteed protection
Official motor oil of NASCAR®
Dexos® approved
For oil recycling information visit Earth911.com or call 1-800-CLEANUP
Packing - Recyclable
HDPE - 2
ExxonMobil Oil Corporation,
Fairfax, VA, 22037-0001.
mobil1.com
Copyright © 2013 ExxonMobil. All rights reserved. Mobil, Mobil 1, and the Pegasus are trademarks of Exxon Mobil Corporation or one of its subsidiaries. NASCAR® is a registered trademark of the National Association for Stock Car Auto Racing, Inc. Other trademarks and product names used herein are the property of their respective owners.
Reviews
Daniel60156
Still protects after 1 year in the engine
I have been using Mobil 1 since around 1980. I do my own oil changes, and since the Extended Performance came out, I change oil once per year per car (we only put around 10,000 miles per year on our cars), and I change the oil filter at 6 months. One thing I have always done is feel the oil after I change it, by putting some of the drained oil on my fingers and rubbing them together. This oil feels better after 10,000 miles than Standard crude oils do when new. I have never had a mechanical engine failure , ever.
AdrianJDM
Cannot beat M1 EP or any M1
This oil is truly remarkable. I have been using M1 products in my car ever since the first oil change-- I first used M1 SuperSyn, then M1 FullSyn and now the EP. All them are very good synthetic oils and hold up very well the passage of time. I personally use it on a 2014 Nissan Versa with a manual transmission and a 2011 Impala. The cars don't make any hesitation when turned off and then feel very smooth when driving. No oil loss and the oil is always clean. It is very good on this 110F Texas heat. In fact, I have used other oils that claim to be better than M1 (Balboline, replace B with a V) and I got a seized engine due to poor lubrication. Of course, this does not happen to everyone with that other oil, but it has not happened to me again with M1--and I drive these cars way too hard. Same driving habits I always have. Only complaint with this oil is that the bottle needs a better design in order to be poured easier. Other than that, Mobil, you guys are doing a fantastic job.
M1k3
258k miles and won't stop.
I purchased my '05 Corolla with 18k miles on it in 2007. I've used Mobil 1 Extended Performance 5W-30 since then. My engine still purrs at 258k miles as of March 2018. I have seen a small reduction in performance and fuel mileage in that time frame, but that is to be expected. My engine does not burn oil. I just wish the car would go bad so I can upgrade to something more roomy! Corolla recommended oil change is ever 5k miles. I do the oil changes myself. I change my oil filter every 5-7k miles. I change my oil every 10-16k miles.
578728
This synthetic oil is amazing !
Instant Satisfaction! I made the switch to Mobil 1 Synthetic Oil in my 1987 IROC-Z Z-28 Camaro 5.7 Litre w/55kmi. First time out with the new oil & filter, it felt like I was gliding down the the road. It was an amazing difference. Not only was I smiling, my motor was too!
chuck
This synthetic oil is amazing !
have been a mobil 1 user since early 1970's . currently using high mileage mobil 1 on 04 camry with 140,000 on clock started life using regular mobil 1 . have a 2011 expedition using 5w30 extended life since first oil change & pull a 7,200 lb boat from n. illinois to so. fla. & back . the camry still gets 40 mpg on the highway which I think is helped by mobil 1. I'm a true believer of mobil 1. & will continue to use.