Mobil 1 5W-30 Extended Performance Full Synthetic Motor Oil, 1 qt.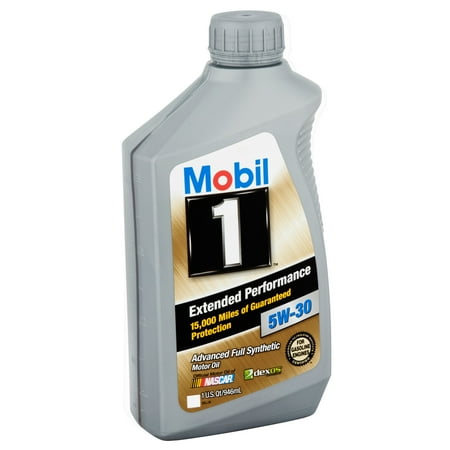 MSRP :

$87.54





Sale :

$9.16

Sold & shipped by Walmart
Product Description

Additional Information

Reviews
Product Description
Mobil 1 Extended Performance 5W-30 Full Synthetic Motor Oil provides outstanding engine protection.
Additional Information
Product Features
Extended performance
15,000 miles of guaranteed protection
Official motor oil of NASCAR®
Dexos® approved
For oil recycling information visit Earth911.com or call 1-800-CLEANUP
Packing - Recyclable
HDPE - 2
ExxonMobil Oil Corporation,
Fairfax, VA, 22037-0001.
mobil1.com
Copyright © 2013 ExxonMobil. All rights reserved. Mobil, Mobil 1, and the Pegasus are trademarks of Exxon Mobil Corporation or one of its subsidiaries. NASCAR® is a registered trademark of the National Association for Stock Car Auto Racing, Inc. Other trademarks and product names used herein are the property of their respective owners.
Reviews
Beekley1977
Short
I usually use amsoil products but couldn't get it this time and was already past due on this service. So I figured I would try mobile one. Bought the 20,000 mile 5 quart jug of oil and the matching 20,000 mile filter. Performed the oil change and filled it up with oil. I poured In 4.5 gallons of your 5 quart jug and my car was still way low. Finished pouring in the rest and it was still low!!!!!! The car is a Nissan rogue with a 2.4 liter 4 cylinder engine that only holds 4.8 quarts of oil!!!!!!!!!!!!!!! I have owned this car for 3 years and this sure isn't my first oil change on this car or in my life. Been a professional mechanic for 23 years. Had to go a buy a couple more quarts of your oil. What's up with that. Probably wont use your products again after this. Unless you feel the need to make it right which I am highly doubtful you will.
AdrianJDM
Cannot beat M1 EP or any M1
This oil is truly remarkable. I have been using M1 products in my car ever since the first oil change-- I first used M1 SuperSyn, then M1 FullSyn and now the EP. All them are very good synthetic oils and hold up very well the passage of time. I personally use it on a 2014 Nissan Versa with a manual transmission and a 2011 Impala. The cars don't make any hesitation when turned off and then feel very smooth when driving. No oil loss and the oil is always clean. It is very good on this 110F Texas heat. In fact, I have used other oils that claim to be better than M1 (Balboline, replace B with a V) and I got a seized engine due to poor lubrication. Of course, this does not happen to everyone with that other oil, but it has not happened to me again with M1--and I drive these cars way too hard. Same driving habits I always have. Only complaint with this oil is that the bottle needs a better design in order to be poured easier. Other than that, Mobil, you guys are doing a fantastic job.
tsm925
Really 15k interval . you can believe.
Using currently in my 2017 Nissan Titan. So far changed twice at 15k. Oil looked VERY close to new both times. NOT dark at all. I am a used car dealer.... I know what dirty oil looks like. My truck was towing a heavy RV trailer (7500 LBS) about 3rd of time. Also I bumped up viscosity to 5w30 Not a big fan of CAFE guidelines telling me what's better for MPG. I almost went 10w30. I have been pairing this with "Purolator" BOSS oil filter. and feel very confident about this oil for my truck. Love the 15k interval and the feeling you have the "BEST" oil on the market in your truck. Will continue to use. Little pricey yes. But saves with the interval.
SoDak199125
Did not last longer than 5,500 miles.
1 have a 165,000 miles on my 2001 Chevy Impala LS with a 3.8L and had to change the oil after 5,100 miles. I used the 5W-30 Mobil 1 Extended Performance oil with the M1-101 Mobil 1 extended performance filter. I understand oil filters are not designed to filter oil up to 15,000 miles even the Mobil 1 Extended Performance filter. The oil claims to protect up to 15,000 miles which I would never use oil up to that extent. I however I was hoping to get at least 8,000-10,000 miles out of one oil change. The oil got black after the 5,000 mile mark. My engine is in 100% working condition and have not had any serious engine issues, but rather the typical fixes of head gaskets and ect due to age. Also I use to change my oil every 3 months even if it didn't reach the mark of 3,000 miles with regular 5W-30 oil. Overall I rate this oil as a 2* being it was not able to reach at least 8,000 miles on one change for a "Full Synthetic Oil".
Jackzcg
Did not last longer than 5,500 miles.
How to tell true from false about. Mobil 1™ Extended Performance 5W-30?Can. you. tell. me