Mobil 1 Extended Performance Advanced Full Synthetic 5W-20 Motor Oil, 5 qts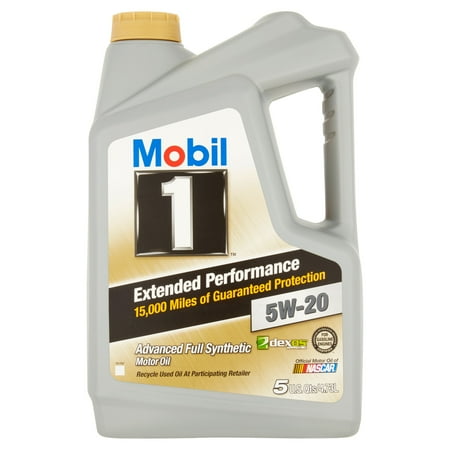 MSRP :

$28.68





Sale :

$25.47

Sold & shipped by Walmart
Product Description

Additional Information

Reviews
Product Description
Extended Performance Advanced Full Synthetic 5W-20 Motor OilMobil 1 Extended performance keeps your engine running like new and provides protection for up to 15,000 miles between oil changes.Mobil 1 advanced protection delivers outstanding performance:Chosen by over half of all Nascar® teamsThe Official Motor Oil of Nascar®Chosen for factory fill by many of the world's leading auto manufacturersThe World's Leading Synthetic Motor Oil Brand
Additional Information
Product Features
15,000 miles of guaranteed protection
Dexos approved
Certified American Petroleum Institute - For gasoline engines
Official motor oil of Nascar
Limited Warranty**
**For more information on the Mobil 1 Limited Warranty visit us at mobil1.com
Packing - Recyclable
Recycle used oil at participating retailer
HDPE - 2
ExxonMobil Oil Corporation,
Spring, TX, 77389.
mobil1.com
Copyright © 2014 ExxonMobil. All rights reserved. All trademark used herein are trademarks or registered trademarks of Exxon Mobil Corporation or one of its subsidiaries unless indicated otherwise. Nascar® is a registered trademark of the National Association for Stock Car Auto Racing, Inc.
Reviews
MercuryV8
The BEST for LESS !!!
Mobil 1 has been the best motor oil out there for many years -- and the new "Extended Performance" formula has made it even better! Walmart's price on the 5-Quart jug makes this an outstanding value on this hard-to-find, top-quality engine lubricant. Exceptional performance is demonstrated by the oil's ability to maintain it's viscosity under the high tempertures and loads associated with mountainous driving and/or desert crossings. My Mercury Grand Marquis restoration project has over 120,000 miles on the clock, and with the 5-W-20 Mobil E.P. formula in the engine, the fuel mileage has been outstanding for an American V-8, while the oil pressures and the oil consumption rates are outstanding, as well. I've found that changing the Oil Filter every 5,000 miles and changing the oil once-a-year (regardless of miles traveled) is the best and most economical oil change program for my driving conditions -- which include city traffic, mountain touring, and trans-desert juants between Phoenix and Southern California. The Wal-Mart PRICE on the 5-Quart jug makes this the deal that can't be beat !!
Francis
The BEST for LESS !!!
Gear choice if your lazy and you change your own oil. Rather than chaging your oil ever 3,000 you can change it at 12,000 or 15,000 miles and still be fine.
Merlin
Great product
I've been using Mobil 1 for about 30 years in an assortment of vehicles. I'm currently using Mobil 1 extended service 5W20 in a 2014 Ford Taurus with excellent results. I've just in the past few months purchased a 2018 Buick Enclave with direct injection. We know what issues are going to develop with regard to sludge buildup on the intake valves with this system which will cause poor gas mileage and poor performance. We know that frequent maintenance is required without which an expensive manual cleaning will be required at some point. One thing that is helpful in terms of preventive maintenance is to use an oil with low Noack Volatility numbers. Unfortunately, this information is near impossible to get from most manufacturers. However, there are two manufacturers of Grade V engine oil that I know of that publish the Noack Volatility numbers on their website. Both show Noack numbers under seven which is great.
carnut66
Very good value
Purchasing Mobil 1 at Walmart is a very good value. They have the lowest prices around for this oil.
Elitelimousineplus
Simply Great product
I drive for living in NYC (black car service) , average daily driving is 200 miles, and mostly stop and go . I needed a reliable and good oil which will last me longer and will protect the engine as well . Although it says to be good till 15000 miles between oil change , I do it at 8000 miles because there is lots of idle and engine is old (over 150k miles ) on it . This will definitely be my choice for all of my cars .