Mobil 1 5W-30 High Mileage Full Synthetic Motor Oil, 5 qt.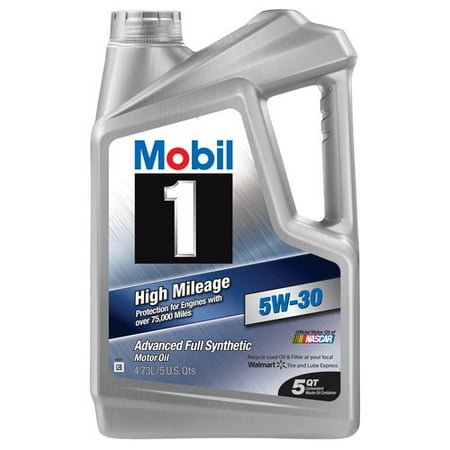 MSRP :

$56.56





Sale :

$26.68

Sold & shipped by Walmart
Product Description

Additional Information

Reviews
Product Description
Additional Information
Mobil 1 5W-30 High Mileage Full Synthetic Motor Oil, 5 quart:
Made with a proprietary blend of high-performance synthetic basestocks fortified with an additive system
Especially recommended for high mileage vehicles that have used lower quality conventional oils
Advanced full synthetic formula provides excellent overall lubrication and wear protection for your vehicle
Extra anti-wear additive helps to protect critical engine parts in higher mileage engines
Extra cleaning additive helps to reduce the sludge and deposits that conventional oils can leave behind
Also contains a seal conditioner that helps to prevent leaks
Helps maintain fuel economy (specific grades/viscosities)
Excellent high-and low-temperature performance
Outperforms other conventional oils
Bottle contains 5 quart of Mobil 1 motor oil
Reviews
72trucken
Good oil
Oil is the lifeblood of the engin , why not use the best
Guitartec
Oy Vay.... another review on oil
I get oil! I have read everything there is to read on it and seen every video on utube on it. All I can say is I've used cheap oils and I've used expensive oils, I've use single viscocity non-detergents to multi grades with excellent detergent packages, I've had endless conversations about oil, oil additives and oil coolers. I ALWAYS get huge miles out of my engines (300k or more) no matter what brand oil I've used. The one thing I can definitely say is; since 1978, I've NEVER had an oil-related engine failure or big leak. The key is to PAY attention to your engine and oil and do regular changes with a decent oil filter, like a Pure One Purolator. Try not to use Fram oil filters and ultra-cheap oils and sit in long traffic jams every day and you'll be okay, I promise (unless you drive like a chimp). If you have a car you love, use Mobil One. If you have a beater or an engine with leaks or extensive blow-by, use a decent High Mileage conventional or non-conventional oil to cut consumption. JUST PAY ATTENTION AND YOU'LL BE OKAY... HONEST!
irisheyes1520
The One and Only
I have used Mobil 1 on my 2002 Camry since its first oil change. I now have over 200,000 miles on the car and she still runs like new. I now use the 5W30 high milage Mobil 1, the oil is changed every 5000 miles. I have never had any oil leaks and never had to add any oil between changes. This is the only oil I would ever use on any of my cars.
Leakyseals
Mobil 1 full syn on steroids
De-sludged and solved my leaks after 2 oil changes. At 300k my old betsy runs like new. Quiet as a mouse, no ticks! I also use a quart as topoff preventative maintenance on my newer vehicles for the seals and keeping them clean. The proof is on the dipstick. After 2 oil changes the brown varnish will be gone! after a couple of short (5k) oil changes this oil is good for 7-10k oil change intervals.
2007v50
Stopped oil consumption on the second oil change
My Volvo used to consume 1 qt of oil between changes when using regular Mobil 1 5W-30 synthetic. Oil consumption was reduced to minimum after changed twice with the high mileage type.