Lysol Multi-Purpose Scrubber Sponge, 9 count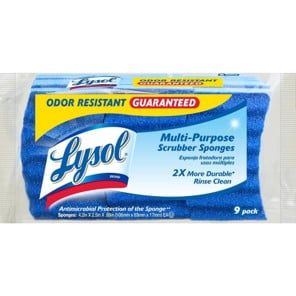 Sale :

$7.48

Sold & shipped by Walmart
Product Description

Additional Information

Reviews
Product Description
The Lysol Antimicrobial Multi-Purpose Scrubber Sponges will have your living space looking neat and tidy in no time. They are designed with a vibrant blue color that is easy to spot when it is time to start cleaning up. This nine-count pack of Lysol scrubber sponges is strong and durable and has been treated with a solution that inhibits the growth of odor-causing bacteria and mold. These Lysol Antimicrobial Multi-Purpose Scrubber Sponges are suitable for use on most household surfaces. They do not leave any scratches or abrasions on surfaces while cleaning them. They are simple to rinse out when your work is done. Use them to pre-clean dishes, platters, silverware, counter tops, sinks and more.
Additional Information
Lysol Antimicrobial Multi-Purpose Scrubber Sponges:No-scratchEasy-rinse scrubberInhibits growth of odor-causing bacteriaAll-purpose spongesLysol scrubber sponge is safe on most household surfacesAntimicrobial protection4.2" x 2.5" x 0.9"Each pack comes with nine Lysol multi-purpose scrubber spongesIdeal for use on dishes, platters, silverware, counter tops, sinks, tiled surfaces and more
Reviews
Emajina
WASH THEM!!
I have used sooo many different kinds of sponges and they are not cheap for the most part. I love sponges but like to change them often because others harbor germs and smell so quickly. And if it smells then it is corroded with bacteria..it is bacteria that causes stink always. I do not like waste and will always try to find uses for even sponges I no longer use in the kitchen. When I put a new sponge out I always throw the one I am replacing into the white clothes in the washing machine and clean it well. If it is a decent sponge it may hold up to the washer and I will use it for some duty in the garage because frankly most do not hold up well with constant use in the kitchen much less the washer and reuse. THESE SPONGES wash excellently and do not deterioate what so ever!! They are nearly as good as when new and just taken out of the package so I can reuse them in my kitchen. I love that...so my garage is not getting sponges often at all anymore. And the price is amazing and you get so many!!
mrblueu
Best Sponges
I've been using these Lysol sponges (the blue and also the green) for years. My problem was, they were not sold at the Walmart online and rarely did the local Walmarts offline have them in stock. Lysol labels this sponge as the 'antimicrobial multi-purpose' and the label their green ones as the heavy duty. However, I have never noticed any difference whatsoever in the two. They both function and they both last, the same. I state this because if you notice they are out of the green, don't hesitate to order the blue. These really are the best sponges for dishes and multi-purpose. I keep some in my kitchen, bathroom, and even my husband uses them on tough outdoor jobs. These are also very economical when compared to other dish sponges. These last and last and last whereas others fall apart in just days or few weeks. I love this 9 count as they will last my household an extremely long time.
elsiemoreorless
Long lasting and no smell
These sponges are great not because they have a gentle side and a hard working side but because they don't smell. I don't know how long they can go before wearing out but I'm still using my first one from a 3 pack I bought. I've been washing dishes with it every day for the last 2 months and it shows no sign of wearing out (and still has no smell).
RonD123
Lysol 9 ct. Antimicrobial Multi-Sponge
The "Lysol Antimicrobial Multi-Purpose Scrubber Sponges, 9 count" for the price, and when included with free shipping is competitive, and almost $0.05 cheaper than the local store. These seem to work well with hand washing of dishes, counter, and eventually when replaced or worn are utilized too clean an oven put too further good use. The foam in these products does not tear as with many other brands of sponge in this size and thickness, but the abrasive covering does not last thus far as long as the sponge material. These do clean ceramic appliance, stove top, counter, and stainless steel cookware without leaving scratches which should also be a consideration for a "multi-purpose" sponge, or cleaning utensil.
Monks123
The best sponges!
I love these sponges! I don't have a dishwasher so I hand wash everything. These sponges make light work of stuck on food, hold suds for a long time, and a good amount of water without dripping everywhere. The heavy duty sponges are great for stove tops and grills and I keep a set in the bathroom. They are the only sponges I'll buy now. I took off one tick for Durability only because it's a good idea to regularly replace dish sponges to keep bacteria from building up in them. So they get replaced whether they are worn out or not.