Rubbermaid Double Decker 2-in-1 Recycling Modular Bin with LinerLock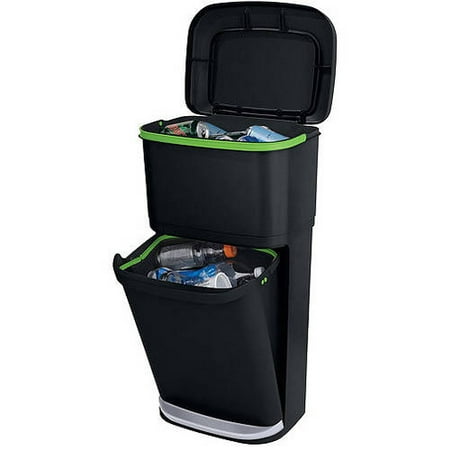 Sale :

$39.97

Sold & shipped by Walmart
Product Description

Additional Information

Reviews
Product Description
The Rubbermaid 2-in-1 Recycling Modular Bin makes recycling easy! This two-unit bin allows you to either contain trash and recyclables all in one location, or sort recyclables. The top unit is perfect for collecting recyclables, and has a foldaway handle that makes it easy to take out and empty. The lower bin tilts out for easy access, and holds an 8-gal trash bag in place with the LinerLock system.
Additional Information
Rubbermaid Double Decker 2-in-1 Recycling Modular Bin with LinerLock:
Ideal for storing trash or sorting recyclables
Total capacity is 13.2 gal
Top unit is 5.8 gal
Bottom unit is 7.4 gal
Lower bin tilts out for easy access
Lower bin features LinerLock
LinerLock holds an 8 gal trash bag in place
Foldaway handle and removable lid
Perfect for multi or single stream recycling
Rubbermaid trash bin ideal for use in your kitchen, at the office or even in small businesses such as restaurants
Reviews
Shopaholic24019
Love it, Love it, Love it!!!!
This has made recycling in my home stress free! It's just the right size to hold a good amount without being too heavy to empty. It's a nice design unlike others I've had that were functional but were an eyesore to keep in the kitchen. You can keep a bag in the bottom bin, but it slides out so easily and is lightweight enough to be able to dump out into a larger outside bin or to put in the vehicle to take to a drop off location. No more money wasted buying bags! The top bucket has an easy to carry handle and is perfect for paper items. I like that you can keep the bucket off and put the lid on the lower bin for use as a trash can or if you don't have the space for it stacked.
christyandtrey
Perfect trash / recycle combo for our small house
This trash can combo is exactly what we needed. I have been waiting on a product like this for years - something with closed containers for trash and recycle that fits in a compact space. We bought it last summer and it is working perfectly. We used to have these open stacking bin type things but the dog kept getting into the trash. We also have more recycle than we have trash and we regularly empty both into the city carts. We line the top bin with grocery bags and use it for trash. The lid is easy to open - it keeps odors in and anything else out. You can detach it but we never do. We line the bottom bin with a brown paper sack and use it for recycling. The tip out feature is nice and works great. This bin is large enough to hold an empty gallon milk jug, empty wine bottles and lots lots more. The carry handles on the bottom bin are nice for when the bin gets especially full. The unit looks nice (black) and is made well. We hope to get many many years of use out of it.
ScottieP67
Good solution
As advertised...easy to use, clean, etc. It encourages my wife (not a recycler) to recycle because it's conveniently located near our kitchen trash can.
DosBet1
Good; falls a bit short of expectations, but works
I like the idea a lot. It maximizes vertical space and allows for recycling AND trash in one place. The problem is in the execution. The bag slips through the "linerlock" (which is not really a lock so much as a plastic bin handle) easily as soon as the bottom compartment's bag is heavy. The darn thing also seems to stay open once it's about 2/3 full, wafting unpleasant aromas that make me want to take the trash out before it's time to do so. I like that the bottom stays open when you want it to, which is helpful during cooking. I like the color, the size, and the form. It seems durable. All in all, I wouldn't return it, but I wish that it were made better. It's the best implementation of this kind of idea (combination trash/recycling in a small footprint) that I could find for my price range, and I'll stick to with until it breaks.
nick
2 in 1 recycling bin
It was ok. It looks nice but it is not typical Rubbermaid quality. I wanted to slide it into a small space but couldn't because you need access to the bottom to step on it to open. Also, didn't hold as much as I thought it looked like it would. I probably would have kept it if it wasn't so pricey for the quality.