Rubbermaid 30-Gallon Flip-Door Stackable Recycle Bin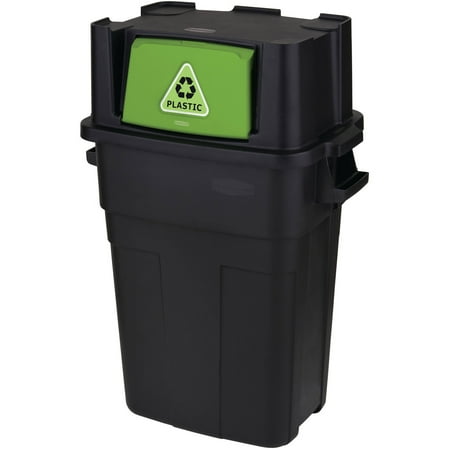 Sale :

$25.27

Sold & shipped by Walmart
Product Description

Additional Information

Reviews
Product Description
The Rubbermaid 30-Gallon Flip-Door Stackable Recycle Bin makes recycling easy. This Rubbermaid Recycle Bin includes stickers to label each bin and sort according to your needs, making it easy for the entire family to get involved with recycling. The 30-gallon trash cans are made from recycled material and the hood snaps securely for easy transport. These trash cans are ideal for single- or multi-stream recycling. The flip door on the Rubbermaid recycle bin makes it easy to put in your recyclables. Other sizes are available to allow you to stack. These 30-gallon trash cans make it easy to take the recyclables to the facility if needed.
Additional Information
Rubbermaid 30-Gallon Flip-Door Stackable Recycle Bin:
Flip door makes unloading recyclables easy
Stickers to label each bin to individual sorting needs
Perfect for multi- or single-stream recycling
Hood snaps securely to base for easy transport
Product is made from recycled material and is recyclable
Other sizes available for stacking in multiple configurations (sold separately)
Dimensions: 24"L x 15.5"W x 36.5"H
Reviews
MichelleBS
Durable and Reasonably Priced
I read the reviews before purchasing and knew the slot to open garage was different, so I was prepared. This trash can is durable and easy to utilize. Size is ideal to place on back deck. I am less concerned about bugs getting in (although possible) this trash can with the ability to close the lid.
TTTB
Poor Door Design
Picture doesn't show which way the door opens. Most people will think the door opens inward with hinges at the top like every other bin in the world. It does not. The hinges are at the bottom and the door opens out at the top. And stays open unless manually closed. Definitely not recycle friendly. Had I known this I would not have purchased it. This is the poorest design I've seen.
RockinReader
Poor Door Design
Even though this is called a recycle bin, I am using it for my kitchen garbage can. It is heavy plastic, and the flip-door helps keep the garbage odors contained. The recycle symbol is embossed in the plastic flip-door with a recycle sticker over it. Not the prettiest garbage can(if there is such a thing anyway), but it is so very useful, and I am glad I found it on the Walmart website.
pmNebraska
Door is questionable
I wanted a recycle can that could sit outside with a door to keep the majority of the bugs at bay. I do like the bin and am using it next to my patio for a garbage bin for paper and miscellaneous waste that should not draw too many insects. The door on this thing is questionable, though. It does drop down and outward as other reviewers have said, however, I question the durability of it. Often the alignment is off and will not close completely. Also it is very light weight. I do not expect it to last very long. Also, I do not recall any of the other reviews mentioning that you must push down on the door latch to get it to latch completely. Requires very light pressure but does then set the door off alignment to close if not careful.
kekebarr
Great size and functionality
My only true complaint about this recycle bin is that the sticker is NOT what it looks like on the picture. You actually would have to write in what you want on the sticker provided. Also, the door is a flip down door, you actually have to pull it down from the top and it swings open at the hinge on the bottom. This works great for us because I have an infant that likes to get into things. It holds about a week of recycling for us which is great to not have to keep taking something outside every time. Good buy!