Rubbermaid 18-Gallon Flip-Door Stackable Recycle Bin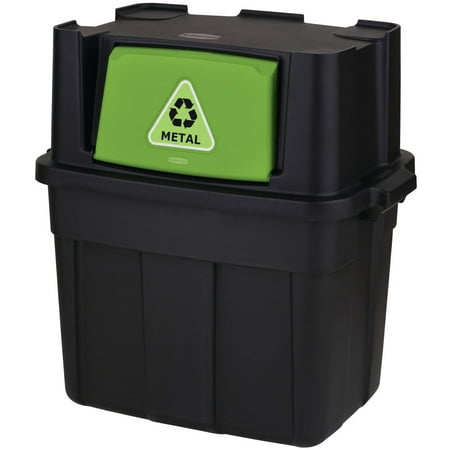 Sale :

$18.38

Sold & shipped by Walmart
Product Description

Additional Information

Reviews
Product Description
Conveniently and sanitarily store your recycled materials with this Rubbermaid 18 Gallon Flip Door Stackable Recycle Bin. Specially designed for multi- or single-stream recycling, this bin features a convenient flip-door to make depositing and unloading recyclables a breeze. It is constructed of sturdy and durable recycled materials designed for long-lasting use and is easy to care for. The bin itself is also recyclable for added convenience. This 18 gallon bin is equipped with a hood that snaps securely to the base and an attached handle on each end, so recyclables can be easily and safely transported to a facility, if necessary. It includes stickers that allow users to easily identify the contents and to help keep items sorted into separate categories. This Rubbermaid recycle bin has a generous lip that secures trash liners and can be used with or without a liner.

Additional Information
Combine the different available sizes for stacking in multiple configurations to meet individual recycling needs. It is ideal for home, classroom or office use.

Rubbermaid 18-Gallon Flip-Door Stackable Recycle Bin:
Flip door makes unloading recyclables a breeze
Includes stickers to label each bin to individual sorting needs
Perfect for multi- or single-stream recycling
Hood snaps securely to base for easy transportation
Product is made from recycled material and is recyclable
Other sizes available for stacking in multiple configurations (sold separately)
Dimensions: 24"L x 15.5"W x 24.8"H
Keeps recyclables separated from other refuse
Can be used with or without a liner
Features a generously sized lip
Rubbermaid recycle bin is ideal for home, office or classroom use
Reviews
Ebbieda
Rubbermaid Flip-Door Stackable Recycle Bins->A+
I really like these recycling containers. First of all, they are neat, you can close the flap and not see the stuff you are recycling. They are stackable, which is good room wise in my garage. And what's really nice is that I can put them in the back of my truck and take them to the recycling center, and not worry about stuff blowing out on the road. I have one for glass, one for aluminum cans and such, one for paper, and one for plastic. I didn't get one for metals, since I use a cat litter bucket for that. And I don't have all that much metal stuff to recycle. I might eventually get the larger one for cardboard. Right now I use a cardboard box to put cardboard in. If you are interested in these, I suggest you go ahead and get them. They are not that easy to find. Walmart.com is the only place that had them in stock when I was looking. Also, these recycle bins were some of my Christmas gifts. I am very happy with them, and they make recycling a little easier, actually, a lot easier.
Betty
Opening Is Not Spring-Loaded
The picture leaves out the detail that the opening is NOT spring loaded. It is not necessarily a deal-breaker for me, but since I bought it thinking about the benefits of that particular convenience, I was a bit disappointed to discover the lid is manual open/close. Also, the description indicates they give you different stickers to label the bins; it's actually just ONE label, with a blank line for you to write on. Again, not a deal breaker but not what I expected. I like that the lid is interchangeable with that size tote; I use these for recycling at work so I can just swap them out as needed for transport and cleaning.
Safaq1
Sturdy and looks great
I've been using it for few weeks now without any problems. It's very well made ang aesthetically is appealing
Sarah
Love it!
Great design and I love that I can stack more on top.
Janinealix
Great for separating recycling; easy to carry!
Our town will never collect co-mingled recycling. Each Saturday, i needed to sort through all my cr*p and separate it into bags to tote to the recycling center. But with these, it's been two weeks and they're still not full....they look great lined up on my deck. All my stuff goes in with the flap door and is hidden. They are light and narrow. I did not receive a single label, but my Sharpie black marker labeled each: Glass, cardboard, plastic. I LOVE THESE. As a midget, at 5' and 110 pounds, they're light enough and narrow enough to toss in my Jeep to transport. Buy these; You won't regret it.