Rubbermaid Food Storage Containers with Easy Find Lids, 24-Piece Bonus Set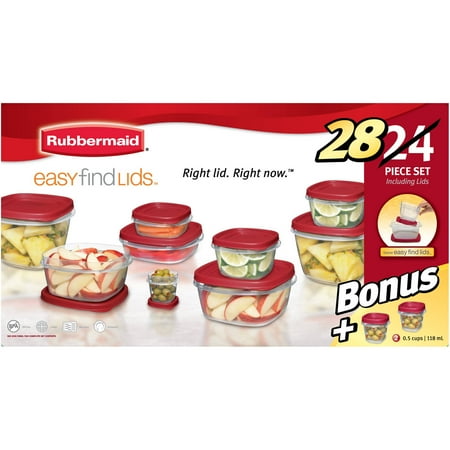 MSRP :

$10





Sale :

$9.12

Sold & shipped by Walmart
Product Description

Additional Information

Reviews
Product Description
If you're tired of digging around for lids, the Rubbermaid Easy Find Lids 24-Piece Plus 4 Food Storage Set is for you. The lids snap to each other and to the bases of the containers, so you'll always be able to find the lid you need. Save time and space with this super convenient food storage set. Whether you are trying to eat healthier by bringing your lunch to work, economizing by saving leftovers for the next meal, or simply want a streamlined and organized system for your food storage containers, the Easy Find Lids 24-Piece Plus 4 Food Storage Set is perfect for your needs. Cook large batches of rice, vegetables and protein for the week ahead and store them in the Rubbermaid Easy Find Food Storage Set for quick and simple "grab and go" meals. The super-clarified bases are made from BPA-free plastic. Best of all, everything is dishwasher-safe.
Additional Information
Rubbermaid Food Storage Containers with Easy Find Lids, 24-Piece Bonus Set
Easily store food while minimizing clutter around your kitchen using Rubbermaid Food Storage Containers with Easy Find Lids. Featuring a convenient nesting design, these meal prep containers are easy to organize and help conserve space in your cabinets. The lids snap to each other and to the bottom of the containers and have a bright red color, helping ensure that they are always easy to find. Constructed from durable, BPA-free plastic, these food containers are built to withstand a wide range of temperatures and are dishwasher, microwave, and freezer safe. Thanks to their clear bases, it's easy to see the contents of any container.
Reviews
HoneyLeila
Great Rubbermaid!
Very easy to preserve and for storage, very easy to pile up and great material! I love Rubbermaid!
Doraimon
For one week it was good..but ..
Hi .. With two months of normal use, this has turned unusable. See the picture. Looks like the plastic has corroded. First we though it was because we microwave it, but later all the boxes started having this. May be it is ok if we keep dry items or powders or cookies..
denbroncos
Nice space saver and quality product
I have bought this item a few times. when my son went to college he had a small set for his dorm room and small refrigerator. Easy storage with the lids and the containers they all lock into each other saving space. Various sizes for your storage needs. Refrigerator and freezer safe. Microwave safe ? Honestly I will no longer microwave items in any form of a plastic product and over microwaving will result in pock marks in the containers. They all lock together in storage and for food storage dry or refrigerated, freezing has resulted in success, yet nothing over 3 months. I burp them like the old Tupperware system and it locks out the air.
Molly101
Great gift Idea
I have no idea why I waited so long to finally get something decent in my kitchen..sure I have tupperware bowls and odds and ends but they were so stained and so many different covers I finally ordered rubbermaid bowls..I didn't even finish opening up my 1 box I ordered when I got on line and ordered the BUNDLE package which is even cheaper....covers are much easier to store,just snap them together, love the clear look to see what you put in them cause my husband had the bad habit of peaking in the bowls I used to have and not closing the covers...enough already. My daughter did make a mistake and warmed up some chili and cheese dip I had in one and you know what happened..yep it made that stained look around the inside...Don't microwave anything that has a tomato base or oil product in it. A few of my married children just might get the bundle pack for Christmas..I wouldn't hesitate to order more if some happen to get abused..Thankyou
Shutterblink
Very sturdy and durable container set
I am so tired of digging through my pantry for missing lids to containers so I purchased 4 sets of these. Actually, I've purchased one or two sets a year for the last few years. I prepare food for my elderly mother and my daughter and freeze it in these containers and send it home with them. If they remember to return them - great. If not it's not a big deal, but I really like these containers. When I buy a 1/2 gallon of ice cream I scoop it out into the smallest containers and pop it back in the freezer. Now I have a perfect portion size of ice cream and don't have to wait for it to thaw enough to scoop it out. I used to buy the containers sold in the grocery department, but they're so aggravating that this is all I buy. I never even look at the others. I'm moving into a new house in 2 weeks and decided to throw out my collection of whipped topping containers and switch to just these.