Rubbermaid 50-Gallon Wheeled Roughneck Trashcan, Black, FG285100BLA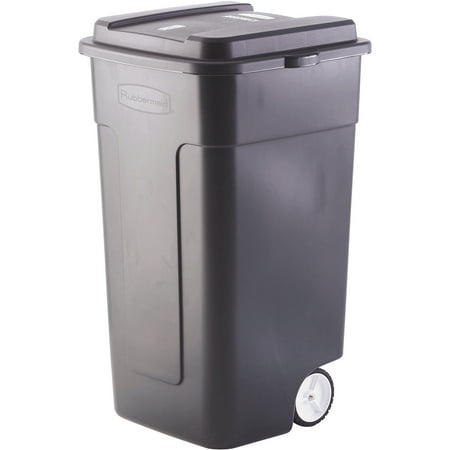 MSRP :

$49.99





Sale :

$48.99

Sold & shipped by Walmart
Product Description

Additional Information

Reviews
Product Description
This trashcan's durable, shatterproof material withstands severe weather conditions. The heavy-duty large wheels make trash day less strenuous. It has an exceptionally strong, molded-in handle. It is an industrial-strength trashcan with a snap-fit lid.
Additional Information

50-Gallon Wheeled Roughneck Trashcan, Black, FG285100BLA:
Rubbermaid trash and recycling bin
50-gal wheeled trash can has a durable and shatterproof exterior
Features a strong, molded-in carrying handle
Reviews
JoeAPgh
My first one lasted about 7 years.
Just bought a new one. However, my first one lasted about 7 years and the lid started to crack. I called [9/2018 ] Rubbermaid in cust. svc and they were amazing. they told me the roughneck products have a 10 year warranty. they shipped me the lid. no charge no shipping. nada. how is that for service! i did not even have a receipt. i live in western pa and this thing sat 7 hrs in the son every day. cold winters, crazy garbage men, etc. i am pleased to have got 7 yrs for a relatively inexpensive can. as i said earlier i bought another one because the side started to crack. i would have given this 5 starts but i am very tough in my ratings. i don't know how true it is but supposedly you can only get one free lid and that is only if they still have the same product in production. finally one personal thing. i read all these reviews about the lid. i guess some people like to whine. go to rubbermaid website, look up cust. svc. and call!!! good companies usually take care of their customers....but you got to tell them...sheesh.
Plumber283
Good garbage can
Love my new garbage can. It holds lots and rolls well. A hinged lid would have been nice, but I didn't think about that till after I ordered this. Good solid unit.
Vet
Good garbage can
Was shipped to my home with no lid and i have squirrel problems
ReviewBot5000
Lasted about seven years
I'm buying my second Rubbermaid 50-Gallon Wheeled Roughneck Trash Can today because the last one finally died today. The lid died half a year ago. Rubbermaid will replace one lid at no charge it seems, but they're quick to tell you that the next one isn't free. Regardless, it came down to this and the Toter 64 gallon at more than twice the price. I doubt the Toter will last 15+ years, so I'm going with the Rubbermaid again. It's hard to complain too much when a large, wheeled $33 trash can lasts seven years. I suppose I'm OK paying about a penny a day for such a garbage can. I thing 'd appreciate similar value in other aspects of my material life, but then again, what do I know? I'm just a robot.
WalmartCzarina
Lasted about seven years
Beware: the lid is NOT attached to the cart and if your trash guys are anything like mine, they'll do their best to yank off the lid, hurl it to one side, etc. To prevent that, we attached the lid to the can with heavy-duty zip ties.