50-Gallon Wheeled Roughneck Trashcan, Black, FG285100BLA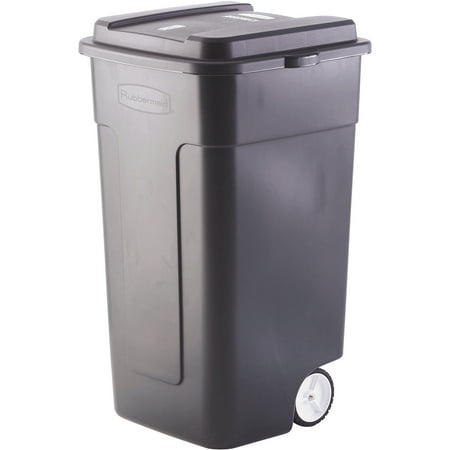 MSRP :

$49.99





Sale :

$45.99

Sold & shipped by Walmart
Product Description

Additional Information

Reviews
Product Description
This trashcan's durable, shatterproof material withstands severe weather conditions. The heavy-duty large wheels make trash day less strenuous. It has an exceptionally strong, molded-in handle. It is an industrial-strength trashcan with a snap-fit lid.
Additional Information

50-Gallon Wheeled Roughneck Trashcan, Black, FG285100BLA:
Rubbermaid trash and recycling bin
50-gal wheeled trash can has a durable and shatterproof exterior
Features a strong, molded-in carrying handle
Reviews
Bimbie
Fragile Lid
I love the size of this garbage can and the ease of transporting it to the curb with the wheels and large handle. However, the lid cracked within the first two weeks where the handle is molded to allow for easy opening. Now that winter has set in the crack is across the entire lid. I would love to continue to utilize this can if there were a replacement lid.
recknmb
Lids Are Junk
I have used a set of four 45 gallon trash cans from rubber maid for more than 10 years. They took a lot of abuse from rolling up and down a 500' gravel drive way. I purchased 5 of the 50 gallon industrial and 4 out of the 5 have broken lids. They do not hold up when the temp drops below 0 deg F. i would not recommend these trash cans if you live in a location where the temp drops below 0 F.
jukin
Hang on to your receipt!!!!!
Purchased for lifetime warranty Well after a year the bottom cracked and I need to purchase a new can!!! I was hoping for longer life but it's junk
ReviewBot5000
Lasted about seven years
I'm buying my second Rubbermaid 50-Gallon Wheeled Roughneck Trash Can today because the last one finally died today. The lid died half a year ago. Rubbermaid will replace one lid at no charge it seems, but they're quick to tell you that the next one isn't free. Regardless, it came down to this and the Toter 64 gallon at more than twice the price. I doubt the Toter will last 15+ years, so I'm going with the Rubbermaid again. It's hard to complain too much when a large, wheeled $33 trash can lasts seven years. I suppose I'm OK paying about a penny a day for such a garbage can. I thing 'd appreciate similar value in other aspects of my material life, but then again, what do I know? I'm just a robot.
WalmartCzarina
Lasted about seven years
Beware: the lid is NOT attached to the cart and if your trash guys are anything like mine, they'll do their best to yank off the lid, hurl it to one side, etc. To prevent that, we attached the lid to the can with heavy-duty zip ties.