Crayola Colored Pencils, 100 Count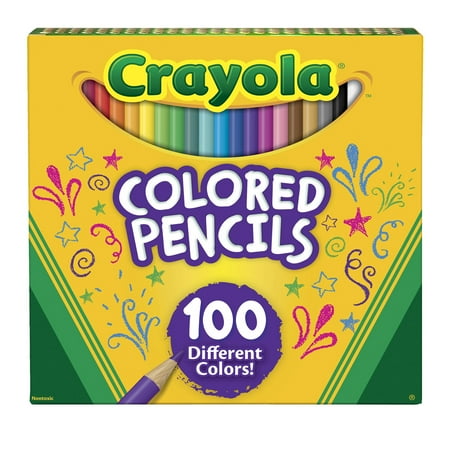 MSRP :

$15.79





Sale :

$9.99

Sold & shipped by Walmart
Product Description

Additional Information

Reviews
Product Description
Crayola Colored Pencils is the perfect tool for both children and adults. These colored pencils bring out the beauty of the most detailed adult coloring pages. The different colors offer a rich and diverse palette to keep you calm, cool, and colorful. With bright and bold colors to choose from, kids can continuously turn plain drawings into vibrant works of art. The long-lasting pencils are pre-sharpened so kids can start drawing as soon as they open the box. The pencils are made from reforested wood, something today's eco-conscious families will love. This box includes 100 Crayola Colored Pencils in various colors.
Additional Information
100 assorted colors
Features thick, intensely colored cores for smooth laydown
Long-lasting, pre-sharpened
Quality art tools made from reforested wood
Reviews
Raech
Too many fancy names for colors
The pencils were fine but the names are too fancy sometimes it confuses you. I dont know why others say there are 30 repeated colors,the shades are similar but not a repeat. You can just check out the back of the box to know what the colors are. Initially when i read the reviews i thought its a bummer that there are 30 duplicate colors,i already ordered it when i saw the reviews. Didnt bother to read it initially since i've always bought Crayola even as a kid. The colors arent as vivid as it used to be,even the regular Crayolas,i also bought a 64 pack of those but i guess thats how they make it now. I havent tried sharpening them since i dont spend to much time with the coloring books. All in all its a good buy for the variety of colors.
JAP
USED colored pencils
I can honestly say I've never received any thing in such poor shape that was supposed to be new! All of the color pencils were all over inside of the shipping box there were two pencils actually missing was supposed to be 100 I counted them three times, there were only 98 of them! They were broken and they were upside down sideways and all over inside the box. The lid of the box on the inside had actually been written on and little drawings were all over it it definitely was not know it was used! it was a mess! I was most disappointed and wanted to return them but figured it be harder to do that then to just fix it! I will think twice about ordering anything like that again from Walmart!
sandpines
Lots of colors
Bought these to use as a hobby when I retire later this year. Goes great with adult coloring books (Which I also bought at Walmart). My only complaint is that the box isn't too sturdy. When I took the box out of the shopping bag, it fell open and all the pencils fell out. I would've thought they would tape it shut. But I have a homemade pencil organizer I'm storing them in anyway. So it was no big deal. Lots of great colors.
Mom6670
Good Coloring Pencils!
This box is only 60 different colors, the back of the box has the list. Most of the repeated colors seem to be considered high use colors by Crayola. I love how they work well with the adult coloring books to get the detailed areas. 60 different colors is the most variety in colored pencils that I can find while sticking to my all time favorite brand of Crayola. The only reason it gets 4 stars is that the description fails to mention that there are duplicate colors in the box.
Steph
Beautiful Colors!
Lots of colors to choose from, perfect for my adult coloring book!