Crayola Sketch Wizard Kit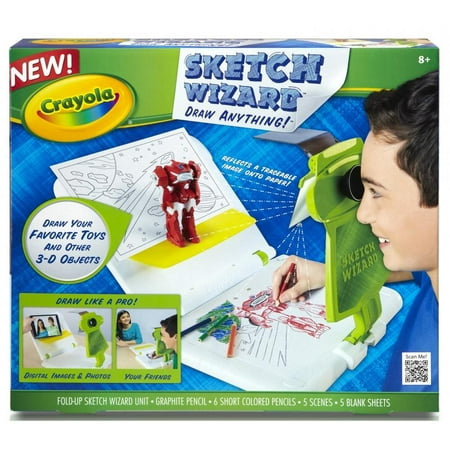 Sale :

$23.46

Sold & shipped by Walmart
Product Description

Additional Information

Reviews
Product Description
Draw almost any flat image or dimensional figure! Sketch Wizard projects a ghosted image on paper, making it easy to recreate. Draw from pictures and photographs or from your favorite action figures or dolls. You can even draw a friend or objects across the room! Comes with a graphite pencil and six short colored pencils.
Additional Information
Crayola Sketch Wizard Kit
Crayola kit offers quick and easy setup
Creative toy lets you draw from 2D, 3D, smartphones, and tablets
Patent pending filter lens for drawing from photographs
Removable eye piece
Transforms into lap desk
Built-in pencil storage
Crayola gift set comes with a graphite pencil and 6 short colored pencils
Reviews
dontdoitsparky
Great in Theory
The idea is good, but the toy it self not the greatest. First problem, I got this for my son's 6th birthday, now he's an average hight, with this sitting on a regular table and him on regular hight chair, he is not tall enough to see in the little window, so he has to lay on the floor and stretch his head up to see anything. Second problem, the mirror or the plastic piece ( I haven't quite decided with yet) is not big enough or just sit in the right angle or something, so half of the image reflected back at you is the green arm if you angle the plastic piece up more to see less of the treen plastic you can no longer see the paper your supposed to be drawing on. If they improve the design we will try again, be as it is neither of us are happy with it and it is going back.
Joss
Do not waste your money!
The idea of this product is brilliant. The execution is awful! For Crayola I expected a MUCH better product! The part where you look through is for one beyond cheap and doesn't lock into place that well so the second you put your face up to it it collapses. Also, we can't get it to show anything 3D whatsoever. All you see is a distorted view of whatever you have on the tray. We followed the directions to the letter and we cannot get this to show the image of what my son wants to draw on the tray down to the paper. Will be returning ASAP!
BobO
Junky
It is too hard to use for kids, and for teens it still doesn't work well.
RebeccaN
not helpful
This does not help you to draw what you are looking at through it, and my son wishes he had not spent his birthday money on it.
KMurph
Daughter loves it!
Really neat device. Simple to use and I think it will advance my daughter's drawing skills, as well.