Fruit of the Earth Vitamin E Skin Care Cream Super Value, 4 oz, 2 pack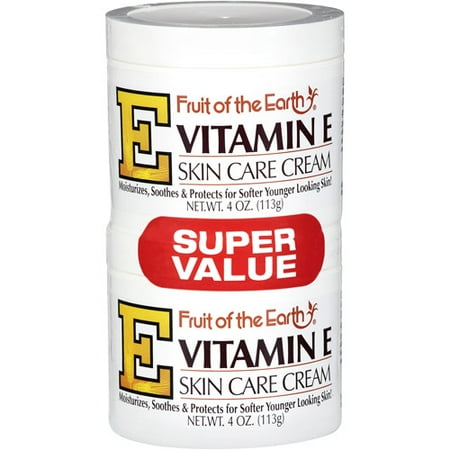 MSRP :

$7.91





Sale :

$3.33

Sold & shipped by Walmart
Product Description

Additional Information

Reviews
Product Description
Get smooth and younger-looking skin with Fruit of the Earth Vitamin E Skin Care Cream Super Value. This rich formula is made with a blend of vitamin E, aloe vera, wheat germ, sunflower seed oil, collagen and elastin. Fruit of the Earth skin care cream can be used on the hands, face and body to minimize signs of aging.
Additional Information
Fruit of the Earth Vitamin E Skin Care Cream, Super Value, 4 oz, 2-Pack:
Moisturizes, soothes and protects for softer younger-looking skin
No animal testing
Contains nature's most effective dry skin emollients
Made with vitamin E, aloe vera, wheat germ, sunflower seed oil, collagen and elastin
Helps to minimize signs of aging skin
Ideal for hands, face and body
2 Packs of two 4-oz skin moisturizer creams
Reviews
KsMomma
Bought for scar, now use for whole body.
My main purpose in purchasing this Vitamin E cream was to see how it could help a scar I have. It was so so so red. I tried Mederma, I used it for 1 month, twice daily. It made NO difference. It actually was causing my scar and the surrounding skin to itch like crazy. I was very disappointed. My scar looked the same as it did before trying Mederma. Finally purchased this Vitamin E cream applied it once and what do you know... not even a day later and my scar was no longer bright red, it was pinkish. I was amazed! Every day it looked better and better. It took several months, but it continued to change eventually from a darker pink to a pink, almost beige-ish skin tone color several months later. The scar is there, always will be, but it doesn't stand out like the eye-sore it was when it was a ridiculous bright fiery red. I now use it as a body lotion as well. I noted right away that my heels went from being touch and scratchy to soft. I don't use it on my face though as it tended to leave it shiny. I would definitely recommend this cream.
Breeze
Don't let price fool you, it rocks!
Been using Fruit of the Earth Vit E cream for a while now on my face and it's wow baby soft. Doesn't feel heavy or greasy at all. Gives my skin the moisture it needs, like a drink for my skin, without the extra layer feeling or heaviness. I also use it on my hands, have even used it to moisturize my tattoos (after healing) and it's always just the right amount of moisture. It's basically perfect. I thought it wouldn't work bc it is so inexpensive, but this cream has impressed me and saved me so much money! I recommend it to my friends and coworkers. I'm a nurse and the hospital is so drying, but this cream hasn't disappointed yet. I love it just as much as Pond's, which my g-ma swore by everyday, and that is saying something. My skin feels better than a baby's and looks amazing and I feel good bc it's made in the USA! A+ product all around.
1two1
Utterly awesome. Try it, you'll use it forever.
The ingredients in this cream rival those of any high-priced facial cream, especially the collagen. I swim daily and don't want the chlorine to dry my skin, so I use it after getting out of the pool. My husband bought me a jar of cream called La Mer from Saks Fifth Avenue for $375! La Mer doesn't hold a candle to Fruit of the Earth. It's not greasy, gets absorbed quickly and keeps my skin soft and supple as a baby. I'm 64 years old and have been using this stuff for years. Does it get rid of wrinkles? No. But neither does any other cream, despite their promises. Do yourself a favor and buy it. Quite frankly, I don't know how Fruit of the Earth sells it for this price, but I'm not complaining. And WalMart charges less for it than Target, Amazon, or any other place you can find it online. Super Value. Super product.
mollydogggggggggggggggggg
Impressive cream at a fraction of the price!
I'm 34 years old. I have to wear lotion/cream pretty much year-round, or my fingers/hands will get raw, chapped and crack. I am a stay-at-home mom with 3 kids and am constantly washing my hands. My uncle works out in the weather year round in MI and was having a really hard time with his hands cracking and bleeding. He went back to the basics of vitamin E and began using this cream during the day, as well as putting it on at night with vinyl gloves over top. Just overnight he had gotten so much improvement! He told my Grandma about this miracle stuff. My Grandma told me and now I'm sharing with anyone who reads this. This stuff is awesome. I notice that I don't have to reapply lotion/cream as often as I used to. And it feels really good on the skin. I cannot believe how inexpensive this is being sold for. I hope it stays this affordable too!
jennnnnna
Love this stuff
i absolutely love this product. I use it after showers and it keeps me so soft. I was actually pretty surprised how good it was. I'm usually a brand name user. Never heard of this brand until my mom bought it. i would def. recommend this to anyone. good stuff :)