Fruit of the Earth Aloe Vera Juice, Original, 128 Fl Oz, 1 Count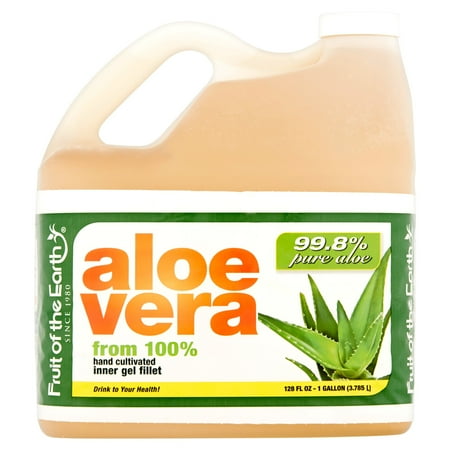 Sale :

$6.44

Sold & shipped by Walmart
Product Description

Additional Information

Reviews
Product Description
Enjoy a soothingly pure drink with Fruit Of The Earth Aloe Vera Juice With 99.8% Aloe, 1 gal. It's cold processed entirely from the plant's inner gel fillet. This drinking aloe vera juice is 100 percent organic with zero carbs, cholesterol, fat and calories.
Additional Information
Product Features
Hand cultivated inner gel fillet
Drink to your health!
No sugar, starches, thickeners
Contains 99.8% aloe vera
Made with pure aloe vera
100% American owned and operated
No animal testing
Packing - Recyclable
HDPE - 2
Fruit of the Earth, Inc.,
3101 High River Road,
Suite 175,
Fort Worth, TX, 76155.
www.fote.com
Reviews
Chovexani
So soothing!
I got this stuff for my birds who have plucking problems.. I can't speak for them on it.. but I used a little on my own skin after plucking my brows and it soothed the discomfort right away. I rubbed it over the rest of my face and it feels so nice now! So I'd totally recommend this for after care for plucking/shaving. I wish it came in smaller containers though I gotta say but other than that I'm loving it.
lissee1953
aloe vera from fruit of the earth
I bought the 1 gallon of aloe vera. I paid about 6.50. Well, I shake the bottle over and over. Its been a week now, and I notice that my heart burn is gone. No more pills for heartburn.. the bitter taste does not bother me because I want to feel better. I figure if its bitter than it must be good for u. When I turn 63 I now have to take meds for uncontrolled high blood pressure levels, along with high sugar levels and high cholesterol. Friends told me that the medication from doctors could kill me. I take my meds once a day in lieu of 2 or 3 times. I also purchase tea for blood pressure and sugar and for cholesterol. Well, I believe in herbal remedies of all kind. I am noticing a good feeling in my body after 1 eek of drinking a glass of the juice. . So I ill continue to do so. In one month I will give u more info on my levels of BP/BS/Cholesterol. Good luck on ur health. Give it time to work.....
Shelianiece
Love it!!!!
I love this stuff!!!!! I use this for every thing my hair my skin I even drink it....I don't drink store bought drinks because of all of the sugar and other bad stuff that is in them so instead I use aloe Vera juice and make smoothies and I also use to make my own fruit juice. It's much healthier than the store bought stuff!!!!
catz4ever
Fruit of the Earth Aloe Vera Juice
This Aloe Vera Juice is great for constipation, heartburn, indigestion, skin, hair and mood swings! Drink 1 to 2 cups a day it will keep you balanced, it works wonders, the taste is awful but it's worth drinking it, I try to swallow as much as I can quickly because I don't like the taste and then wash it down with apple juice, but you can also add it in any juice, I think apple juice is better it drowns the taste. It's a must to have also an Aloe Vera plant at home because it's great for sunburns, itchy scalp, cuts, wounds. Just cut open the leaf and extract the gel and apply to sunburned skin and you will heal in no time. Also great for hair growth, rejuvenates the skin, also great if you mix cold-pressed organic castor oil with Aloe Vera gel and put on eyebrows and eyelashes, it makes them grow thicker and longer, but you have to apply it on every night before bedtime and wash it off in the morning for 2 months to see results. Returning to this Aloe Vera Juice it's not tested on animals, I highly recommend this product also the price is right! For more info on Aloe Vera benefits, check out the videos on it on YouTube, you'll see great comments on it, enjoy!
Kim
Bowel Movement Relief
It is an awful taste by itself. I mix mine with bai water or juice and it's much better. If you have trouble with bowel movement this stuff works overnight and the first thing in the morning you goooo lol