Fruit of the Earth Aloe Vera Juice, Original, 128 Fl Oz, 1 Count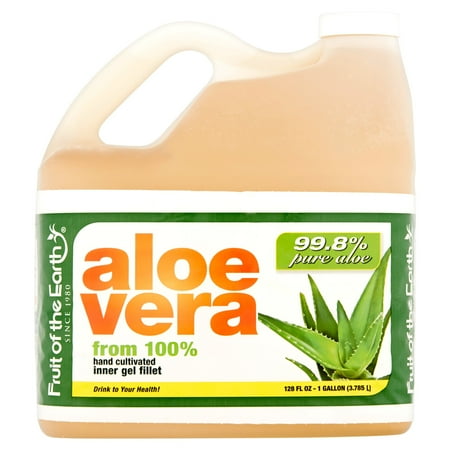 Sale :

$6.44

Sold & shipped by Walmart
Product Description

Additional Information

Reviews
Product Description
Enjoy a soothingly pure drink with Fruit Of The Earth Aloe Vera Juice With 99.8% Aloe, 1 gal. It's cold processed entirely from the plant's inner gel fillet. This drinking aloe vera juice is 100 percent organic with zero carbs, cholesterol, fat and calories.
Additional Information
Fruit of the Earth Aloe Vera Juice, Original, 128 fl oz, 1-Count:
Hand cultivated inner gel fillet
Drink to your health
No sugar, starches, thickeners
Contains 99.8% aloe vera
Made with pure aloe vera
100% American owned and operated
No animal testing
Recyclable packing
Original aloe vera juice, 128 fl oz, 1 count pack
May help improve pH balances, skin condition, liver functionality, digestion and more
Note: You may notice a difference in the taste between Fruit of the Earth full strength Aloe Vera and other brands. 99.8% pure Aloe Vera has a distinctive taste which may not be present in products of lesser purity regardless of label claims.
Reviews
Chovexani
So soothing!
I got this stuff for my birds who have plucking problems.. I can't speak for them on it.. but I used a little on my own skin after plucking my brows and it soothed the discomfort right away. I rubbed it over the rest of my face and it feels so nice now! So I'd totally recommend this for after care for plucking/shaving. I wish it came in smaller containers though I gotta say but other than that I'm loving it.
catz4ever
Fruit of the Earth Aloe Vera Juice
This Aloe Vera Juice is great for constipation, heartburn, indigestion, skin, hair and mood swings! Drink 1 to 2 cups a day it will keep you balanced, it works wonders, the taste is awful but it's worth drinking it, I try to swallow as much as I can quickly because I don't like the taste and then wash it down with apple juice, but you can also add it in any juice, I think apple juice is better it drowns the taste. It's a must to have also an Aloe Vera plant at home because it's great for sunburns, itchy scalp, cuts, wounds. Just cut open the leaf and extract the gel and apply to sunburned skin and you will heal in no time. Also great for hair growth, rejuvenates the skin, also great if you mix cold-pressed organic castor oil with Aloe Vera gel and put on eyebrows and eyelashes, it makes them grow thicker and longer, but you have to apply it on every night before bedtime and wash it off in the morning for 2 months to see results. Returning to this Aloe Vera Juice it's not tested on animals, I highly recommend this product also the price is right! For more info on Aloe Vera benefits, check out the videos on it on YouTube, you'll see great comments on it, enjoy!
lissee1953
aloe vera from fruit of the earth
I bought the 1 gallon of aloe vera. I paid about 6.50. Well, I shake the bottle over and over. Its been a week now, and I notice that my heart burn is gone. No more pills for heartburn.. the bitter taste does not bother me because I want to feel better. I figure if its bitter than it must be good for u. When I turn 63 I now have to take meds for uncontrolled high blood pressure levels, along with high sugar levels and high cholesterol. Friends told me that the medication from doctors could kill me. I take my meds once a day in lieu of 2 or 3 times. I also purchase tea for blood pressure and sugar and for cholesterol. Well, I believe in herbal remedies of all kind. I am noticing a good feeling in my body after 1 eek of drinking a glass of the juice. . So I ill continue to do so. In one month I will give u more info on my levels of BP/BS/Cholesterol. Good luck on ur health. Give it time to work.....
Pete
Best price in town.
Been taking this for years. Works for my digestion and it's the best price in town.
SONNY
Best price in town.
I prefer Fruit of the Earth Aloe Vera Juice because the taste is not harsh. I drink Aloe vera juice first thing in the morning on an empty stomach and at night to help digestion and elimination. The anti-inflammatory fatty acids in aloe makes the digestive juices alkaline which helps my indigestion. I checked and found it is safe to drink no more than two to four ounces (50 to 100 milliliters) of aloe vera juice daily because higher doses can cause some side effects, such as diarrhea, cramping, nausea and loss of electrolytes.