Fruit of the Earth Aloe Vera Juice, Original, 128 Fl Oz, 1 Count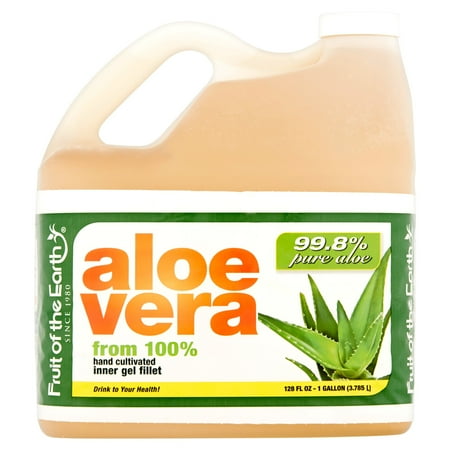 Sale :

$6.44

Sold & shipped by Walmart
Product Description

Additional Information

Reviews
Product Description
Enjoy a soothingly pure drink with Fruit Of The Earth Aloe Vera Juice With 99.8% Aloe, 1 gal. It's cold processed entirely from the plant's inner gel fillet. This drinking aloe vera juice is 100 percent organic with zero carbs, cholesterol, fat and calories.
Additional Information
Fruit of the Earth Aloe Vera Juice, Original, 128 fl oz, 1-Count:
Hand cultivated inner gel fillet
Drink to your health
No sugar, starches, thickeners
Contains 99.8% aloe vera
Made with pure aloe vera
100% American owned and operated
No animal testing
Recyclable packing
Original aloe vera juice, 128 fl oz, 1 count pack
May help improve pH balances, skin condition, liver functionality, digestion and more
Note: You may notice a difference in the taste between Fruit of the Earth full strength Aloe Vera and other brands. 99.8% pure Aloe Vera has a distinctive taste which may not be present in products of lesser purity regardless of label claims.
Reviews
mikeswoman
Miracle product @ a great price!!!
I ordered this product because I was told aloe vera juice would help if you have acid reflux/heartburn problems-and IT WORKS!!!! I need to have gallbladder surgery but since I don't have insurance-there is nothing that can be done-so I ordered this product and it DOES help!!! I recommend it. You just have to drink a cup in the morning & a cup @ bedtime and it cuts down on the symptoms of acid reflux/heartburn drastically!!! It is recommended though that you drink the stuff 20 minutes before each meal-however I saw results with just 2 doses a day!!
PCash
Fruit of the Eatth Aloe Vera Juice
I bought this for my hair. I got the idea from a natural hair blog. This stuff keeps your hair from being dry and it makes your natural curls pop. If you are having a hard time getting a good curl pattern and you don't want to rock a fro and you want your hair more curly then this is a great go to product. I just poured it in a spray bottle with a little water and sprayed it all through my hair and then I put a little of the shea moisture cream in my hair and I finger combed my hair and fluffed it then I put a headband on.
Clovercurls
Excellent Product
I've been drinking this product faithfully for the past 3 months. I start off with a full cup in the morning & another in the evening; I mix it with my mango juice but with more aloe than mango juice. It helps curb my appetite and has helped with my weight loss. My skin is clear, my bowel movements are regular and I no longer have a gassy feeling in my stomach. If used consistently you will notice a big difference in your overall health. I am an avid consumer of FOTE aloe vera juice for life (and no they're not paying me to say that)!
Elph
good stuff
Been taking this for years. I'm in my eightys now and remain fairly independent. Since our little store here can't keep it in stock, my daughter (who can drive the freeways#, finds it in a superstore close by. Otherwise I have it delivered even though I feel for the wonderful FedEx guy. I took the huge #1500 mg) softgel for years when I could work and still do off and on along with this. It has the consistency of water but is excellent to help with swallowing so it must have some viscosity you wouldn't know it in the mouth it is not thick. I am hopeful that it will help my vital organs stay viable and at this age I plan to continue to take it as long as I can.
msaf
Aloe Vera is GREAT!
It is still too new for me to really rate this as I just got it, however, it does work. It helps soothe my intestines and makes evacuation much easier. The value for this bottle from WalMart is absolutely wonderful.