Fruit Of The Earth Aloe Vera Gel - 12 oz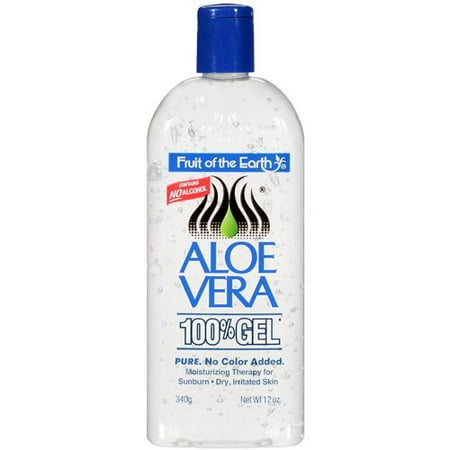 MSRP :

$7.69





Sale :

$3.97

Sold & shipped by Walmart
Product Description

Additional Information

Reviews
Product Description
Retain your skin's moisture and promote healing with this Fruit Of The Earth Aloe Vera Gel. It's formulated of aloe vera leaves and has a 100 percent gel consistency. This 12-oz aloe vera skin gel is non-oily and contains no alcohol or coloring. It's specifically formulated to form a protective barrier on your skin and is easy to apply. This Fruit Of The Earth gel provides effective relief from sunburn, minor burns, skin irritations, insect bites, chafing, itching and dry skin.
Additional Information
Fruit Of The Earth Aloe Vera Gel, 12 oz:
100% gel
Made of aloe vera leaves
Contains stabilizers and preservatives to insure potency and efficacy Pure
Non-oily moisturizer
No color added
No alcohol
Fragrance free
Moisturizing therapy for sunburns and dry or irritated skin
Cooling soothing gel from nature's miracle plant of the ages
Skin medication and treatment
Reviews
Niese
Absolutely love this product!!!
I have been using this gel for over 2 years now and it is fantastic! I use it as a facial moisterizer every morning and night. It does wonders drying up pimples and healing scars literally in minutes you can see the difference! Thank God I stumbled upon this gel. I understand that it obviously is NOT 100% natural, but this stuff works great! Yes it is a little sticky but it's no big deal at all. It can start to peel but that's only when you rub the area you applied it after it dries. I naturally have combination oily dry skin but this really does help to bring balance to my skin. Also, if you are suffering from acne or uneven skin tone etc., I would of course recommend this gel, but also try the Aztec Indian Clay! That clay is AWESOME!!! Apply the aloe gel at NIGHT AFTER using the clay and the next morning you will see great results. (only use clay 2 to 3 times a week) Look into it... A++++++++
techsavvi
best facial moisturizer EVER
I have issues with moisturizers being too "heavy" and causing me to break out. One day I got bug spray on my hand and it burned and extremely dried out my skin so I started putting this on it. I noticed that it moisturized and promoted healing without leaving behind any residue. I got curious one day and tried this instead of my regular moisturizer on my face. I've been hooked ever since. This makes a fantastic moisturizer - it not only moisturizes and promotes healing without leaving any residue or clogging pores, but it also seems to be pH balancing so that I can go the rest of the day without developing an oil slick on my face. Also since I've been using it for about a month I've noticed my skin is definitely smoother and more youthful looking. I love this stuff!
SmileyBear
Works well in many ways
My husband uses this product as hair gel because regular hair gel really dries out his hair and scalp. FOTE aloe vera gel keeps his hair and scalp moisturized and doesn't leave a residue like regular hair gel. Also, we are in process of moving and I have been in contact with cardboard boxes that have been sitting in our garage, which have accumulated dust. Both my arms got an itchy, bumpy, reddish colored rash. After my shower, I decided to put on some FOTE aloe vera gel on the rashes. At first, it felt cool and soothing, but then started to slightly burn. This was because I was scratching and had a little bit of broken skin. After about 10 minutes, the aloe vera gel started to dry and the itchiness calmed down tremendously. I also noticed the red bumps were less inflamed. Good product overall. We buy it online thru a competitor because it is sometimes difficult to find at WM.
Solargirl
This stuff saved my face!
I have very sensitive skin on my face and when I tried to exfoliate, my skin was set on fire and started to peel. It also itched like crazy. Well I first spent quite a lot of money buying expensive face creams and anti-itch lotions, when someone at work mentioned Aloe Vera juice. I thought why not since it was inexpensive and I was still suffering. Well, the first night after cleansing my face, I put on a thick coat of this gel. It had a wonderful cooling and firming sensation and my skin healed in a couple of days. What I am excited about is that I'll never buy expensive Brand names for firming cream or anti aging creams. I use this gel under makeup and at night and I swear I look younger! I'm 60 and have no noticeable wrinkles now. This stuff is great!!!!
CaLonghorn
Good for hair too!
I'm an African American woman and I actually use this product as an alternative hair (holding) gel. I thought it was a good price for the size of the bottle and the product smells nice (perhaps because it does not contain alcohol). Also, It doesn't leave your hair in a flaky aftermath and a little goes a long way.