Pennzoil Platinum SAE 0W-20 Dexos Full Synthetic Motor Oil, 5 qt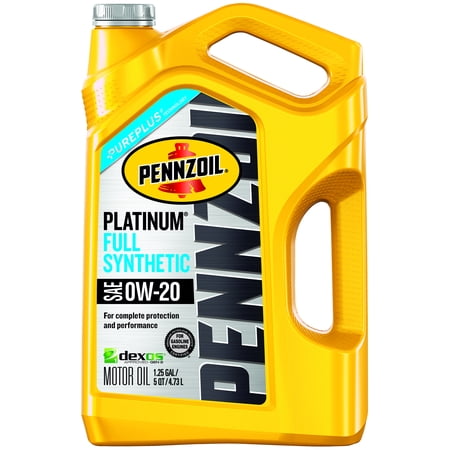 MSRP :

$24.97





Sale :

$22.68

Sold & shipped by Walmart
Product Description

Additional Information

Reviews
Product Description
Pennzoil Platinum full synthetic SAE 0W-20 motor oil is uniquely engineered from our revolutionary PurePlus™ gas-to-liquid technology, which is a patented process that converts pure natural gas into a high quality, full synthetic base oil. Our high-quality base oil is 99.5% pure, contains fewer impurities than base oils made from crude oil, and when combined with our advanced additive technology creates one of the best formulations in our Pennzoil portfolio. Pennzoil Platinum full synthetic SAE 0W-20 motor oil is licensed and meets the vehicle warranty requirements of GM's dexos 1 ™ Gen 2 specifications that are set forth to meet today's modern engine technologies. This means that our Pennzoil Platinum full synthetic products meet the stringent requirements of leading car manufacturers. Why does this matter? Modern engine technologies have evolved over the years and today's engine parts have reached an unprecedented level of fine manufacturing tolerances which require a high-quality engine oil to help provide complete engine protection. This includes protection against abnormal combustion phenomenon like low-speed pre-ignition observed in modern turbocharged gasoline direct injection (TGDI) engines. Our Pennzoil Full Synthetic products are engineered for modern engines and offer the following benefits without compromise: Better Fuel Economy With Pennzoil Platinum full synthetic motor oil, you can drive on average an extra 550 miles vs a dirty engine1 Protects Horsepower Pennzoil Platinum Full Synthetic motor oil helps protect against loss of power by helping to protect your engine against wear and deposit formation Unsurpassed Wear Protection When it comes to protecting the internal parts of your engine from metal-on-metal contact, no other leading synthetic motor oil provides better wear protection than Pennzoil Platinum Full Synthetic motor oil 2. Excellent Temperature Performance When exposed to extreme cold temperatures, Pennzoil Platinum Full Synthetic motor oil flows faster, meaning that the motor oil travels quickly to lubricate the various engine parts. When exposed to extreme hot temperatures, Pennzoil Full Synthetic motor oil has a lower tendency to evaporate3. Cleaner Pistons Offers outstanding piston cleanliness by capturing dirt and contaminants and keeping pistons up to 50% cleaner than required by the toughest industry standards4 1 Fuel economy measurements made using CAFE cycle under FTP75. Avg of 550 extra miles based on mixed city/highway miles and US avg of 15,366 miles driven per year with 4.1% better MPG vs dirty engine. Source fhwa.dot.gov, 2011. Follow OEM recommended oil drain intervals 2Based on Sequence IVA wear test using SAE 5W-30 3 Based on industry standard ASTM D5800 4Based on Sequence IIIH results. Does not apply to Pennzoil Platinum ® Euro motor oil Specifications, Approvals and Recommendations • FCA MS-6395 • Ford WSS-M2C947-B1 • GM dexos1TM Gen 2 Exceeds the requirements of the following industry specifications: • API SN PLUS, API SN-RC and all previous categories • ILSAC GF-5 • ACEA A1/B1 For a full list of equipment approvals and recommendations, please consult your local Shell Technical Help Desk and always consult your owner's manual.
Additional Information
Reviews
Alfonso
Good Product
Good product. I've been using Pennzoil in my cars and trucks for decades. Never an oil related problem.
cbpat1
Quieted my new motor down
I decided to try Pennzoil Platinum 0W-20 for my 2018 Tahoe's first oil change at 4000 miles.I usually dump the factory oil after 1000 miles, but, decided to wait longer this time. I was amazed at how quiet an already quiet motor got after the Pennzoil Platinum was put in and I started the vehicle. I could barely hear the motor, only exhaust. The motor seemed like it was suddenly broken in, with better acceleration. I was truly impressed. I just put Mobil 1 in my 2018 Acadia for it's first oil change and while it also quieted the motor in it, I will be putting Pennzoil Platinum 5W-30 in it the next oil change. My initial impression is that I like the Pennzoil better than Mobil 1 based on my usage so far.
cbpat1
Decided to give it a try
I just put this Pennzoil Platinum in my 18 Tahoe today for its first oil change. Two things that I noticed. First, whatever little engine noise there was before the oil change, was now gone. You had to to really listen to hear the motor run, all you can hear now is exhaust. Second thing, the motor suddenly felt broken in. It feels looser now, easier to accelerate. It seems to me that it has good lubricating properties to it by the way it has quieted my motor, which was very quiet to begin with. Like I said, this is the first oil change, only 4000 miles. I like to get rid of the break in oil a little early. I have a feeling my Tahoe will like Pennzoil Platinum. I change my oil every 5000 miles..
Nuffer
The Very Best Oil
This is absolutely the Best oil for the money. Sure Amsoil is a better pure oil, but you are paying 2x for it. The Pennzoil Platinum though is the very best oil compared to Mobil 1, Castrol Edge, Valvoline, types. The Platinum is made from NATURAL GAS , not crude oil base stock. So it starts out clean. I have been using it since it cam out and never had any issues. Running as much as 8,000 miles with a top notch filter. I have experienced no oil burn off. You can get this as low as $12 for a 5 qt jug, if you catch it on sale for $22 and then the $10 rebate. Just can't beat the pricing and oil!! I have nothing but praise for this oil and I do not work for Pennzoil :)
Mike
Top notch oil at its price
I'm very big on doing used oil analysis and from my findings through blackstone labs (oil analysis company) this oil works amazing. I have L83 Chevy V8 5.3L engine based on what I see in my reports I run my oil approximately 6k miles and results show little wear per mile in iron, copper and lead. Based on their universal averages they see across this engine type. It does its job well. You combine this oil with quality filter like royal purple, fram ultra, wix and you really can't go wrong. And honestly blackstone says I have about TBN (additive package in oil) of 2.5 at 6k miles they estimate this oil can do 8k-9k maybe more until it hits 1.0 TBN. I'll stick to my 6k personally but it's capable depending on engine type. (Don't extend intervals this far without analysis)