Pennzoil Platinum 0W-20 Dexos Full Synthetic Motor Oil, 5 qt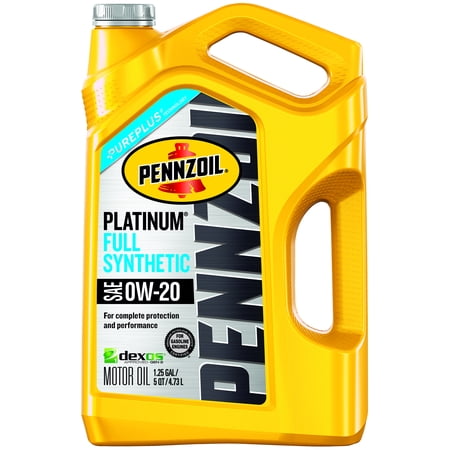 MSRP :

$24.97





Sale :

$22.68

Sold & shipped by Walmart
Product Description

Additional Information

Reviews
Product Description
Make sure that your vehicle is running in optimal condition with this Pennzoil 0W20 Platinum Full-Synthetic Motor Oil. It will help keep your car, truck or SUV in top form to prevent breakdowns and sluggish performance. This Pennzoil synthetic motor oil is made from a base oil derived from natural gas, which is clear with fewer of the impurities found in crude oil, the start for many other traditional and synthetic motor oils. High-performance additives are included to create a motor oil designed for complete engine protection, without compromise. This synthetic blend features an advanced formula that lubricates and protects your parts while you drive. It works to keep the components clean even under extreme temperatures. This motor oil also removes existing sludge and works to protect your emission systems as well. It offers the opportunity to help improve engine performance while simultaneously guarding against engine wear.
Additional Information
Pennzoil 0W20 Platinum Full Synthetic Motor Oil, 5 Qt:
Pennzoil Platinum with PurePlus Technology
First-of-its-kind full synthetic motor oil made from natural gas
Designed for complete engine protection
Platinum motor oil 5-qt container
Reviews
Nuffer
The Very Best Oil
This is absolutely the Best oil for the money. Sure Amsoil is a better pure oil, but you are paying 2x for it. The Pennzoil Platinum though is the very best oil compared to Mobil 1, Castrol Edge, Valvoline, types. The Platinum is made from NATURAL GAS , not crude oil base stock. So it starts out clean. I have been using it since it cam out and never had any issues. Running as much as 8,000 miles with a top notch filter. I have experienced no oil burn off. You can get this as low as $12 for a 5 qt jug, if you catch it on sale for $22 and then the $10 rebate. Just can't beat the pricing and oil!! I have nothing but praise for this oil and I do not work for Pennzoil :)
Mike
Top notch oil at its price
I'm very big on doing used oil analysis and from my findings through blackstone labs (oil analysis company) this oil works amazing. I have L83 Chevy V8 5.3L engine based on what I see in my reports I run my oil approximately 6k miles and results show little wear per mile in iron, copper and lead. Based on their universal averages they see across this engine type. It does its job well. You combine this oil with quality filter like royal purple, fram ultra, wix and you really can't go wrong. And honestly blackstone says I have about TBN (additive package in oil) of 2.5 at 6k miles they estimate this oil can do 8k-9k maybe more until it hits 1.0 TBN. I'll stick to my 6k personally but it's capable depending on engine type. (Don't extend intervals this far without analysis)
oilman
Top notch oil at its price
this product has recently taken a $5 price hike while most other brands including Pennzoil sister brand Quaker State have dropped in price, what with that.
sptsnut
Pennzoil makes the best oils
I have been using this oil for years. Many, myself included, feel Pennzoil products are the best. My only complaint with Walmart is that they don't make the Ultra Platinum products more available, that line is the gold standard as far as I'm concerned.
SamLostit
Great Product
Been using Pennzoil for over 41 years and the only thing that comes close to working as well as it does in Mobil.