Pennzoil Platinum High Mileage 5W-30 Full Synthetic Motor Oil, 5 qt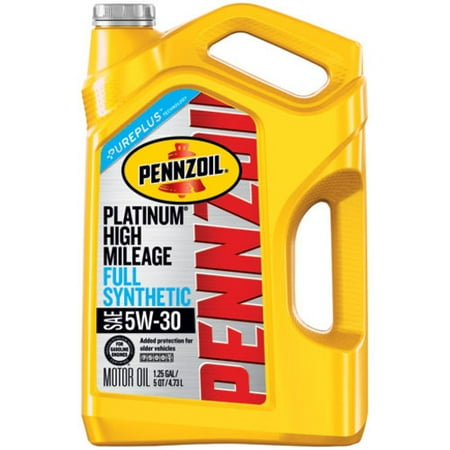 MSRP :

$24.97





Sale :

$22.68

Sold & shipped by Walmart
Product Description

Additional Information

Reviews
Product Description
Pennzoil Platinum High Mileage 5W-30 Motor Oil, 5 qt
Additional Information
Pennzoil Platinum High Mileage 5W-30 Motor Oil, 5 qt
Reviews
FlyTy
UPC : 071611365536 - Pennzoil Platinum High Mileage 5W-30 Full Synthetic Motor Oil, 5 qt - PickPanda.com
I use this Pennzoil in my 2001 Toyota camry with 178,192.00 mi my car runs great with no oil leaks and plenty of power
customer
good quality/price
Always good price, especially with a manufacture rebate
mitchell1204
Protect Your Investment
Pennzoil Platinum High Mileage Motor Oil provides better protection from friction than any other leading motor oil. It's simply the best. It carries a 10 year/300,000 mile warranty to back up what they say. Sure it cost more but when you look at the increased oil change intervals and reduced maintenance it is a better bargain than conventional motor oil. High mileage synthetic oil should be used in vehicles with 75,000 miles or more. 7 out of 10 new vehicles require synthetic oil. Manufacturers know it's better for their own warranty. For those that don't know synthetic motor oil is modern technology that converts natural gas into 99.5% pure base oil. Then high tech additives are added for superior protection. Conventional motor oil is made from crude oil and just doesn't compare to synthetic. Pennzoil Platinum leaves your pistons 40% cleaner. It conditions seals to prevent dry rot and cracking which reduces oil burn. There is no reduction in horse power. There is faster low temperature oil flow and better protection in extreme heat. I have one old car I used conventional oil up to 80,000 miles. It averaged 24 mpg on the road trip before last. Then this last trip I changed the oil right before I left. I switched to Pennzoil Platinum. I averaged 28 mpg. That sold me right there. It's definitely a better bargain.
mitchell1204
Great oil
I've tried all the top synthetic high mileage oils and i believe this is the best. i used it in a 1996 Geo tracker and it has a small leak on the top gasket. it did not stop the leak but it slowed it down a little. And the oil seemed a little cleaner than the rest when a changed it every 3000 miles. I wish walmart would stock this and the ultra platimun on the shelf. The price is a little high but the i believe its better than royal purple. I have almost 200,000 miles and have to warm the car up for 5 minutes before i drive it and this oil makes the car run a little smoothe faster.
Mike
Great for modern cars.
With modern features like VVT and direct injection, using a premium oil such as this is a no brainier. The direct injection pump is driven off the camshaft and under very high stress. The wrong oil could wear the lobe down, reduce pressure, and cause expensive repairs. VVTs also depend on precise oil flow. The price is amazing too, especially if you DIY. In some cases you can save a hundred bucks over a dealer synthetic change.