Ortho Home Defense MAX Insect Killer for Indoor & Perimeter1 Ready-To-Use Trigger 1 gal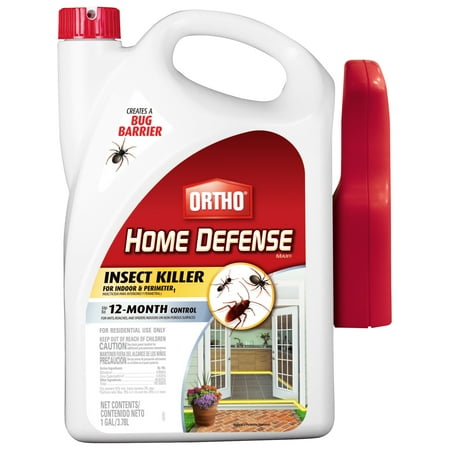 Sale :

$21.29

Sold & shipped by Supply the Home
Product Description

Additional Information

Reviews
Product Description
Kills bugs inside, keeps bugs out! Up to 12 month* control indoors for listed insects. Kills listed home invading insects. Non-staining. Odor-free. Available sizes: 24 oz. Ready-to-Use, 1 gal with Sprayer, 1.33 gal. with Comfort Wand *Applies to ants, roaches and spiders indoors on non-porous surfaces.
Additional Information

Ortho Home Defense MAX Insect Killer for Indoor & Perimeter1 Ready-To-Use Trigger 1 gal:
Non-staining
Controls up to 12 months *Ants, roaches and spiders indoors on nonporous surfaces
Creates a bug barrier
Kills ants, roaches, spiders and many other listed, home-invading insects
Odor-free
Ortho Home Insect Killer comes ready-to-use, so you can begin getting rid of pests immediately
Reviews
Kelly
Great for keeping bugs out, not for infestations!
First of all for anyone purchasing this for an INFESTATION, then you will be sadly disappointed. If you have a colony of roaches living in your walls, this will not kill them all. It will keep them out for a bit but thats it. With that being said, for keeping out bugs from outside, it works great. The moment the temp. Got warmer, there were wasps everywhere outside my place. I couldn't go outside without being scared. I had no clue where they were nesting but i sprayed around where i saw them flying outside and just all around my porch(at night!). Its been 2 days and i haven't seen a wasp come closer than 10 feet. So far so good I will say anyone with a roach infestation, check out this method http://www.instructables.com/id/No-More-Roaches/?ALLSTEPS . I moved into a place and after a week saw some roaches (im a very clean person so they were not from me) and followed this instructable and so far, ive only seen one roach in the past 2 weeks.
Jersey471
Works Great on killing fleas and other bugs!
I purchased this product to kill fleas, as we live near the woods and had a problem with them this year. Kills what it's suppose to and has long lasting killing power. May have to spray your floors several times a week in the beginning when infestation is moderate to heavy, since fleas hatch out about every 3-4 days, to get the little pests under control. (Don't forget to also treat your pets with Frontline or another appropriate pet flea product, in addition to using this product on your floors.)
Raynor
POOR PERFORMANCE
I have used the manual pump for years but cannot find this in stores. For the last year I have purchased 5 gallon battery operated containers and only 4 have worked! I am so disappointed. It is so frustrating when you need a product and it will not work as it should!! I am disappointed in the quality of the spray. I'm sure the actual contents will work but the spray will not work!!! Ugh! I will try another brand because I thought it was just a dud with one and now it is "4"! What s disappointment! Wish I could get my $ back
TMjets
Ortho Wand Sucks
First off, the Wand worked for a whole minute!!!! Wow , It then either clogged or broke? Please go back to a pump spray. I love the product for spiders, however it only last a week or so. I will look at other products in the future.
BettyB33
Best Ever!!
Hi. I live in the triangle area of North Carolina. I live for this Ortho Home Defense. Bugs die instantaneously. It is a necessity in my home, just like sandwich bags, and aluminum foil. I purchase Ortho Home Defense not just for myself, but also for other friends and family in state and out of state. I travel with one in the trunk of my car! I love the fact that throughout time Ortho has elevated the safety features on the comfort wand. It now has a double locking mechanism that keeps children from spraying the chemical accidentally if parents are not around. If you are out there wondering if this is a good product, wonder no more make your purchase today.