Ortho Home Defense MAX Insect Killer for Indoor & Perimeter1 Ready-To-Use Trigger 1 gal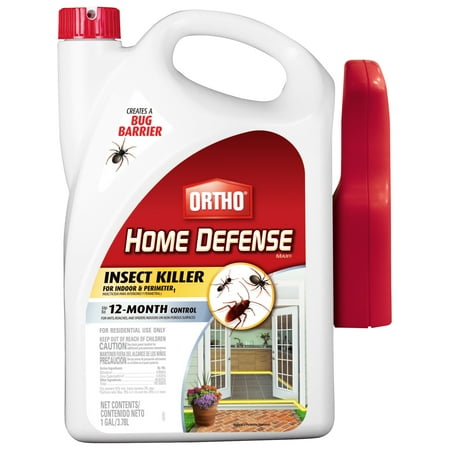 MSRP :

$6.84





Sale :

$21.29

Sold & shipped by Supply the Home
Product Description

Additional Information

Reviews
Product Description
Protect your home from insects with the Ortho Home Defense MAX Insect Killer. Don't just kill bugs; create a bug barrier with this spray. This Ortho Home Insect Killer is for indoors and the home perimeter, and it's safe and odorless. The Indoor and perimeter1 Ready-to-Use trigger 1-gal package is ideal because you can get right to work on protecting your home without mixing chemicals or pouring them into a spray bottle. Whether you have ants, spiders, roaches, or other home-invading insects, you can count on Ortho to keep them out. This Home Defense Insect Killer will keep pests at bay for up to 12 months, so there is no need to respray every month.
Additional Information
Ortho Home Defense MAX Insect Killer for Indoor & Perimeter1 Ready-To-Use Trigger 1 gal:Non-stainingControls up to 12 months *Ants, roaches and spiders indoors on nonporous surfacesCreates a bug barrierKills ants, roaches, spiders and many other listed, home-invading insectsOdor-freeOrtho Home Insect Killer comes ready-to-use, so you can begin getting rid of pests immediately
Reviews
Kelly
Great for keeping bugs out, not for infestations!
First of all for anyone purchasing this for an INFESTATION, then you will be sadly disappointed. If you have a colony of roaches living in your walls, this will not kill them all. It will keep them out for a bit but thats it. With that being said, for keeping out bugs from outside, it works great. The moment the temp. Got warmer, there were wasps everywhere outside my place. I couldn't go outside without being scared. I had no clue where they were nesting but i sprayed around where i saw them flying outside and just all around my porch(at night!). Its been 2 days and i haven't seen a wasp come closer than 10 feet. So far so good I will say anyone with a roach infestation, check out this method http://www.instructables.com/id/No-More-Roaches/?ALLSTEPS . I moved into a place and after a week saw some roaches (im a very clean person so they were not from me) and followed this instructable and so far, ive only seen one roach in the past 2 weeks.
Jersey471
Works Great on killing fleas and other bugs!
I purchased this product to kill fleas, as we live near the woods and had a problem with them this year. Kills what it's suppose to and has long lasting killing power. May have to spray your floors several times a week in the beginning when infestation is moderate to heavy, since fleas hatch out about every 3-4 days, to get the little pests under control. (Don't forget to also treat your pets with Frontline or another appropriate pet flea product, in addition to using this product on your floors.)
Rockydog
So Disappointed
I am so disappointed, not in your product, but in your Comfort Wand. I cannot afford to keep buying gallons of this product only to be able to us half of the first gallon before the wand gives out and won't spray anymore. Please don't tell me to change the batteries - I have and it still doesn't work. Imagine my frustration in hearing the "whirring" noise and have the wand produce no product. I now have 2 full gallons and 2 half gallons and no way to use them, other than pour some in a spray bottle. Can you sell me a couple of wands that work? I'd be willing to pay for them - has got to be cheaper than purchasing more gallons. I also purchase this product for my warehouses and will now have to start with an exterminator.
lakelady1
Works great at keeping bugs out!
Tiny sugar ants were appearing in my kitchen every day even though there was nothing on the counter for them to eat. I sprayed the Home Defense product around my window and door frames coming into the house and along the base of the house on the outside and no more ants!! This product worked great on ants and I also noticed less spiders in the house as an added bonus. I will definitely buy this product again! [This review was collected as part of a promotion.]
Myworld25
Nice product for your home
I use Ortho home defense each spring and fall to keep unwanted incects and other yard bugs from entering my home.It really works and I see very small amounts of bugs around the perimeter of my home. [This review was collected as part of a promotion.]