The First Years Sure Comfort Deluxe Newborn to Toddler Tub, Pink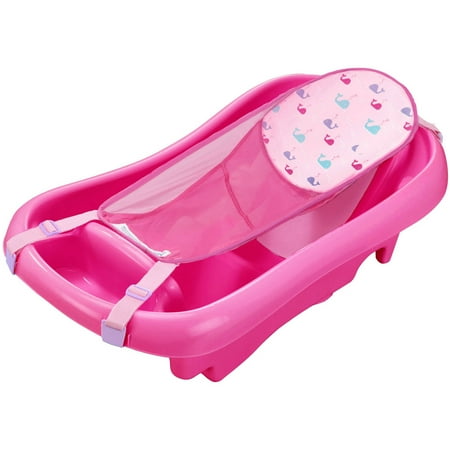 MSRP :

$19.99





Sale :

$15.99

Sold & shipped by Walmart
Product Description

Additional Information

Reviews
Product Description
The First Years Sure Comfort Deluxe Newborn to Toddler Tub is a necessity. It can help both the new parents and newborn children get accustomed to bathing. This toddler bath tub was voted best bath tub in the BabyCenter's Moms' Picks 2014 awards. Its deep ergonomic design holds the child better for bathing and offers a mesh sling and padded headrest to provide extra comfort and support to cradle newborns. The form-fitting netting provides security, making washing time less stressful for both parents and baby. Once the baby grows, he or she can sit up comfortably and still have ample room to play on the toddler side. The First Years newborn to toddler tub is easy to put in and out of the tub each time you bathe the child. The pads on the tub are mildew-resistant. This keeps your baby happy and healthy.
Additional Information
The First Years Sure Comfort Deluxe Newborn to Toddler Tub, Aqua Blue:
For 0M+
Newborn bather
Cradled comfort
Infant to toddler
Padded recline
Supports sitting
Soft foam pad
Sure comfort deluxe
Newborn bath sling included
Comes in Aqua blue
Tomy International2015 Spring Rd.Oak Brook, IL, 60523U.S.A.
thefirstyears.com©Tomy 2016
Reviews
Junie01
Nice tub!
I really like this tub. The sling is wonderful- great for a newborn that is too little to put down into the tub, but keeps him nice and secure. The sling air-dries quickly as well. I give my baby a bath at night, and prop the tub up in my shower and it is dry by morning. So, I don't have to worry about it getting musty. However, the sling removes easily to be washed whenever necessary. My baby is just recently too big for the sling, and he loves to be in this tub. There is a little hump in the bottom of the top to keep your baby from sliding down into the water when he is sitting in it. I am very happy with this purchase.
MalibuKarina
Something EVERY Mom and Baby Need
The First Years Sure Comfort Deluxe Newborn to Toddler Tub was one of the cheapest, best and most used purchases I made as a new mommy. The tub is lightweight and rather small so it will fit in any nook or cranny when not in use so you don't have to clutter your bathroom or bath tub. It comes with a sling attachment for when your baby is super small. I purchased a separate large sponge to insert on top of the sling as my baby was born very premature. So that has worked very well for us. Our babe is now 5 months old and 11 lbs and he is about ready to be on the sling without the sponge right now. Our baby seems to enjoy this tub, he gets comfortable and just waits patiently until we are done bathing him. Definitely see why this is the best selling baby tub, it's simple yet designed with the baby and parents in mind. Highly recommend it.
chey0687
Great for Newborns & Toddlers!
My baby hated having a bath in a sling type thing that didnt allow him to be in water. So I got this tub and he likes being soaked in the water. I feel he is very safe in this tub as well which is a big issue when giving him a bath. He is 3 months now and started using the infant side of the tub at about 2 months but before that we were using the sling that comes with it which allows him to be in some water. I feel this tub will last until he outgrows it probably at around 1 year. Over all GREAT PURCHASE!
MikesGwama
Comfort Tube
This product was bought for my grandson. The design is perfect for the newborn and conveinent for the mother.
happymom
scratched up back rest
the product is good. served its purpose, just didn't like the handling. it has a scratch on the back rest.