The First Years Quick Serve Bottle Warmer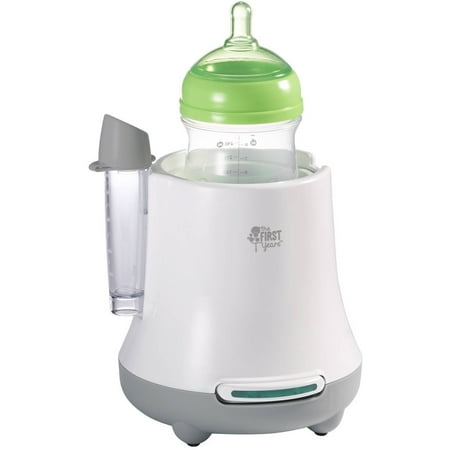 MSRP :

$35.98





Sale :

$15.48

Sold & shipped by Walmart
Product Description

Additional Information

Reviews
Product Description
The First Years Quick-Serve Bottle Warmer can heat bottles quickly. It can heat straight, angled, wide-necked and even disposable bottles. With this baby bottle warmer, you can heat up breast milk, formula and baby food jars in minutes. It also features an auto shut-off for added safety. The measuring vials that come with The First Years bottle warmer help you anticipate warming duration. You can also sanitize up to two pacifiers in the included basket. This baby bottle warmer will ensure that your baby has warm milk and baby food every time. It will allow anyone to feed the baby at any time. Take advantage of the variety of tasks that you can accomplish with The First Years bottle warmer.
Additional Information
Included measuring vials help you anticipate warming duration so that you can achieve just the right temperature. It's BPA free for consumer peace of mind. Pair The First Years Quick Serve Bottle Warmer with bottles of your choice (sold separately).
The First Years Quick Serve Bottle Warmer:
Warms breast milk, formula and baby food jars in minutes
The First Years bottle warmer featuring auto shut-off for added safety
Works with most wide, narrow, angled, even disposable bottles
Bottle not included
BPA-free baby bottle warmer
Includes basket
Can heat straight, angled, wide-necked and even disposable bottles
Includes measuring vials that help you anticipate warming duration
Can sanitize up to 2 pacifiers in the included basket
Reviews
Aneleja
Aneleja
Great Product! I bought this warmer because of the great price and good reviews. Of course I was a little hesitant as there were some bad opinions about this product as well,but once I start using it I have to say that this little thing is life saver! I use it several times a day for my son's formula and he is one anxious baby when it's his feeding time! Thanks to this bottle warmer, I have to listen to his cries only for 2 minutes because that is how long it takes to heat the bottle. It's very fast,reliable and great value for the money. I also like that is very small and handy and can be used later to heat baby food as well. Just couple of tips... Make sure that you read the manual and put correct amount of water for the milk/formula you are worming up. I saw some reviews of people complaining that is overheating or too cold...but I honestly think it's just the incorrect use of the bottle warmer that may lead to this. My son loves his formula to be very worm,so it took me couple of tries to get it to his perfect temperature and now I always put the same amount of water and the formula is always that perfect temperature that he loves. Also... I was using it on the several bottle brands-avent,medela,dr.brown,walmart-parent's choice....none of them was ever melted or damaged. You might want to unscrew the bottle cap & nipple when you are heating up the bottle. I don't think it's written in the manual, but the nipple captures a lot of steam and I decided that it might be better to remove the nipple for my son's safety and on the long run,it might cause some damage to the nipple as well.
BuggyMama
Good product, but some learning curve
We switched to a bottle warmer when our daughter was about four weeks old and her bottles were taking 5-10 minutes to warm with hot water. This is much faster, but it's not simple. You have to measure the correct amount of water before each use. After a few uses you'll get the hang of it, but here are a few tips to help out: 1. Fill the measurer to the top and just stand by the warmer swirling the bottle until you're satisfied with the temperature. The user manual says to wait ten minutes after use so this is the only way to ensure you won't underheat the bottle. 2. Leave the top of the bottle open. If you don't, milk can condense and overflow the sides onto the burner below. Burnt milk doesn't smell good and you'll have to clean it all the time. 3. Put the basket on the higher setting rather than sitting on the burner. It takes a little longer to heat but I was afraid being so close to the element that it would get the bottle too hot and kill the nutrients of the breastmilk. Overall we've been very satisfied with this product and after a bit of trial-and-error it works perfectly for our purposes.
NuttinWrongWithDadAtHome
2 Words: more sleep
Kicking myself for not purchasing this item sooner. Had to tinker with the H2O levels in the beginning but not hard to get the temperature that you need. Has made the late night/early morning feedings go a lot quicker/better. Takes around 2 mins to warm bottle. Good product.
LIAMSMOM
LIFE-SAVER!
OUR SON WAS BORN 2 MONTHS EARLY AND WHEN HE FINALLY CAME HOME FROM THE HOSPITAL WE HAD TO WARM HIS BREASTMILK IN A HURRY.USING WARM TAP WATER IN A GLASS WAS SLOW AND GOT OLD QUICK. SO WE BOUGHT THIS BOTTLE WARMER AND IT HAS BEEN A LIFE SAVER.IT HAS GOTTEN SLOWER AT HEATING THAN WHEN WE FIRST PURCHASED IT 4 1/2 MONTHS AGO, BUT STILL ONLY TAKES ABOUT 3 MINUTES TO HEAT OUR BOTTLES.WE HAD PROBLEMS WITH BREASTFEEDING SO I EXCLUSIVELY PUMP BREASTMILK AND BOTTLEFEED IT TO HIM SO THIS WARMER IS USED A LOT EVERY DAY.I RECOMMEND IT FOR SURE.WE CLEAN OURS OUT WITH WATER AND VINEGAR...SO EASY!!
cblevins1
Works well with Dr. Browns Glass Botltles
This bottle warmer does work well & yes I would definitely recommend it. It does take little time to figure out how much water to add according to how many ounces. The warmer is fairly quick @ warming bottles. The price of this bottle warmer is very reasonable. The warmer works great with the Dr. Brown's Glass Bottles, they fit just fine in the warmer, I have the 3.5 oz, 4oz, 7oz & 8oz Dr. Brown's glass bottles. I hope this review helps someone out. All the other reviews on baby products have helped me out tremendously.