L'Oreal Paris Revitalift Bright Reveal Peel Pads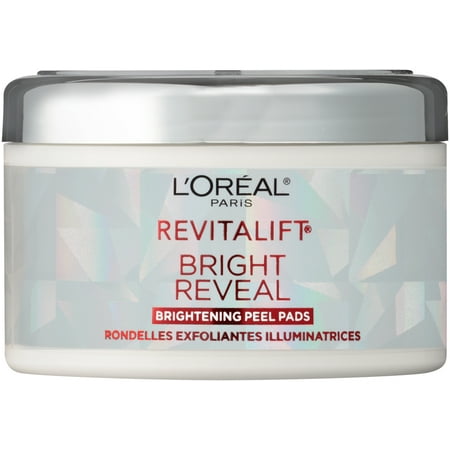 MSRP :

$17.82





Sale :

$8.72

Sold & shipped by Walmart
Product Description

Additional Information

Reviews
Product Description
L'Oréal® Paris Revitalift® Bright Reveal Peel PadsRevitalift Bright Reveal Peel Pads from L'Oréal Paris help encourage smoother, more radiant-looking skin with continued use of the pre-soaked glycolic peel pads after cleansing. The glycolic exfoliating treatment gently dissolves uneven skin tone and helps reduce visibility of uneven tone and wrinkles to help reveal clarified, more radiant skin. The daily treatment helps brighten the look of your skin while it encourages even tone. The multi-ply textured pads help physically resurface dead skin cells to reveal an underlying, youthful-looking, lit-from-within glow.
Additional Information
Derm-inspired glycolic peel pads
Reveal brighter skin, visibly reduces wrinkles
Helps fine lines and wrinkles appear visibly smoother
The formula with glycolic complex helps encourage skin tone that is visibly more even
Reviews
ahbecker
Not too bad but use caution if you medication for acne.
I received these Peel Pad from L'Oreal Paris as part of their Revitalift Bright Reveal product line for free. These pads are to be used only in the evening, after the Bright Reveal Cleanser. Even though these steps sounds quite simple, Use after Cleanser, Evening Only, it actually took me a few days to get use to it because I kept finding myself thinking it was a toner and wanting to use it every time I washed my face. I actually had to read the directions on the box to keep myself focus on when to use this product. Nevertheless, the peel left my face feeling fresh and brighter, however since I suffer from adult acne, at times after using my medication for a flare up, this step would cause a bit of irritation, which was quickly soothe when I applied Dual Overnight Moisturizer. So I stopped using my medication while testing this product for a week, to avoid any irritations and see how well this product would do with my acne. It was not too bad. No major acne flare ups, or irritations. [This review was collected as part of a promotion.]
cherilynette
Not sure it's working?
I have been taking the 30 day Revitalift Bright Reveal Challenge for approximately 1 week now. I have been using all 4 Revitalift products sent to me. I use them in the morning and evening as part of my daily routine. In the evening there are 3 "steps" to the routine. 1st: Scrub using the Revitalift Scrub. I then wait approximately 5 minutes. I then use the Revitalift Bright Reveal Brightening Pads. The 3rd step is the Night Moisturizer. The brightening pads feel cool on my face. After swiping them on my face I find almost no discoloration on the pad indicating the scrub product in Step #1 is working well to remove make up, oil, etc..... After using the Brightening Pads on my face I do not experience any type of uncomfortable tingling sensation, etc. What I am unsure of is what the brightening pads are supposed to do to help my aging process. They feel good to use, but not sure their purpose? I look forward to continuing the 30 day Revitalift Bright Reveal Challenge! [This review was collected as part of a promotion.]
lorireid
Revitalift nightly peel pads -Amazing results!
I have used Revatalift Bright Reveal Brightening Peel Pads for over 30 days in combination with other Bright Reveal products and absolutely love! Prior to using these products I was struggling with a mix of dry skin and breakouts. I talked to someone at a Department store makeup counter and bought some expensive products that helped the fine lines but only made the breakouts worse. The funny thing was that she also mentioned to me what great products L'Oréal had in their line, which made me excited to test out. Each of these 4 products is now on my must have list, although this one is Ultimate favorite. This pad exfoliates and tightens. My skin felt different the 1st time I used. My only problem with this pad is that you are supposed to use once a day at nighttime. I love them so much that I want to use them day and night (and have on some days).I am in my 40's and this product is perfect for my middle aged skin. I am on my 2nd jar and can't live without after seeing and feeling the results. [This review was collected as part of a promotion.]
Joh04896
An unpleasant sticky residue
I have tried the Bright Reveal Brightening Peel pads a few times now. I have used similar products and have enjoyed them but was a little disappointed with my experience. The pads didn't feel very damp and so I wasn't sure if they'd actually accomplish the goal of removing unwanted dirt and cleanse my face. After using the peel pads, there wasn't much that was actually on the pad itself. I don' know if this was because my face was really clean, or if they didn't effectively do their job. I noticed that my face felt almost sticky after using the pads though. It seemed as though there was a residue left behind which made my face feel less clean than it did before I used the peel. I went to bed thinking that this feeling would surely go away before morning but even when I woke up the next day and touched my face, ti felt sticky. It wasn't until I washed my face with the cleanser that is included with this line that I actually felt that my face was clean. These peels aren't for me. [This review was collected as part of a promotion.]
pthedinosaur
These Peel Pads really keep the dry skin at bay.
These pads are a very generous size and don't dry out while I use them (which is a problem I've had with other pads of this type). The scent is nice and light, just like the rest of the Bright Reveal line. There is a bit of a sting, for sure, but it's not intolerable, and doesn't last very long. I have a very oily t-zone and the rest of my face is very dry. I feel like these pads really go a long way in helping to normalize my skin and keep the dry-patches and oiliness in control. That said, I'm only giving them 3 stars because I found them too harsh to use as directed. After a bit of a bad run with this line of skincare (it left my skin angry, flaky, and swollen with a localized fever after a week's use as directed), I healed my skin, let it rest, and dove back into the 30-day challenge. I found that if I just use the entire line once a week, I get all the lovely benefits (clear, smooth skin with smaller pores and without dry patches or oiliness) without the awful side-effects of daily use. [This review was collected as part of a promotion.]