Rachael Ray Nutrish Natural Dry Dog Food, Real Chicken & Veggies Recipe, 40 lbs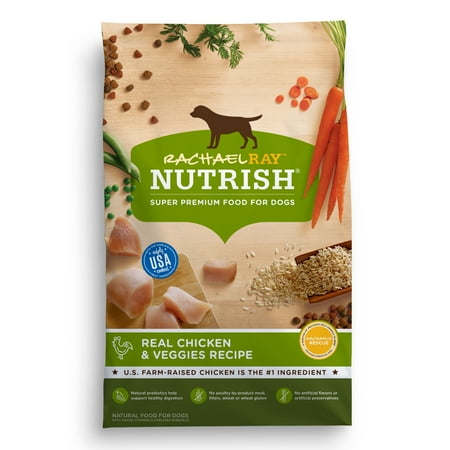 Sale :

$38.78

Sold & shipped by Walmart
Product Description

Additional Information

Reviews
Product Description
Rachael Ray Nutrish Real Chicken & Veggies Recipe is made with simple, natural ingredients, like real U.S. farm-raised chicken, which is always the number one ingredient, combined with wholesome vegetables.
Additional Information
U.S. farm-raised chicken is the #1 ingredient
Natural prebiotics help support healthy digestion
No artificial flavors or artificial preservatives
No poultry by-product meal, filler, wheat, or wheat gluten ingredients
Natural dog food with added vitamins & minerals
Safely USA cooked with the world's best ingredients
Reviews
My furry family
Healthy Food!
I have been buying Nutrish products for my guy Barney since he was a pup. He just turned 8 years old. He is super happy and healthy. He especially loves it when I mix his dry Nutrish with his wet Nutrish wet food, then I had a little water. He does a happy dance. He will pull all his toys out of his basket, it is so cute. He is my best friend and I can't imagine feeding him something that had bad ingredients in it. I feel very confident with the products in Nutrish. I also buy the treats that Nutrish makes as a way to give him healthy snacks during our play time. I am so grateful that I can provide something healthy for my Barney and my two older female cats Blackly and Fluggy. My cats are both getting to be about 20 years old and I want to make sure to give them healthier and affordable options as they age. Thank you Nutrish for giving me peace of mind in the health of my furry family.
Milo and Max
"Nutrish is WOOF-LICIOUS!
My previous brand was Purina for many years for my sweet Golden Retriever, Rocky. Rocky left us seven years ago at the age of 13/21(Rocky's years) of liver cancer. I had done some research on the food I unfortunately I discovered that the Purnia Warehouse plant had been exposed to rat poisoning and the dog food was recalled. I never knew about this and it has broken my heart to know I was feeding my baby this poison everyday! Since then I discovered Rachael Ray dog food! I knew Rachael Ray would not promote and place her name on a product without it being 100% A-OK! My Milo and Max absolutely enjoy lunch/dinner time. In fact, Rachael Ray products has giving me more ideas for healthier snacks for my fur-babies! I give my babies carrots and cucumber slices for snack and rewarding time. Thank You Rachael Ray for helping me provide my babies with much safer and healthier choices
SusieB
My little Myron LOVES it!!!!!
He is a puppy mill rescue. (Smart little guy escaped. Found wandering on a dirt road in Kentucky in the middle of the night. A road known for many puppy mills. This little guy was picked up and taken to a kill shelter. Another rescue picks pups up from kill shelters and takes care of them and fosters them. I found him on line and drove from Pittsburgh, PA to Salamanca, NY to get him.) Anyway, he obviously wasn't taken care of very well in the puppy mill. He is was only 2 when I rescued him and he already lost a bunch of teeth and he's very nervous. I used to feed my prior 2 dogs a competitor's brand. Neither did very well. I had switched my 2nd dog to a new brand after the same issues started occurring with her as my first dog. So when she passed I decided to look for a food that I felt, after reading tons of labels, that was much healthier while at the same time being economical. Rachael Ray won. Myron is so funny. My other dogs never hoped around on hind legs, almost dancing, when they see us going to the food container, but Myron does. He LOVES his food and he is maintaining a good 9.5 lbs AND he hasn't lost anymore teeth!!!!!
Love my pups
Feel better
When my baby was a puppy he had tummy troubles. We were at the vet every month. The vet would give us special food, which was very expensive, or we would have to feed him ground beef and rice. It was a lot of work and not fun for our puppy either. Then we found your food, Nutrish. It changed our lives. Our puppy was able to digest the food and within a few months he was thriving. He grew into a healthy adult . He was a German Shepard/ Yellow Lab mix. He was beautiful. Unfortunately, Ace left us in August at the age of 12. He was the BEST pet a family could ask for. Now my son has an English Bulldog and he tried an expensive dog food, but ended up putting him on Nutrush and his dog, Winston, is also thriving. I thank you for Ace having and wonderful life and I 'm sure with the help of Nutrish, Winston will have the same.
kcole
Couldn't get any better
We recently took our french bulldog to the veterinarian for constant itching only to find out she had food allergies.We switched to Rachael Rays feed and problem solved. Then at a recent dog activity they were giving out variety samples of Rachael Ray dog treats. We had never tried these treats. Both of my pups were hooked. It didn't matter which treat they tried they loved all of them. I have never seen them so excited to get treats. Thank you for making quality feed and treats for my furry family. [This review was collected as part of a promotion.]