Rachael Ray Nutrish Natural Dry Dog Food, Real Chicken & Veggies Recipe, 40 lbs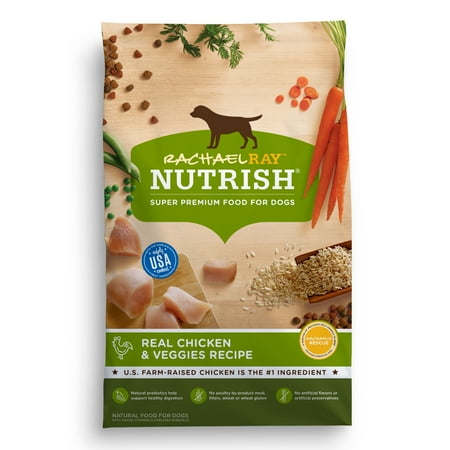 Sale :

$38.78

Sold & shipped by Walmart
Product Description

Additional Information

Reviews
Product Description
Rachael Ray Nutrish Real Chicken & Veggies Recipe is made with simple, natural ingredients, like real U.S. farm-raised chicken, which is always the number one ingredient, combined with wholesome vegetables.
Additional Information
U.S. farm-raised chicken is the #1 ingredient
Natural prebiotics help support healthy digestion
No artificial flavors or artificial preservatives
No poultry by-product meal, filler, wheat, or wheat gluten ingredients
Natural dog food with added vitamins & minerals
Safely USA cooked with the world's best ingredients
Reviews
The Doxies
The Wiener(s) Love It
My wife and I started feeding Rachel Ray to our 3 grown Doxies about 6 months ago when we researched Rachel Ray Nutrish, we went with it for 2 main reasons: (1) No Soy (2) First Ingredient is farm-raised chicken w 0 antibiotics (3) Proceeds go toward less fortunate animals (Do you see any other dog food doing that?) Another thing we like is Nutrish also uses fruits in the food as well. Compare Nutrish to other brands of dog food; the first ingredient is usually bone meal. The choice is a No-brainer - all natural, no by-products; just good wholesome food that is better for your dog. Our dogs immediately liked the food so when we got our pup, Elsie, the decision was easy. Elsie has known nothing but Bright Puppy! Elsie loves it...the bowl is empty before I can get the "big" dogs fed. I can tell a difference in the dogs coats; they appear to have just a bit more sheen and they definitely have more energy than before we switched to Nutrish products.
Hagganmade
Like it
We tried Rachel Ray Nutrish - Chicken and Veggies and found that our inside Standard Poodle (Zola) loved it. She's very finicky, especially with dry food, but the sound of her munching away at Nutrish is music to our ears! Additionally, Standards can have issues with "gunk" in their ears. Well, as the first few weeks went by eating Nutrish my wife noticed that Zola's ears were more clean and clearer than before we started with Nutrish. As this was the only change to Zola's lifestyle over that time, Nutrish had to be the reason for the clean ears. Accordingly, our outside Standard, "Tug", was having the issues with his ears and we decided to test Nutrish out on him. Guess what, he's now got clean ears!! Plus, their coats are great! We now feed Nutrish to all of our dogs (we've got one Golden and 2 Chihuahuas to go with the Standards) including the puppies we breed and raise (we wet it down for them) We recommend Nutrish to the new owners of the Standard pups as well! Great product!
HarleyLucy
Nutrish Dog Food - Healthy benefits for my dogs
I have 2 lap dogs, Harley, a 10-year old black & white Shih Tzu, and Lucy, an ~8 year old Chihuahua/Brussels Griffon mix. We adopted Lucy about 2 years ago after the huge tornado that missed our neighborhood in Moore, OK by only 1/2 of a mile. She was found wondering the streets afterward. Harley has been on Rachel Ray ever since it came on the market; Lucy for the last 2 years. I took them last September, 2014, for a checkup and I had a blood scan run on both. The vet came back saying they were in excellent health! I attribute that to Rachel Ray. For a 10 year-old dog, Harley is very active, still jumping up and down off of our very high king size bed. And after only 2 years on Rachel Ray, Lucy is the picture of good health. Considering that we think she may have been part of a puppy mill before the tornado, since she was older and not fixed, I think this says a lot. Thank you for creating a healthy dog food that is also affordable! We plan to keep them on Rachel Ray for the rest of their lives.
Top RJ
Not just one of the products!
I own and operate a non profit Animal Rescue and have food donations all the time. The animals in my rescue mostly come from being victims of Animal Crimes, so for the most part they all have some sort of special needs. In the last few months The Nutrish products ( because of donations are Ll different) have been the majority I've received. I've had and still have some dogs with serious stomach issues that cannot eat just anything and at times just won't eat because the food upsets their stomach. Since starting them on these foods, wet or dry and treats, they have not had any of the problems they have with other foods. I'm talking about they have even had problems with foods specifically for digestive problems and the kinds you would get at the vet for outrageous prices! I recommend these products to all my adopters and will continue to do so! Top RJs Animal Rescue Rehab and Kennels thanks you as well as our Furbabies! [This review was collected as part of a promotion.]
CaFurMom
My 3 Dogs & Cat Think Nutrish Is Paw-fect!!
I have 2 senior chihuahuas,a 5mo old Pomchi & senior kitty all eating RR food.My dogs eat both nutrish flavors(I interchange them so they dont get bored) I also got my son, his friend & MIL to feed their dogs RR as well.All of our dogs are different breeds, sizes, ages & energy type but all are happy & healthy eating it. I know they have the small breed finally but wondering why it doesnt come in big bags like the nutrish?? Our new baby is a Pomchi, Bailey Hope was dumped with her brothers & found by a friend of a friend, so when she came to be ours. She was severely malnourished & had worms. She has gotten to be a whopping 7lbs lol after treating her with worm meds & feeding her Nutrish its like night & day. You can see a HUGE difference from 5mos ago to now in the pics below.She loved it from day 1 & feel its a huge part why shes so healthy & is VERY energetic (Pomchis are high energy & need extra calories that are nutrient dense)Weve had our 2 older chis on RR since it first came out I think so of course put her on it too.it says for all sizes & ages so we didnt get a puppy kibble,which we just found out they have 1 now. Ive researched many brands h know alot about ingredients,this stuff is supreme, even similar or better than some of the "higher" brands & those can be much more expensive. My dogs are small breed, which need a higher protein content & smaller kibble.A 6lb bag wouldnt last long for 3 & too expensive.PLEASE make bigger bags! Were happy with the Nutrish but would prefer the smaller kibble & weve felt its better for them.The kibble size is a little big for them. I have to say my cat would probably prefer I feed her the RR dog food as opposed to her cat food but since I wont(for obvious reasons) she'll just have to sneak some from her fur siblings lol Great job & thanks!