Pyrex 14-Piece Storage Set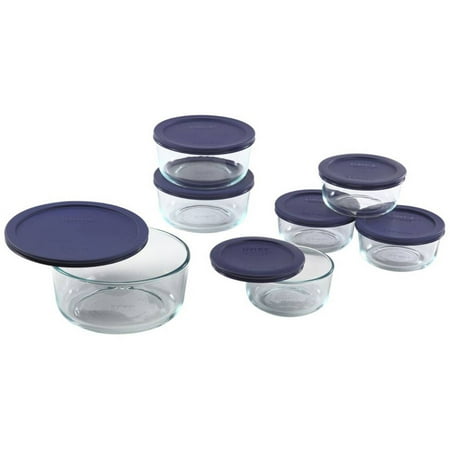 MSRP :

$39.99





Sale :

$18.89

Sold & shipped by Walmart
Product Description

Additional Information

Reviews
Product Description
This Pyrex 14-Piece Storage Plus Set is the ideal choice for your various food storage, preparation and transport needs. These dishes work well for refrigerator and freezer storage of leftovers and prepared meals, as well as taking food on the go to work or school. This 14-Piece Pyrex Storage Plus Set comes with four round two-cup dishes, two round four-cup dishes, one round seven-cup dish and matching blue BPA-free plastic storage lids. These storage dishes are made with non-porous glass, so they will not absorb flavors, odors or stains. They are easy to clean, dishwasher safe and their convenient round shapes make for easy stacking and packing. This Pyrex storage set is also pre-heated oven safe, microwave safe and freezer safe, making it a truly versatile storage solution.
Additional Information
Pyrex Simply Store 14-piece Set with Blue Lids includes one 7-cup, two 4-cup & four 2-cup round dishes with blue plastic lids
Pyrex glass is dishwasher, refrigerator, microwave & pre-heated oven safe
Non-porous surface does not absorb food odors, flavors or stains
Plastic lids are BPA free
Plastic lids are top-rack dishwasher safe, refrigerator & microwave safe
2 Year Limited Warranty on Pyrex glass and plastic lids
Reviews
Alwaysbuyquality
Great set of glass storage ware at a great price
Was able to purchase this for $15.00 which if you check around for other pricing on the walmart site was a good price (and i just wanted storage ware not more pyrex cookware although you can to some degree "cook" in these) and I gave it 5 stars and the best in value, expectations, durability and appearance not because I believe most things deserve to be rated that highly but because in this instance (so far) i believe they do deserve it. I decided it was better to have glassware to store leftovers in than plastic (read up on plastic and potential issues) and also because i know these are easier to clean and i can put them in the dishwasher with no concerns. These are heavy duty glassware with good fitting blue plastic lids. Easy to see what is in them when in the refrigerator and i hear you can freeze them and also microwave in them. Yes being glassware you have to be more careful with them since they could break but all in all this is a great purchase and i plan to purchase more. My main concern is whether the lids will stay tight fitting, so time will tell.
needsadeal
A good deal
I love these dishes. This set provides exactly what I needed.
Birdleaf
I'm so happy with these!
I have been SO concerned about the dangers of plastic-leaching and assumed that there wasn't much to choose from in the way of glass storage containers and that it would be too expensive to buy, but I was wrong on both counts! I love the Pyrex glass storage ware. It is very thick, in my opinion, and the lids are very easy to get on if you start at one end and "smooth" your way around. My lids have all fit well. I haven't tried liquids in them yet to know about leakage, but I'm sold on them for carrying lunches, storing all kinds of cooked foods, raw vegetables, etc. in the refrigerator, and have put a bunch of them in the freezer also with lunches in them. They clean up in a SNAP (the round ones are easier to clean than the square ones because of having no corners), and they seem very sturdy and well-made. The red lids are a little garish and overly bright in my opinion and are not truly red, so I much prefer the blue ones, but in the end it doesn't matter that much since they're just for food storage! I purchased 3 different sets of the Pyrex glass storage and love them all. A lot of them nest together to save space also, which helps in storing all of these! I've already gotten rid of the majority of my plastic ware, and I just got a new Pyrex set yesterday, so I'll be getting rid of more of the plastic now! This set has 2-cup, 4-cup and 7-cup containers. The 4-cup size is great for ALL KINDS of things and is my very favorite lunch size, and the 2-cup containers are my next-most-used size after the 4-cup size. The 2-cup sizes are SO handy for so many things that I couldn't do without them. Needless to say by this point, I'm thrilled that these are now available to buy!
Anna
Good product
Changing from plastic to glass. Had item shipped to store--was impressed all pieces arrived unbroken. Lids fit snugly & don't break. Both bowls and lids say "Made in USA", but was just reading elsewhere how some companies have their products (or certain components) made overseas and find a way to still label them US made, so unsure about that. Have read about Pyrex shattering when heated in oven, & it's possible this is due to people not following the directions which state to not put Pyrex in oven until completely preheated. Yet I find it curious that on the outside of the box & in the directions, it says "oven safe", but when you look at each glass bowl, it only says "Microwave safe. No broiler. No stove-top." So if it really is oven-safe, why is there no mention of this on the product itself? Seems like if it is, they'd want to stamp it all over the thing. Won't be an issue for me; it's called a storage set, & that's all I intended to use it for anyway. Appears well-made, just like the identical Pyrex bowls (2 & 4 cup) I've had for several years. Happy with purchase.
jleebri
Excellent Quality
Very pleased with this set of bowls. The glass and lids are thick and sturdy. They hold up well to storing, serving, and cleaning. Would recommend highly.