Pyrex Easy Grab 28-Piece Bake and Store Set, red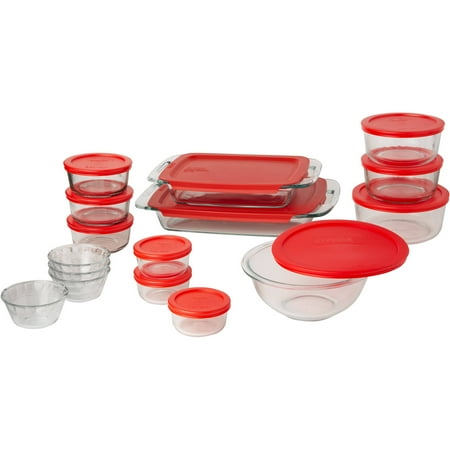 Sale :

$49.99

Sold & shipped by Walmart
Product Description

Additional Information

Reviews
Product Description
The Pyrex Bake and Store Set, Easy Grab is ideal for any kitchen. It has everything you need to start prepping, baking and more. The set has 28 pieces in total. It includes four 6-oz custard cups, three 2-cup round containers and one 4-cup round container. It also comes with a mixing bowl, two oblong dishes and lids for everything. They are made of non-porous glass that will not warp, stain or absorb odors. The BPA-free plastic lids are top rack dishwasher-safe. The glass in the kitchen storage set can be preheated in the oven, used in the microwave or stored in the refrigerator.
Additional Information
Pyrex Easy Grab 28-Piece Bake and Store Set:
The kitchen storage set includes four 6-oz custard cups
Three 2-cup round containers
One 4-cup round container
Three 1-cup round containers
Two 3-cup round containers
1.5-qt mixing bowl
2-qt oblong dish
3-qt oblong dish
12 matching lids
Made of nonporous glass that won't warp, stain or absorb odors
BPA-free plastic lids are top rack dishwasher safe
Glass is preheated oven, microwave, refrigerator and dishwasher-safe
The Pyrex storage set comes with 28-pieces
Reviews
RoniAnne
Best Ever Set of Bake and Store Ware
Pyrex Easy Grab 28-Piece Bake and Store Set is magical, I absolutely love this this set. The 2 rectangular pieces 7x11 inch and 9x13 inches have handles to carry them with. Each piece has a lid to fit it and on top of each lid tells you the size of the container. Whether it be 2 quarts, 7 cups, 4 cups, 1.5 quarts ect. The only pieces without lids are the ramekins. Each piece is dishwasher, microwave, over and freezer safe. Follow the instructions included in the safe use of freezer to oven and microwave use. I was able to use both the 7x11 inch and 9x13 inch dishes for Thanksgiving, the grab handles and lids came in very handy and they were a breeze to clean. You will not be disappointed with this Pyrex set, each piece is well made with nice size glass, no short cuts taken here! Take good care of your Pyrex set and it will serve you well for a good long time.
Shayster2009
Ideal for Complete Storage and Baking
You can take this set from the oven to the table to the fridge, or on the go! Lids close securely, so there are no leaks. Eliminates the need for multiple storage sets given their versatility. You can bake in them, serve in them, then store leftovers in them without the need to transfer them into a container. They are easy to clean and wash well. Lids don't buckle. What's also great about these bowls, they are microwavable. I just used them today to put some thanksgiving leftover. So you don't have to transfer to a plate just straight to the microwave, which is less work. I just notice that most of my family member have some sort of Pyrex bowls. I mean you really can't lose with these pieces. I truly recommend these to anyone who's looking for good quality Pyrex that have some versatility.
FlaFigJo
Excellent redesign & great lids!
I usually hate re-designs -not this time! My old Pyrex roaster/baking pan cracked (after 10 years of heavy use) so when these came up for review I jumped on them. The re-design on the baking pans handles is genius, I used the large one tonight & it was MUCH easier to remove the pan from the oven. after the pan cooled the lid was snapped on & stored in fridge for lunch. The lids are a hefty weighted plastic. Every piece has a lid, and they nest nicely - the lids for the bake pans fit in the bottom so I won't loose them. Every piece is the heavy duty Pryrex I love, and the bowls are weighted so no tipping easily. I'm definitively going to get the newer square ones before my old ones fail, I love the handles!
EasyToClean
Improved and has it all!
Pyrex got better! This set has it all. What a great wedding present or replacement set this would be. The lids now fit tight on the bowls and are a much better plastic than the past. The new shapes of the bowls are appealing as well. They are not as slanted at the bottom which makes for less spilling and overflow when stirring. They also changed the handles on the baking dishes to have a slot providing a better grip when hot or hand washing. Feeling secure when grabbing a hot dish out of the oven is nice. I think the glass is heavier now which gives the feeling of quality and makes them more stable when mixing. I don't know how they did it, but they seem to store nicer than the old ones. Take up less space. If you are planning on shipping these as a gift, they are wellpacked and will make the trip just fine. One could have this sent right to the home or as a gift with Walmart's free or low cost shipping.
TJRWV
So in love with them!
My family has bought Pyrex for years and it was my turn to get a set of my own. My husband bought this set for me back in June for my birthday. We are so in love with them! I've read on here how the lids shrink in the dishwasher. I haven't had that to happen. Ive noticed that happen to other brands if you use the "heated dry' option or 'steam' . I put them on the top rack and open the door for everything to dry. They come out prefect! I didn't have any broken or chipped bowls with delivery. No missing pieces. I'll definitely be buying more in the future. :)