Enoz Old Fashioned Moth Balls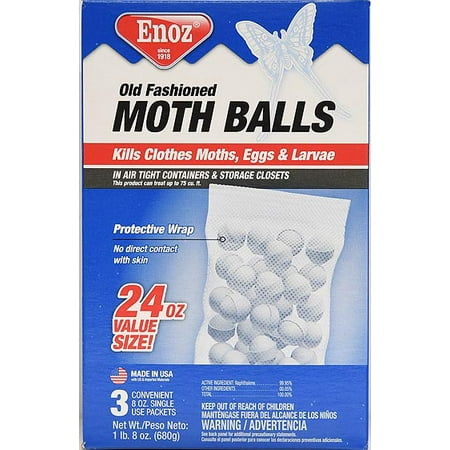 Sale :

$5.52

Sold & shipped by Walmart
Product Description

Additional Information

Reviews
Product Description
Enoz Old Fashioned Moth Balls protect clothing and other materials by killing clothes moths and carpet beetles, and their eggs and larvae when used in air-tight containers and storage closets. Each 24 oz box can treat up to 75 cubic feet of storage space.
Additional Information
Enoz Old Fashioned Moth Balls:
Contains three 8 oz convenient, single use packets
Allows air to flow through packet so active ingredients can sublimate
Sized right for consumer use
Child deterrent film meets EPA requirements to prevent access to children of loose moth balls
Reviews
Mikel1771
Moth balls and their many uses.
People used moth balls for years to keep bugs and critters away from their homes and property and they worked then and they still do. Big corporations convinced us at some point their often more hazardous chemicals were better... Moth balls get the job done and they are inexpensive and easy to use. Great for toilet tanks too. Helps with odor, cleans the bowl a bit and prevents mildew from developing. People even used to put these in low grade gas for their vehicles! It somehow boosted the octane and cleaned up the gas some. This was back when fuel was at a much lower octane level. I would not advise it in today's vehicles but I just thought it was an interesting fact. Buy these they are awesome!
Guido
Does the job. . .
GREAT quantity, packaged In sections, effective and GREAT price.
NICK
THE BEST MOTH BALLS EVER I LOVE THEM
I LOVE THESE MOTH BALLS THEY ARE THE BEST ONES EVER I HAVE THEM IN MY GARAGE MONITER COVER TO KEEP THE BUGS OUT THEY DONT LIKE THE SMELL I USE THEM SPRING SUMMER FALL MARCH JUNE OCTOBER THEY LAST THREE MOUTHS I PUT THEM IN MY GARAGE MONITER TO KEEP THE BUGS OUT THEY DONT LIKE THE SMELL YOU HAVE TO USE VINYL GLOVES THE SMELL WILL GET ON YOUR HANDS I HAVE 6 GARAGE MONTIERS COVERSI PUT SEVEN MOTH BALLS IN EACH COVER IT WORKS THE MOTH BALLS SMELL BAD KEEPS BUGS OUT YOU DONT NEED THEM IN WINTER IN WINTER I TAKE THEM OUT THROW THEM ON MY DRIVEWAY I DONT NEED THEM IN WINTER THESE ARE THE BEST ONES EVER I WILL ALWAYS BUY THEM I HAVE 4 BOXES IN MY GARAGE I RECOMMEND THIS TO ANYONE WHO WANTS TO BUY THEM PUT THEM IN YOUR GARAGE MONITER THEY ARE THE BEST ONES EVER NICK S
Nana
great for rats
We use these in our barn, they keep the Field rats away!
1234
Not only for clothing
Moth balls deter small animals and some insects from living/hibernating in my shed so I replace them as needed. This was suggested by a co-worker many years ago and since then there have been no small animals and very few insects.