Prismacolor Premier Adult Coloring Book Kit - 25 Piece Set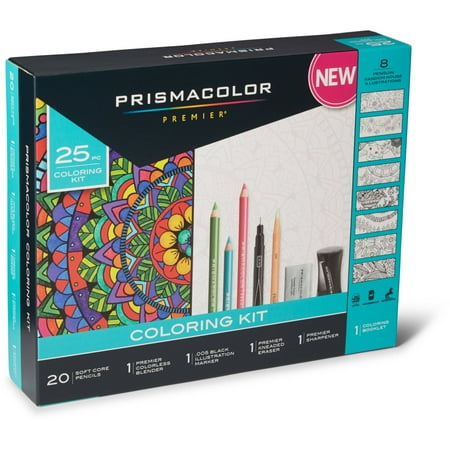 MSRP :

$24.97





Sale :

$9.91

Sold & shipped by Walmart
Product Description

Additional Information

Reviews
Product Description
Unlock a world of brilliant, stress-relieving colors and let your imagination bring the coloring pages to life! Your coloring kit comes with 20 Prismacolor colored pencils, an illustration marker, a colorless blender pencil, a kneaded eraser, a pencil sharpener and a coloring book for adults. The intensely colorful pigments in the adult coloring pencils help you differentiate your designs. Prismacolor coloring pencils feature creamy cores that allow you to blend, shade and layer like a professional artist. At the same time, the colorless blender pencil effortlessly blends pencil strokes together while the fine line illustration marker helps you draw details and outline your drawings. Your coloring kit also comes with a kneaded eraser that can be molded into any shape plus a dual-port pencil sharpener that allows you to select just the right point for your project. Experience the calming power of creative expression with the Prismacolor Premier adult coloring book kit!
Additional Information

Prismacolor Premier Soft Core Pencils Adult Coloring Book Kit with Blender, Illustration Marker, Eraser, Sharpener and Coloring Booklet, 25 Pieces:
Begin your adult coloring book journey equipped to fully express your creative side: Soft core pencils, an illustration marker, an eraser, a sharpener and a coloring booklet with 8 illustrations
Pre-sharpened pencils in 20 colors picked just for coloring books take the stress out of finding the right shade
Black illustration marker has premium, smear-resistant ink and an ultra-fine 005 tip that's ideal for creating crisp details and outlining
Colorless Blender pencil helps you create imaginative blends and soften edges
Pencil sharpener has two ports, one for wide points, one for fine points. Large kneaded rubber eraser molds easily into the size and space of what you're erasing
Designed for a range of expertise levels, the coloring pages for adults are a great way to unwind after a stressful day
Reviews
BarthVader
Good set in variety of colors
First, I'll disclose that I got this set for free for my honest feedback. Secondly, I'll also disclose that I have been using Prismacolor pencils since 1998 or so when I was in college for interior design, so I've been a fan for a lot of years. When I got my old pencils out a few months back, I was missing some of the colors I wanted, and went to Hobby Lobby to fill in pinks and purples that we rarely used designing rooms back then. I left without purchasing any from HL due to price. This set fills in a lot of colors I was looking for, plus the metallic silver and gold, that I didn't know they made! Love the blender, mine was down to almost nothing, I had lost my eraser, and I had previously added this particular sharpener to my Christmas wish list. One of the blue pencils in this set was not a smooth and soft as all the other pencils, but it did still leave nice color on the page. This set is the far best value I've seen since it includes so many of the extras. It would make a great gift to yourself or someone who loves to color.
Susie
It's Too Good To Pass Up
This is a tremendous set for someone who is new to colored pencils and adult coloring books. You get all sorts of the stuff you need or want: a really good sharpener that holds the shavings, a kneaded eraser, a blender pencil and a liner/detail pen (black). And of course the pencils - I had nearly given up on using colored pencils until I tried Prismacolor with their soft lead and colors that are not wimpy. And all this for the bargain price of $10. The sharpener is nearly $6 alone. So this is something the active colorer who has all the supplies may want, too, if they have misplaced their liner pen or need a new eraser or the basic pencil colors are getting really short.
amcc
Great gift!
I bought this as a gift for my sister who loves to color. She loved that it had the blender and the eraser. Excellent gift idea!!
JJ77
Perfect for Coloring on the Go!
I really enjoyed being able to purchase everything I needed for Adult Coloring in one Kit. It comes with a variety of colored Pencils and it even includes a sharpener and an eraser. The Coloring Book provided is a perfect size for my train commute where I like to relax and destress.
FLMomOfTwo
What A Set!
I have tried several different pencils in the year since I bought these. NONE compare. They blend beautifully and the colors are very rich. You can sharpen them easily and can get a nice point with a half turn in the hand sharpener that came with the set. I won't buy any other brand ever again. Best starter kit with everything you need! I am getting another set for my god mother who is always crafty for the holiday, I am sure she would love it!