Alfapet: Extra Giant Sifting Cat Litter Box Liners, 11 Ct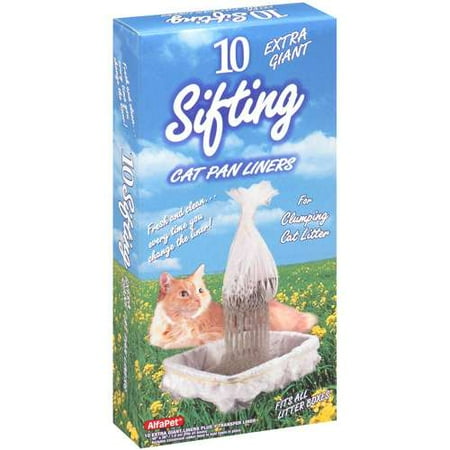 MSRP :

$3.22





Sale :

$2.68

Sold & shipped by Walmart
Product Description

Additional Information

Reviews
Product Description
Keep your cat's litter box clean when you use Alfapet Extra Giant Sifting Cat Pan Liners. When the contents need to be changed, simply scoop up the bag and tie it shut. These cat litter liners hold a large quantity and leave no spills behind.
Additional Information
Alfapet Extra Giant Sifting Cat Pan Liners, 11-Count:

Simply scoop up bag and tie shut when finished
Leaves no messes or spills behind
Reviews
Unknown Customer
Fantastic! (if you do it right)
These liners are great and I use them all the time. Most people complaining are making either one or both of these mistakes: 1) You MUST use clumping litter with these. 2) You MUST leave 3-4 inches of litter in the pan at all times. Both of these points are explained on the box. The clumping litter is the only way to prevent the urine from soaking to the bottom and being able to remove it. The 3-4 inches makes sure you can grab all waste AND leaves enough of a buffer to prevent the cat from scratching the bag with it's claws while it's covering up it's waste. Read the negative reviews and almost all of them made 1 or 2 of these mistakes (which were pointed out on the box) and complained about it. The only issue with these bags I have is they are flat. So a shallow pan will be easy to cover but a deep litter box (3-8 inches) will leave large folded clumps of plastic in the corner that have to be folded over and secured with the included rubber band to hold in place. It's a bit of a pain but you only do it about once a months before you run through all 11 bags. The time it cuts down on cleaning the litter is well worth it!
HurricaneGirl
Great Time & Mess Saver! LOVE these!!
I have used the liners that are like trash bags before. But these take it to a whole new level! Especially if your obsessive about changing / scooping the litter. Before when I used a scooper the clumps near the edge (which is where my girls ALWAYS go #1) would sometimes breaking apart and I would end up changing the whole box of litter out altogether. These are great because they don't break up the clumps and save me a lot of money!! My only complaint is there are a little large and my cats get frustrated with the overhang sometimes but we've devised a way of putting them on that heps with that. When you lift the liner up to sift, it actually works better if you don't shake and move it around. Just hold it directly above he litter box and let it all sift through. Then give it a gentle shift or jiggle at the end.
Akio
The best!
I have two cats and have an automatic litter box that I use at home and a manuel litter box that I use when traveling in my RV. I use these liners in the "travel" litter box and it is the greatest! I put in the liners and fill the box with litter before leaving home. Each day I lift the top liner out and the "poo" is traped while the clean litter sifts onto the next liner. I put the removed top liner that is now filled just with "poo" in a plastic grocery bag and tie it up and toss it in the trash. I don't do anything else to their litter box except occasionally add a little more litter to the pan from time to time if needed. One box of liners lasts over a week for my cats. What could be easier while traveling!!!
wilkin
must have product
An up-stairs neighbor moved out and left her momma cat and 4 kittens behind. I now have 5 cats. I have had cats my entire life and I can not stress enough what an amazing product these sifting cat pan liners are. If you have a litter box you must have this product!!! I wish I had invented them. Clumping litter and sifting cat pan liners will make cleaning your litter box so easy that your house will never smell like a litter box. I buy them by the case!!!!
Angie1020
must have product
Works great for our multiple cat family and litterboxes!