Neutrogena Moisturizing Light Sesame Body Oil, Fragrance-Free, 8 fl. oz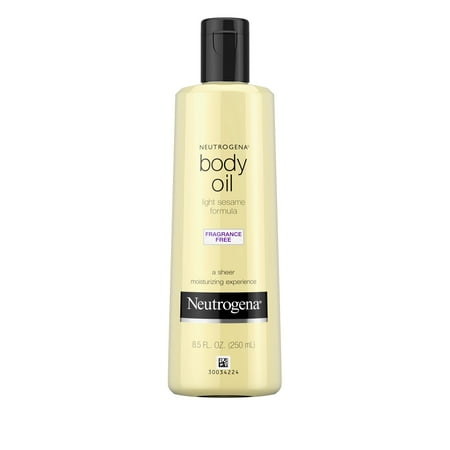 MSRP :

$10.84





Sale :

$9.97

Sold & shipped by Walmart
Product Description

Additional Information

Reviews
Product Description
Light Neutrogena Sesame Formula Body Oil in a convenient 8.5 oz bottle glides on easily and helps to moisturize dry skin. Neutrogena Skin Oil is so sheer that it vanishes into even shower-damp skin, leaving it soft and silky. Neutrogena Body Oil can help to rejuvenate skin with a radiant, healthy glow. Every day use of Neutrogena Sesame Formula Body Oil, here in a great 8.5 oz bottle, can give you healthy hair all day.
Additional Information
8.5-fl. oz of fragrance-free moisturizing body oil for dry skin to help hydrate and soften skin
Lightweight body oil pampers your skin as a sheer moisturizer that instantly vanishes into skin
This body oil for dry skin leaves skin feeling soft and silky and absorbs quickly to nourish skin
Light sesame oil glides on easily, providing essential hydration for dry skin without any fragrance
Sesame body oil provides instant hydration for skin leaving it with a radiant, healthy glow
This dry skin oil helps maintain skin's essential moisture without the heavy feeling of lotion
After a shower or bath, smooth on a few drops of moisturizing body oil while skin is still damp
In the bath, add body oil to water to soften and nourish your skin while you bathe
Reviews
SenoritaC
Neutrogena Body Oil, Light Sesame Oil Formula Unsc
First of all I love this product, scented or not scented. I have bought this body oil for over 20 years. Neutrogena Body Oil, Light Sesame Oil Formula, Fragrance Free is not oily and is absorbed almost instantly into the skin. The oil is really light weight and leaves skin super soft and conditioned when used regularly. I have found that it works really well when applied after a hot bath or shower before bed. The heat of sleep along with the sesame oil leaves skin hydrated and really soft and silky. I bought one of those long handled sponge applicator so I can apply the oil to my back. My itchy dry skin there is no longer a problem. Neutrogena Body Oil, Light Sesame Oil Formula, Fragrance Free goes on smoothly, and it long lasting. Does not feel sticky or heavy. The unscented oil does not compete with any perfume I may wear. May soften skin better than lotion as it does for me. Fantastic trusted brand. Yes – buy a bottle. I do every month.
Lexingtongranny
Light not oily
I honestly like this body oil! I decided to use Neutrogena's body oil in the shower while I was still wet after shaving my legs and shampooing. I opened the bottle and there truly was no scent as they claim. The directions say to smooth on a few drops but I didn't. I just poured some directly into the palms of my hands, rubbed them together and applied it all over, especially on my legs and arms because they're the driest parts of my body. It was pleasantly light and not as heavy and oily as I expected it to be. If you've ever used baby oil to moisturize you'll know what I mean. No-one wants to feel like an oil slick. When I got out of the shower I gently pat myself dry with a towel. Just be careful in the shower or tub because it was a little slick on the bottom. I'm not just saying this, but I was very pleased with the end results and I'm picky, thus the 5-star rating. My skin truly felt soft, not oily, and the only scent I detected was from the shampoo and body wash that I used in the shower. My legs were soft too! I really think you'll like this. Pros: Light, not greasy Unscented Softens skin Cons: None that I can think of.
mrblueu
Totally Fragrance Free
Many products will claim fragrance free but still have an aroma. This product is truly and totally fragrance free. It's the light sesame formula. Personally I prefer a little aroma and they do make that also. However if you are someone allergic to fragrance or simply do not want it for whatever reason, this is the product for you. If you've never used Neutrogena Body Oil, you are in for a delightful moisturizing experience. I like to use this product primarily on my legs and top area of my feet. You can use it any time of day or night but I believe it works best using after stepping out of the shower. Oh you can also put it in your bath water! While your skin is still a little damp after lightly towel drying, massage a small amount of the oil into your skin. It does not leave the skin greasy or oily feeling. It will leave your skin feeling smooth and soft. The oil is rapidly absorbed by the skin and does not leave any residue on clothing. I like the way it gives a light subtle sheen to my legs and a healthy appearance. I also find this product works wonders for my very dry itchy skin areas. I have an area on one leg that drives me crazy itching if I don't keep it moisturized. This product works miracles on that dry itchy area of my leg and keeps it feeling soft and non-itchy all day. Since this IS an oil, be sure not to put it on the bottom of your feet until you have socks and/or shoes handy to prevent slipping. This is a good size bottle at 8.5 oz. On the back of the bottle is some information for use and they also include an 800 phone number. Makes a nice stocking stuffer for Christmas and makes nice gifts any time of year.
Kansas112
Supple as a Petal
.....With no fragrance and a soothing warm glow! There is an amazing difference I felt with my first use. And for me it was just the right balance! I am one of those people who has always thought that body oil is just too greasy. I would walk right by them in the store ....until now! With Neutrogena Light Sesame Body Oil there is no shine, instead I saw and felt a fresh and natural glow. It felt like I spent the day at the spa and got pampered. It's that good! It works whether you shower or bathe. After your shower don't dry off , while you are still wettish smooth on just a couple drops because that is all you will need. For the bath, just add a few drops to the water. You can dry off naturally or just pat dry, this is what seals in the moisture. This is a whisper light oil so it absorbs into your skin quickly. It is so sheer it just vanishes into your skin and not your clothes. What a treasure especially on those hectic and chaotic days when you're on the go. Besides the seasons and the elements, I am diabetic and my skin has become drier overtime and sometimes itchy. Now my skin feels nourished. Also, I like to dab a Q-tip in Neutrogena Sesame Light Oil and coat my nail cuticles before bed. Just what the Doctor ordered!
mywonderfulnights
Sheer and smooth
I first want to say that I received this product for my honest rating and review. Now that that is out the way, I received the 8.5 FL OZ. (250 ml) bottle of Neutrogena body oil in the (fragrance free) light sesame formula. The bottle says you will have a sheer moisturizing experience and I do agree. This oil is amazing. I first used it in the shower because I thought it would be greasy but I was so wrong. This oil soaked into my skin fast and left me so soft and not greasy what so ever. I also used it right before bed on my arms and legs and it didn't stain my sheets at all. I am impressed with this oil and will keep this on my to buy list in the future. I defiantly recommend this body oil and rate it 5 out of 5.