Neutrogena Moisturizing Body Oil, Light Sesame Formula, 8.5 fl. oz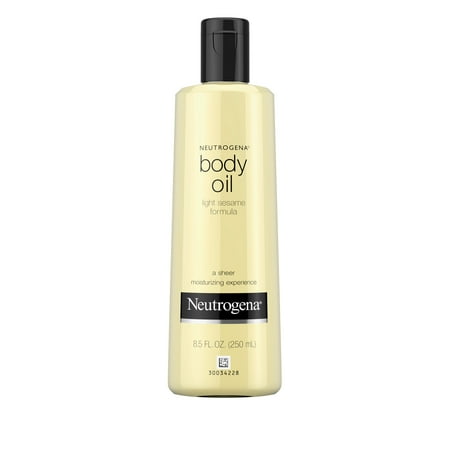 MSRP :

$10.85





Sale :

$9.97

Sold & shipped by Walmart
Product Description

Additional Information

Reviews
Product Description
Regular use of Neutrogena Light Sesame Formula Body Oil restores the natural radiance and beauty of your skin while conditioning the epidermis. After exfoliating during your regular cleansing routine, step out of the shower, dry your body lightly and apply a generous amount of Neutrogena Light Sesame Body Oil, which glides along your skin with ease. So sheer that it vanishes into your shower-damp skin, Neutrogena Light Sesame Oil (8.5 oz) leaves you with a youthful, healthy glow. The sweet, sensual scent of Neutrogena Light Sesame Formula Body Oil adds another element to help you feel your best. Introduce your skin to the delicate treatment of Neutrogena Light Sesame Formula Body Oil to nourish your body's outer layer of protection.
Additional Information
8.5-fl. oz of moisturizing body oil for dry skin to help hydrate and soften skin
Lightweight body oil pampers your skin as a sheer moisturizer that instantly vanishes into skin
This body oil for dry skin leaves skin feeling soft and silky and absorbs quickly to nourish skin
Light sesame oil formula glides on easily and provides essential hydration for dry skin
Sesame body oil provides instant hydration for skin leaving it with a radiant, healthy glow
This dry skin oil helps maintain skin's essential moisture without the heavy feeling of lotion
After a shower or bath, smooth on a few drops of moisturizing body oil while skin is still damp
In the bath, add dry skin body oil to water to soften and nourish your skin while you bathe
Reviews
luvmydogs67
great stuff
I am obsessed with lotions and oils so please believe me when I tell you I have tried them all. This is my favorite! For some reason it has not been on my radar, but now it is and I'm hooked. It's not nearly as greasy as many others and it's much more affordable- especially at Walmart which has it for at least a few dollars cheaper than the drug stores. It is easy to apply and dries quickly. There is no worry about staining clothes, but do give it a minute or so to absorb. Once absorbed, you are left with silky, smooth skin with a very pleasant summer/suntan lotion smell. It's very subtle so it should not bother others. The only issue that I have is that the bottle is not the best. There is residual oil in the cap which often drips down the bottle. Do not leave it on a surface that could stain or discolor. I leave mine on a shelf in the shower so it's not a problem. But just be aware of this one design flaw in the packaging.
MissStacieS
leaves skin soft, smooth & not oily at all
Been using this daily for just over a week & the difference in my skin is wonderful. Its softer, smoother & my husband says he loves how it feels. I rub this in when I'm still damp/wet from my shower. It has a light feel and it rubs in and sets quickly with no oily feeling to it. It has a very light fragrance from the sesame seed oil that's pleasant and not a bit overwhelming. You can still smell which Neutrogena bath gel you used after applying oil. My typically dry to very dry skin is now healthier and moisturized. It looks better too. Even my calloused feet are softer and smoother with the daily use of oil. (And I still run around barefoot most of the time!)I am officially using this oil from now on. I've thrown out my moisturizing when wet lotion for a better product, Neutrogena's Body Oil! Its also nice to use before going out with shorts or a short skirt because it makes your skin look aglow from within. Nice!
Tracy52
AWESOME!!
I love the smell and the way it makes my skin soooooo soft.
Natacha
Amazing on dry patch skin
I tend to have very dry skin and razor bumps when I shave my legs but ever since I began using this oil along with the rain bath and acne shower gel I have been smooth as a babies bottom
MissStacieS
This left my skin silky smooth, no oily residue
I've only been using this for about 3 weeks now, but I truly believe it will be my after shower body moisturizer forever. I tend to apply after showering but before drying off. It glides on easily, & a little goes a long way. The scent is very light, it won't overpower your body wash. Certainly not your perfume. It dries fairly quickly, so you're not waiting to get dressed because of it. It absorbs really well & it doesn't leave you feeling oily. It just leaves your skin soft and smooth, very touchable. I run around barefoot a lot, which tends to leave my feet very calloused. No problem in the winter, but come summertime, sandal time, well, my feet need lots of help getting them summer ready. I like to put several layers of this on them overnight, covered in socks. They are so much softer the next day. The timing of this purchase was a foot saver this year.