Neutrogena Light Therapy Acne Treatment Face Mask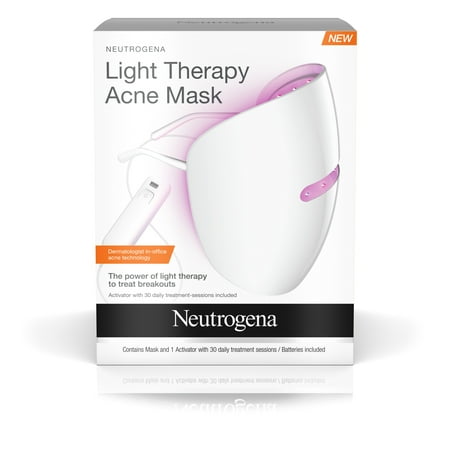 MSRP :

$34.56





Sale :

$29.97

Sold & shipped by Walmart
Product Description

Additional Information

Reviews
Product Description
With dermatologist in-office acne technology, the Neutrogena Light Therapy Acne Face Mask is a revolution in acne treatment. This face mask harnesses the power of clinically proven light technology to clear acne and allow skin to heal itself. This acne mask is also clinically proven to be gentle enough for sensitive skin. Over 90% of sensitive skin subjects agreed that this light therapy acne mask was gentle to their skin. Here is how light therapy works. Blue light targets acne-causing bacteria while red light reduces acne inflammation. This one-step light acne treatment covers your face and is easy to use at home. After cleansing, put the mask on. Push the button and let it work for 10 minutes. You can sit back and relax until it automatically shuts off. Use it every day and you'll see clearer, healthier skin with this chemical free and UV free acne treatment.
Additional Information
1-ct of Neutrogena Light Therapy Acne Face Mask to clear breakouts
Features clinically proven light therapy technology that is chemical & UV free
Harnesses blue light which targets acne-causing bacteria
Red light reduces acne inflammation to allow skin to heal
Acne mask is clinically proven to be gentle enough for sensitive skin
One-step light acne treatment covers your face & is easy to use at home
Offers dermatologist in-office acne technology & is a revolution in acne treatment
Use for just 10 minutes a day. Sit back & relax until the light mask automatically shuts off
Reviews
ColoradoMom
Excellent Product
My middle school daughter has been using the light mask for about a month now. Prior to using the mask, she had moderate acne (red, raised pimples, some deep cysts, blackheads) on her forehead, cheeks and chin. We had tried so many things, including a pricey acne face wash "system" that she used diligently every day. She was/is eating well, washing her pillow case every couple of days, keeping her hands away from her face, all the things you are supposed to do for acne. But the acne was getting worse. Enter the Neutrogena Light Mask! Wow, wow, wow!! After two days, there was less redness on her face. After one week, the pimples on her cheeks were gone. After two weeks, her forehead was noticeably clearer. After nearly one month, her entire face looks great. She still is getting a new pimple here and there, but the difference is that they start out smaller and go away faster and there are fewer of them. I just ordered a new "clicker" for next month. My daughter will use the mask for the foreseeable future. I am so grateful we found this product. I highly recommend it.
Char24
Bad Reaction
I bought this product over a week ago, I started to use this along with the hydro make up wipes and the milk cleanser. After the first day I noticed by skin become very sensitive and dry and flaky, I stupidly continued to use it for another day and my skin became irritable and itchy with small cysts all over my face and neck, my eyes have swelled and my entire face is constantly burning. I have been unable to wear make up for the past couple of days and have had to go to the doctors as it is not getting better after stopping using the product. I don't know which ingredient you have in there that is clearly not tested properly on different skin types, but I wish I had read the reviews before buying. Would not use any of your products again.
Harlee
Bumpy, burning, itchy pain
I used this product only once, before I went to bed. I woke up the next morning with my entire face covered in tiny bumps. My face was burning so bad that I cried. The pain was seriously unreal. And it was soooooooo itchy. Like chicken pox itchy. I work in customer service and this highly affected my confidence at work the next 3 days. Today is the third day, and though the itching is gone, the pain and appearance are still there. And this is after I slept with my face smothered in cortisone cream and aloe gel. My face feels super dry but looks super oily. My face looks disgusting, and I can't cover it up with makeup because (1) it hurts and (2) it just draws attention to the bumps. It looks like every single pore or hair follicle is swollen. It is particularly bad around my nose, upper lip, forehead, upper cheeks... Really all over. Even my neck. I have never had any type of reaction to any other product in my life. If you are going to try this, at least make sure you have nowhere to go the next few days. I have no clue how long it will take for my face to feel normal again, let alone look normal... I had such nice skin texture. This is horrible and honestly hurting my mental health. I am embarrassed for people to see me now. Horrible horrible experince with this product. :/
crlenn
Ok product.
I bought this during the winter months to help give my dry skin a little boost. I was neither impressed nor dissapointed. I usually wash my face daily with Neutrogena Deep Clean Gentle Scrub which I'll use as a comparison. As far as exfoliation, the Hydro Boost feels as though it has quite a bit more exfoliating bits in it, which I personally don't mind. The smell of the Hydro Boost is pleasant, if not a little strong. FYI, there is a warning label on the back of the bottle of the Hydro Boost. It does make skin susceptible to sunburn. After using the product for only two days I was sunburned in the middle of November after a 30 minute walk outside in the sun, so please adhere to the warning. Finally, as far as hydration goes, I only noticed a difference directly after showering. If you fail to use a moisturizer on your face after washing, your face will still be dry. Overall, this product wasn't bad but I probably wouldn't buy it again simply because I prefer the Deep Cleean Gentle Scrub over it.
mh31
Works great
I've had mine for a while and it works very well. It takes a while to notice results but after about a week it starts to show results. The light mask reduces inflammed acne and prevents further acne. It makes skin look younger and healthier, all within just 10 minutes each day! Definitely something to look into!