Neutrogena Light Therapy Acne Treatment Face Mask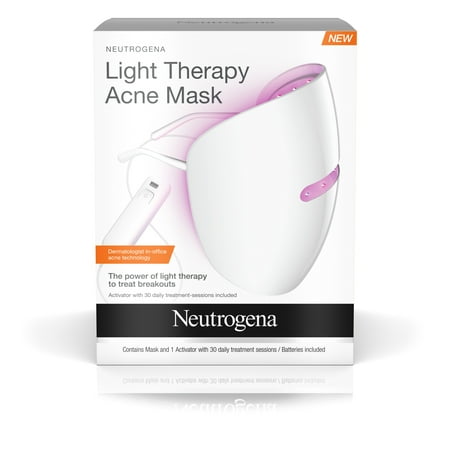 MSRP :

$34.56





Sale :

$29.97

Sold & shipped by Walmart
Product Description

Additional Information

Reviews
Product Description
With dermatologist in-office acne technology, the Neutrogena Light Therapy Acne Mask is a revolution in acne treatment. This face mask harnesses the power of clinically proven technology to clear acne and allow skin to heal itself. Here is how light therapy works. Blue light targets acne-causing bacteria while red light reduces acne inflammation. This one-step acne treatment covers your face and is easy to use at home. After cleansing, put the mask on. Push the button and let it work for 10 minutes. You can sit back and relax until it automatically shuts off. Use it every day and you'll see clearer, healthier skin with this chemical free and UV free acne treatment.
Additional Information
1-ct of Neutrogena Light Therapy Acne Face Mask to clear breakouts
Features clinically proven light therapy technology that is chemical & UV free
Harnesses blue light which targets acne-causing bacteria
Red light reduces acne inflammation to allow skin to heal
Acne mask is clinically proven to be gentle enough for sensitive skin
One-step light acne treatment covers your face & is easy to use at home
Offers dermatologist in-office acne technology & is a revolution in acne treatment
Use for just 10 minutes a day. Sit back & relax until the light mask automatically shuts off
Reviews
ColoradoMom
Excellent Product
My middle school daughter has been using the light mask for about a month now. Prior to using the mask, she had moderate acne (red, raised pimples, some deep cysts, blackheads) on her forehead, cheeks and chin. We had tried so many things, including a pricey acne face wash "system" that she used diligently every day. She was/is eating well, washing her pillow case every couple of days, keeping her hands away from her face, all the things you are supposed to do for acne. But the acne was getting worse. Enter the Neutrogena Light Mask! Wow, wow, wow!! After two days, there was less redness on her face. After one week, the pimples on her cheeks were gone. After two weeks, her forehead was noticeably clearer. After nearly one month, her entire face looks great. She still is getting a new pimple here and there, but the difference is that they start out smaller and go away faster and there are fewer of them. I just ordered a new "clicker" for next month. My daughter will use the mask for the foreseeable future. I am so grateful we found this product. I highly recommend it.
crlenn
Ok product.
I bought this during the winter months to help give my dry skin a little boost. I was neither impressed nor dissapointed. I usually wash my face daily with Neutrogena Deep Clean Gentle Scrub which I'll use as a comparison. As far as exfoliation, the Hydro Boost feels as though it has quite a bit more exfoliating bits in it, which I personally don't mind. The smell of the Hydro Boost is pleasant, if not a little strong. FYI, there is a warning label on the back of the bottle of the Hydro Boost. It does make skin susceptible to sunburn. After using the product for only two days I was sunburned in the middle of November after a 30 minute walk outside in the sun, so please adhere to the warning. Finally, as far as hydration goes, I only noticed a difference directly after showering. If you fail to use a moisturizer on your face after washing, your face will still be dry. Overall, this product wasn't bad but I probably wouldn't buy it again simply because I prefer the Deep Cleean Gentle Scrub over it.
AngelaA
OK to use alongside Salicylic acid treatments?
I have just bought this mask for my daughter to use on her mild acne. Having read the instructions I see that you should not use it with products that increase light sensitivity. Does that mean that you cannot use it if you are also using spot creams that contain salicylic acid?
brittany80
Amazing on my dry, sensitive skin!!!!
I have extremely dry, sensitive, acne prone skin. I've tried everything under the sun, but could not find anything that would address all my skin issues. Acne products make my skin even drier, hydrating products tend to bring out the hives, and ultra-sensitive products either end up drying my skin out or making my acne worse.This stuff has been a lifesaver!!! It's been three weeks and my skin is completely clear for the first time in years. I swear this even makes my scars less noticeable. My skin feels hydrated and so smooth. Thanks, Neutrogena!
Zar4960
This thing actually works!!
I'm not the one who usually writes reviews about products. But for this particular product I had to. I'm 22 years old and I have been suffering from acne since I was 14. I have literally tried every thing for my face but nothing had cleared my acne. I got to know about the Neutrogena Light Therapy Acne Mask from a Youtuber and I decided to try it. As nothing else worked for me. And I'm so pleased and so happy that I decided to try it. I saw the results within 3-4 days. My pimples became smaller and looked less inflamed day by day. I just couldn't believe myself when I saw the results. I'll highly recommend it to anyone who is suffering from acne. Treating acne with lights might sound a bit weird. But this thing actually works wonders!!