Neutrogena Light Therapy Acne Treatment Face Mask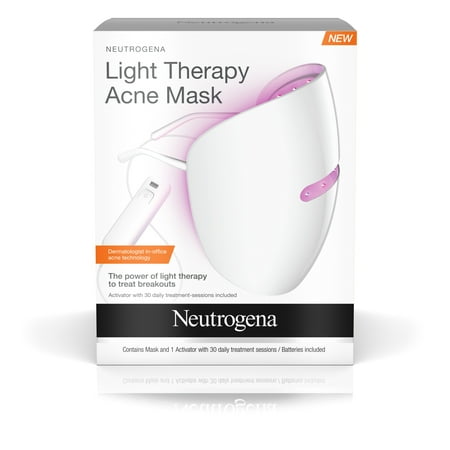 MSRP :

$34.56





Sale :

$29.97

Sold & shipped by Walmart
Product Description

Additional Information

Reviews
Product Description
With dermatologist in-office acne technology, the Neutrogena Light Therapy Acne Face Mask is a revolution in acne treatment. This face mask harnesses the power of clinically proven light technology to clear acne and allow skin to heal itself. This acne mask is also clinically proven to be gentle enough for sensitive skin. Over 90% of sensitive skin subjects agreed that this light therapy acne mask was gentle to their skin. Here is how light therapy works. Blue light targets acne-causing bacteria while red light reduces acne inflammation. This one-step light acne treatment covers your face and is easy to use at home. After cleansing, put the mask on. Push the button and let it work for 10 minutes. You can sit back and relax until it automatically shuts off. Use it every day and you'll see clearer, healthier skin with this chemical free and UV free acne treatment.
Additional Information
1-ct of Neutrogena Light Therapy Acne Face Mask to clear breakouts
Features clinically proven light therapy technology that is chemical & UV free
Harnesses blue light which targets acne-causing bacteria
Red light reduces acne inflammation to allow skin to heal
Acne mask is clinically proven to be gentle enough for sensitive skin
One-step light acne treatment covers your face & is easy to use at home
Offers dermatologist in-office acne technology & is a revolution in acne treatment
Use for just 10 minutes a day. Sit back & relax until the light mask automatically shuts off
Reviews
Cgrill
Expired cartridge
I ordered these for my daugters for Christmas and just last night my daughter in NC (I'm in MS!) sent me a picture of her mask cartridge. It expired in September 2018, and I ordered these on November 21st, 2018! So yall check your cartridges!
Mjislove
If I could give 0 stars I would. ITCHY!
I have to say, I love neutrogena. I usually use the healthy skin boosters cleanser and scrubs (my staple for the past 4 years). I decided to get the new hydro boost exfoliating cleanser and hydro boost cleansing gel for the winter since my skin is extra dry in the winter. I got it on Sunday, today is Wednesday and my face looks TERRIBLE! I look like I'm sick. For the past 2 days I've been itchy and scratching my face, especially around the mouth area. I dnt have any known allergies but I am disappointed in this product. I can't believe it!I love this company and stick to only neutrogena's products for my face but I don't know what to do besides throwing these 2 products away. I bought the hydro boost gel a week prior to buying the cleanser and exfoliater and had no issue until I started using the rest of the line. *I have never had any acne issues or black heads, only dry skin. I stopped using the healthy skin booster for a week just to test these 2 products. *
ColoradoMom
Excellent Product
My middle school daughter has been using the light mask for about a month now. Prior to using the mask, she had moderate acne (red, raised pimples, some deep cysts, blackheads) on her forehead, cheeks and chin. We had tried so many things, including a pricey acne face wash "system" that she used diligently every day. She was/is eating well, washing her pillow case every couple of days, keeping her hands away from her face, all the things you are supposed to do for acne. But the acne was getting worse. Enter the Neutrogena Light Mask! Wow, wow, wow!! After two days, there was less redness on her face. After one week, the pimples on her cheeks were gone. After two weeks, her forehead was noticeably clearer. After nearly one month, her entire face looks great. She still is getting a new pimple here and there, but the difference is that they start out smaller and go away faster and there are fewer of them. I just ordered a new "clicker" for next month. My daughter will use the mask for the foreseeable future. I am so grateful we found this product. I highly recommend it.
baylee93
Super dry skin
I was looking for a product that would cleanse my face and also moisturize my face since it seems so dry this time of the year. I have the neutrogena hydro boost water gel and love it so thought this product would be perfect. Boy was I wrong! I have been using this product for a week now. When I first get done cleansing my face it feels super clean and refreshed until I look in the mirror. The first time I used it I thought my water was too hot because my face was red when I got out of the shower (thank goodness it went away shortly after) but when I looked closer I noticed my whole face especially around my nose and my forehead is peeling. I have to put a lot of the water gel on to try and moisturize it but that is only temporary. I have never used something this bad such a shame.
Jehan
damaged my skin
Beware: I used this product 4 times last week. the last time i used it my face turned bright red. a few hours later my skin is cracked, peeling, and it hurts. this product is PURE GARBAGE. it says its for everyday use. A week later my skin is still rough and dry to the touch, cracking, but doesnt hurt as much. This is my face I'm talking about. I will never use this, I do not recommend it. I had normal skin prior to using it, sometimes oily, but sometimes a little dry. DO NOT USE THIS. IT WILL RUIN YOUR SKIN. there is nothing good about this product. the texture of my skin has totally changed around my chin and lower cheeks thanks to this garbage.