Neutrogena Makeup Remover Cleansing Towelettes & Face Wipes, 25 ct.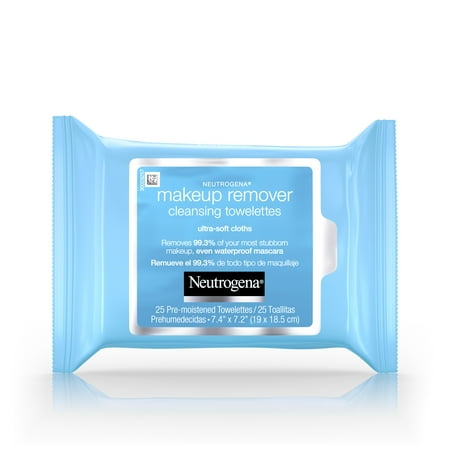 MSRP :

$5.99





Sale :

$4.47

Sold & shipped by Walmart
Product Description

Additional Information

Reviews
Product Description
This Neutrogena Make-Up Remover Cleansing Towelettes Refill Pack provides you with a no nonsense solution for make-up removal you can count on. The formula is gentle enough to use on sensitive areas around your eyes and is great for contact lens wearers. These 25-count Neutrogena cleansing towelettes are pre-moistened and ultra soft for maximum comfort.
Additional Information
25-ct. of soft, pre-moistened Neutrogena Makeup Remover Cleansing Towelettes to gently cleanse skin
Remove makeup and effectively cleanse skin in one easy step with these facial cleansing wipes
Makeup remover towelettes work to dissolve all traces of dirt, oil and makeup on skin
Formulated to be gentle on the eyes, facial wipes are safe enough for contact lens wearers
Disposable face wipes thoroughly cleanse skin with no heavy residue, so there's no need to rinse
Remove 99.3% of all makeup—even stubborn waterproof mascara—with these makeup remover wipes
Our face cleansing wipes are also ophthalmologist-, dermatologist-, and allergy-tested
Get superior cleansing and makeup removing power at your fingertips
Reviews
HMadison
BEWARE! Rash after using for years!
I've been using these for OVER a year, I'd say two years, with no problems. Ran out so bought a new pack as always. First one used out of the new pack day before yesterday, my skin burned and turned red, felt like needles pricking my face. Yesterday noticed my skin was VERY dry and scaly which is never the case. I didn't think it was the wipes as I've used them so long with no issue. Yesterday same problem and today my skin is flaky and burns and red overall. I realized it started after using the first wipe of the new pack and the ONLY new thing or changed thing was the new package of these wipes,, and it got worse right after using them the 2 days. It seems I'm not the only one as I googled it and found a whole news story on it! The package isn't marked "new" or "new formula" so if they changed something they should note it! Very upset and frankly scared off from all neutrogena products at this point. Sadly, as I loved these before. :(
25countonly
21-count vs 25-count pack difference
I have been using these towelettes loyally for many years. I've probably gone through hundreds of packs. A couple years ago I noticed different packaging popping up (silver flap with 21 towelettes instead of blue flap with "refill pack" on it and 25 towelettes). However I always avoided the new packaging just in case something was changed. This week, I needed a new pack and the store only had the silver flap, 21-towelettes pack. Immediately after opening I noticed that the smell was different -- it is a VERY strong perfume scent compared to the blue flap pack. After taking off my face and eye makeup, my skin became irritated, very red, and itchy. And my eyes/eyelids strung. Even after washing my face, throughout the night my skin itched and felt prickly. The next day I went to a different store and found blue flap packs and used that night with no problem. Compared the scent of blue flap towelettes to the silver flap towelettes and the latter definitely has a different/stronger scent. Hoping that the 25-count, blue flap packs are not being phased out completely as those are the towelettes I am loyal to. Will not buy the newer, 21-count silver flap packs to avoid allergic reaction.
Hannah147
What's changed?
I have been using these wipes for many, many years. Only cleansing wipe I would ever use because it did not irritate my skin, was always moist so it didn't tug my skin, and didn't have a sickly floral smell. When I picked up my most recent pack I noticed a slightly new packaging. Well, now these wipes do al the things I hate about other wipes: Skin was immediately irritated Perfume smell Dry I'm so sad! It's like I just got dumped out of the blue from a long term relationship. Time to move on I guess...
Anne0707
Very Bad Red buring Rash on Face!!!!
I have used Neutrogena make up removers for many years, I never had this issue before up to about a month ago. My eyes are extremely red and very dry and scaling, plus burn severely. I am very upset and am having a very hard time getting the redness and burning to subside. I purposely stopped using nd they did subside a bit but did use one this past Saturday and today my face is all inflamed! I'm not sure what can be done but I normally but the wipes at BJ's and have quite a few left that I guess I should throw out, unless Neutrogena would like them back to run some tests?
Cherif
Something Has Changed - Negative Reaction to Eipes
Seeing these others posts, makes me feel a little better. I've been using these wipes for years, but recently, the use of these wipes has caused itching, burning and horrible pain on my eyelids. I only use these to remove my eye makeup. At first I thought it was something else I was using, but now I'm thinking tha Neutrogena has changed their product. I'll discontinue and find another, non-irritating product. #scratchingmyeyelidsoff