Neutrogena Makeup Remover Cleansing Towelettes & Face Wipes, 25 ct.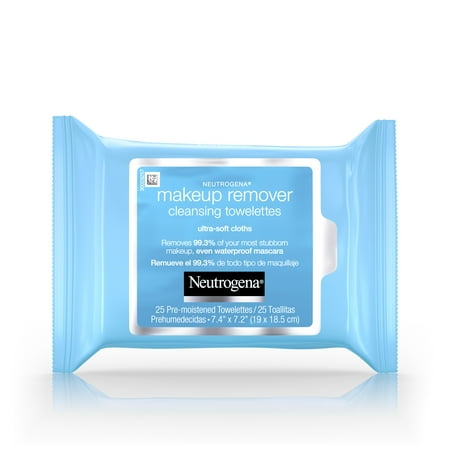 MSRP :

$5.99





Sale :

$4.47

Sold & shipped by Walmart
Product Description

Additional Information

Reviews
Product Description
This Neutrogena Make-Up Remover Cleansing Towelettes Refill Pack provides you with a no nonsense solution for make-up removal you can count on. The formula is gentle enough to use on sensitive areas around your eyes and is great for contact lens wearers. These 25-count Neutrogena cleansing towelettes are pre-moistened and ultra soft for maximum comfort.
Additional Information
25-ct. of soft, pre-moistened Neutrogena Makeup Remover Cleansing Towelettes to gently cleanse skin
Remove makeup and effectively cleanse skin in one easy step with these facial cleansing wipes
Makeup remover towelettes work to dissolve all traces of dirt, oil and makeup on skin
Formulated to be gentle on the eyes, facial wipes are safe enough for contact lens wearers
Disposable face wipes thoroughly cleanse skin with no heavy residue, so there's no need to rinse
Remove 99.3% of all makeup—even stubborn waterproof mascara—with these makeup remover wipes
Our face cleansing wipes are also ophthalmologist-, dermatologist-, and allergy-tested
Get superior cleansing and makeup removing power at your fingertips
Reviews
Sonya52
Acne-like Rash on Cheeks and itchiness
I have been a loyal user of these wipes for years. For the last 8 months or so, I started developing an acne-like rash in my cheeks and forehead. I am 52 years old and thought it odd I was getting this sort of acne. I had made no changes in make-up, brushes nor any other kind of skin products. I tried retin-A and doxycycline, thinking I was having a weird acne flare-up and neither made any difference. I never considered these cloths might be causing it because I have been using them for years and NEVER had a problem before. After seeing the recent viral Facebook posting and now reading more similar reviews on this site, I feel certain these cloths are the culprit. After more thought and finally making this connection, I have also experienced quite a bit of itchiness around the hairline and my ears - all places where I cleanse to remove make-up. I will be discontinuing the use of these towelettes to see if the condition improves.
HMadison
BEWARE! Rash after using for years!
I've been using these for OVER a year, I'd say two years, with no problems. Ran out so bought a new pack as always. First one used out of the new pack day before yesterday, my skin burned and turned red, felt like needles pricking my face. Yesterday noticed my skin was VERY dry and scaly which is never the case. I didn't think it was the wipes as I've used them so long with no issue. Yesterday same problem and today my skin is flaky and burns and red overall. I realized it started after using the first wipe of the new pack and the ONLY new thing or changed thing was the new package of these wipes,, and it got worse right after using them the 2 days. It seems I'm not the only one as I googled it and found a whole news story on it! The package isn't marked "new" or "new formula" so if they changed something they should note it! Very upset and frankly scared off from all neutrogena products at this point. Sadly, as I loved these before. :(
Laurenfromhouston01
Red face and burning sensation around eyes.
I have been using these wipes for years without any problems, but stopped for a while because i was washing my face at home in the shower. My boyfriends daughter(who uses the wipes daily) said her eyes burned but I didn't know what was causing it and she stopped using the wipes and it got better. I ended up staying in the hospital with a family member, so I grabbed some travel products (including the wipes) and after just using them my eyes burn and my face is red with what appears to be a rash. Thankfully I am in a hospital of all places, so I intend to ask a doctor or nurse what the issue may be. I looked online and there at many more reviews and complaints. I would not use this product until they figure out (and fix) whatever this issue is.
Melanie12345
Causes Burning/ Watery Eyes
Just like Maddie12345 I've been using this product for so long and have always loved it. I have even tried other makeup removing products and have always gone back to this one. However, I agree that something in this product must of changed because around May 2018 the wipes started to burn my eyes causing them to water up and get extremely red for days. I would remove my makeup before bed and immediately feel the burning sensation and then they would start to water. This even made it difficult to put on and wear any eye makeup the next few days because my eyes would continue to water and wash it all away and cause redness and itchy eyes. Sadly I will not be buying this product again.
Picard
No
Used these for about a week before my eyes got super dry and red and irritated and my neck broke out in a rash- red, irritated, very itchy! Could be reaction to the sodium hydroxide in them.