Neutrogena Men Skin Clearing Salicylic Acid Acne Face Wash, 5.1 fl. oz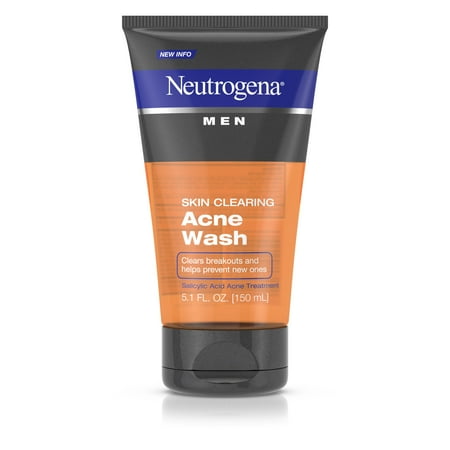 MSRP :

$6.65





Sale :

$4.63

Sold & shipped by Walmart
Product Description

Additional Information

Reviews
Product Description
Enjoy clearer skin with Neutrogena Men Skin Clearing Acne Wash. This powerful treatment and cleanser treats and helps to prevent breakouts in one simple step. This men's acne wash is specially designed to eliminate oil on the skin. It rinses clean without over-drying. The non-comedogenic formula also softens facial hair before shaving.
Additional Information
5.1-fluid ounce tube of Neutrogena Men Skin Clearing Acne Face Wash
Facial cleanser contains 2% salicylic acid acne medication to help treat breakouts
Effectively cleans skin and helps prevent breakouts for clear looking skin
Designed for acne-prone skin to help treat current acne & help prevent future breakouts
Non-comedogenic cleansing formula eliminates oil & leaves skin feeling clean
Control breakouts with this powerful acne face wash that rinses clean without over-drying
Formulated for men, this daily acne wash helps soften facial hair for use before shaving
Apply daily face wash to wet hands, add warm water & gently massage into face
Rinse thoroughly
Reviews
That Kid With Acne
Very unsatisfied
When I bought this product, I was a little unsure because my face is so naturally prone to acne that I felt there's no way this one will work either. But within only a few days, I saw results. I was so happy and I began to truly believe in this product, like I was willing to use it for a long time and I finally found a face-wash that suited me. I began to look online for more information on this product to see what others thought or possibly other products within its lineup I could purchase. I was confused when I read so many complaints about the dryness of skin. It's a salicylic acne treatment people, that's what it's supposed to do. But then it hit me. What hit me, you ask? THE DRYNESS. Nothing. NOTHING on this planet could possibly stop my skin from flaking that day. The moisturizer I was using was FROM NEUTROGENA. My skin was dryer than the Sahara and I had to discontinue use before my entire face just peeled off. Sorry, Neutrogena.... but you really let me down.
Jackie1111
My skin is worst, more breakouts came
Its not working, sorry but Not worked for me......
ChrisAZ
Best facial wash for oily skin and preventing acne
I have been using this for several years now and it is never over drying and I have oily skin. When I couldn't find this product locally, I switched to another Neutrogena product and found myself with a new pimple here and there. Gave it some time, decided I was too old for zits, and found this wash online. Glad I found it, hope it hits local shelves again.
Cloudlux
Dryness and eventuallu broke out
The first 3 days using the product was great, I am one prone to break outs but in a 3 day period I only had a few bumps. It was working great, but I notice that my skin was very dry. It was no big deal, until around the 5th day of using it. My skin was really flaky and dry. SO FLAKY. I tried to wash it and apply moisturizing lotion, but less than 10 minutes in, its flaky again. All around my mouth and nose. It even caused my earlobes to become flaky, just from minimal contact with the wash. So I had to stop using the wash, and the breakouts flowed in. I didn't mind the dry skin, but the degree in which my face was covered with flakes was too much and raised a serious concern about what it was doing to me skin to where moisturizer didn't work at all. I have not used it for 3 days now, and my face is still flaky while the breakouts roll in. The severity of the flaking is lessened, but its still really embarrassing
Cloudlux
Not the same as old face wash...
Back when Neutrogena still carried it, I used the "Men's Skin Clearing Face Wash" regularly and it did a great job of keeping my face clear and clean. This new acne wash does not live up to the same standards as the old product. After using it for a few times, I found that this new wash feels like it leaves a thin layer of oil or lotion on your skin. Presumably that's the hair softening bit to help with shaving, which is great if that's what you're looking for, but unfortunately it didn't work for me and left me with breakouts. That defeats the whole purpose of the face wash! I'll be switching back to the remnants of a tube I had of the old product while I look for another brand's product which actually does work for me. (I rated this a 2 overall in view of the fact that it might help some other guys, but for me it's honestly a 1 or 0.)