Neutrogena Men Razor Defense Shave Gel For Sensitive Skin, 7 oz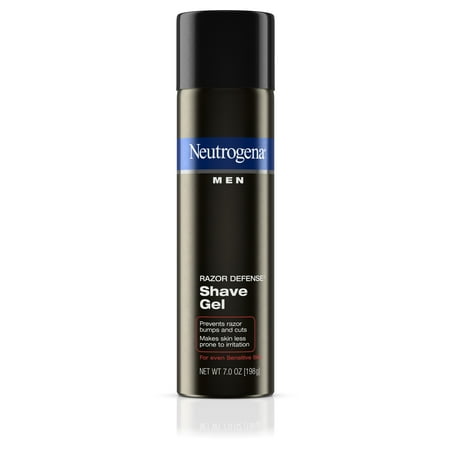 MSRP :

$8.29





Sale :

$4.87

Sold & shipped by Walmart
Product Description

Additional Information

Reviews
Product Description
This Neutrogena Shaving Gel, Men Razor Defense, is a thick formula that helps to shield the skin against razor bumps and nicks. It is designed as a sensitive skin shave gel and works to soften facial hair and skin. Oil free in nature, this 7-oz Men's Shave Gel makes skin less prone to irritation and provides a comfortable shave. Use it each time you shave to enhance your shaving routine.
Additional Information
7-ounce can of Neutrogena Men Razor Defense Shave Gel
Shave your way to healthier-looking skin with this oil-free men's shave gel for even sensitive skin
Gel helps prevent razor bumps & cuts and makes skin less prone to irritation from shaving
Designed specifically for men, this shave gel helps soften facial hair & skin to help provide a comfortable shave
This shaving gel formula is formulated with glycerin & an exclusive blend of protein conditioners
Dye-free, oil-free, and non-comedogenic shaving gel that rinses clean and won't clog pores
Formulated with skin-soothing ingredients to help boost skin's resistance to razor irritation
To use, massage shaving gel onto wet face and neck before shaving for comfortable shave
Reviews
IdahoDee10
Really nice
The Neutrogena Shave Gel is really something else and my husband really likes it. It really doesn't take much for it to lather up and it feels really soft on his face. He gets to shaving and sometimes he has to go back to make sure that he hasn't missed a spot because it softens his facial hair and skin and he said his razor just runs over his face real smooth and he says it feels like he is not shaving at all. The Neutrogena Shave Gel has a real nice smell to it, it doesn't smell like your standard Shave gels and it doesn't smell like alcohol either. It has a real soft scent to it. After he has shaved, his face does not look all red or have little razor bumps on it either. I do wonder if it doesn't have some form of a moisturizer mixed in it somehow. I will be recommending this to friends and family and I think I will purchasing more of it to give as Christmas presents this year. So if your other Shave Gel is giving you fits, I highly recommend purchasing the Neutrogena Shave Gel, because it is great!!!
Oracat
My husband likes it!
I've brought my husband many shave gels and creams throughout the years, and he really likes this gel! He likes shave gels that lathers well, but is "sticky" enough to last until the second stroke. Men have thinker hair on their face then us ladies on our legs, and they need that second stroke. This gel has that characteristic and provides a smooth and comfortable, yet close, shave for him. There's no skin irritation at all, and his face feels smooth and soft when I touch it. I love the nice fragrance. It's pleasant like a light woodsy aftershave or cologne, but not overpowering at all, just fresh and light. Kudos to Neutrogena!
J700
Great for sensitive skin
My skin tends to get irritated when shaved so I typically use an electric razor. I decided to use this product because it says it's for sensitive skin. So I lathered up my face and used a regular razor. I felt no burning sensation on my face as I applied the gel and when done shaving there were no signs of redness of shaving bumps. I checked my face later on in the day and still no signs of irritation. I will definitely use the shaving gel again but for now I'm going to grow a beard because the weather is freezing here in Boston.
ekbmarci
Great gel for men...
My husband tried this Neutrogena men gel and he loved it. The can does remind me of a hair spray can lol. It's a pretty good size at 7 oz and it has no scent to it at all which my husband liked. Now my husband does not have a beard but he is bald, so he used the gel on his head. He said it lathered pretty well and it also did not leave any razor bumps at all. Which is a plus since he is very sensitive to a lot of products. From now on this shaving gel will be replacing his old gel :)
Trahsytaz
Depends on your shaving
Goes on a wet face dry and a little will do you.Wife noticed after I shaved some skin irritation. I work 6 days on 3 off for the State of TX and have to shave all them days.My razors are from a famous online company. The smell is so-so. Can is built sturdy. I prefer Gel when I shave and as you can see in pics it is Gel foam almost.