Neutrogena On-The-Spot Acne Treatment with Benzoyl Peroxide, 0.75 oz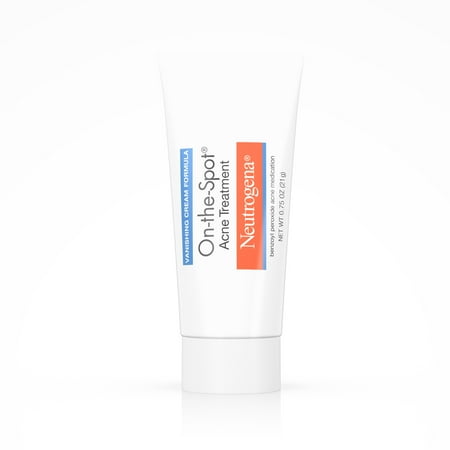 MSRP :

$8.96





Sale :

$5.97

Sold & shipped by Walmart
Product Description

Additional Information

Reviews
Product Description
Achieve beautiful, clear skin with Neutrogena Vanishing Cream On-the-Spot Acne Treatment. With its MicroClear formula, it's clinically proven to unclog congested pores and speed treatment deep to the source. The special formula also eliminates oil and shine using an advanced oil-dissolving complex. Green tea and cucumber extracts actively refresh and soothe, leaving skin less red and irritated. This Neutrogena On-the-Spot treatment, .75 oz, also helps prevent breakouts by reducing future oil clogs and treating acne before it emerges.
Additional Information
.75-oz tube of acne spot treatment with benzoyl peroxide to visibly reduce breakouts
Acne treatment is lightweight and absorbs quickly
Clinically proven effectiveness that works hour after hour to give long-lasting acne treatment
Goes deep down to the pores to kill acne bacteria that causes pimples & help prevent new ones
Treatment is formulated with 2.5% benzoyl peroxide acne medicine, to help treat and prevent acne
Clinically proven effectiveness without burning and won't dry out skin
Reviews
Yarihdz
Really work
Neutrogena On the Spot Acne Treatment is a rock. I had acne, I can't explain why, but I had a lot of breakout. I'm tried with Neutrogena Acne Collection and I had great results. When I have a breakout I use a little amount to apply in my acne. The next day, my breakout gone. I love this stuff. Highly recommended it.
elowder
Perfect Overnight Zit Zapper!
I've been using this product for over a year now and I stand by it with everything I have. My skin is super oily and sensitive and dries out very easily. I put this on before I go to bed on any trouble spots and wake up with them 75%-100% gone. Now, I'm sure it would work better if I didn't touch my face all the time and pick at my acne, but even with me doing all that it works incredibly fast. I only wash my face at night, then I put on this cream. Try not to touch your face after you put it on, I try to put it on right before I fall asleep, so that it doesn't get messed with. In all seriousness, this is such a great product and it lasts forever. For paying 5 dollars and having it for over a year, I'm definitely getting my money's worth. I highly recommend this to anyone who gets surprise attacks by their acne. It works fantastically!
Thiisandii
Finally!!:)
I'm 15 yrs old & have mildly severe acne issues due to oily skin & clogged pores. But i found out about this product & decided to try it. Heres my story.So I was watching my new favorite youtuber "Emma Chamberlain" & she used a spot treatment every night. Idk if it was this specific product by Neutrogena but it seemed to work well for her bigger pimples. So I bought some & this product works amazing for my acne. I use it every night and occasionally on my lazy days when I'm not going Any were. It makes my volcanoes disappear in days and I'm IN LOVE♡ Thank you Neutrogena. You've helped boost my confidence.
burnedagain63
Harsh!
I recently purchased a new tube of On-the-Spot® Acne Treatment, my go-to, perfect solution for many years. Like many other reviewers, I was surprised by the change in the product. I applied it as usual, and it burned my skin. I had to discontinue use. Its active ingredient is the same, Benzoyl Peroxide, at a modest concentration, 2.5%. So why is it producing this result? Perhaps this is a faulty batch. Or perhaps the answer is in the list of "inactive" ingredients: Sodium Hydroxide. Yes, ladies and gentlemen, in addition to Benzoyl Peroxide, we have been applying Sodium Hydroxide — lye — to our faces. That would seem to explain the caustic burns. Really, Neutrogena, what on earth are you thinking??!!! Lesson learned, always read the label again, even if you think you know what's inside — it might have changed. And Neutrogena, how can I ever trust you again?
mother112
Just Okay
It's not an overnight pimple relief medication. I had to use it about a week or so to see any results. It dries out the pimple overtime and leaves a white residue on your face so it's best to use it at home.