Neutrogena On-The-Spot Acne Treatment With Benzoyl Peroxide, 0.75 Oz.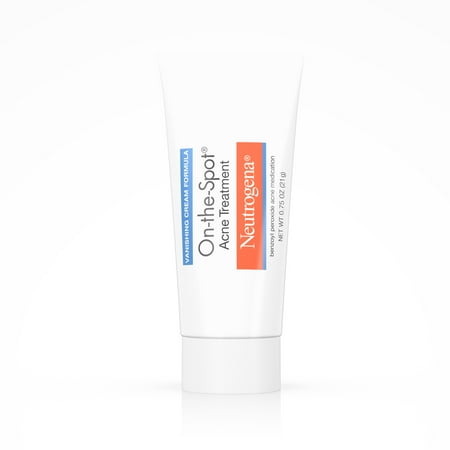 MSRP :

$9.11





Sale :

$5.97

Sold & shipped by Walmart
Product Description

Additional Information

Reviews
Product Description
Achieve beautiful, clear skin with Neutrogena Vanishing Cream On-the-Spot Acne Treatment. With its MicroClear formula, it's clinically proven to unclog congested pores and speed treatment deep to the source. The special formula also eliminates oil and shine using an advanced oil-dissolving complex. Green tea and cucumber extracts actively refresh and soothe, leaving skin less red and irritated. This Neutrogena On-the-Spot treatment, .75 oz, also helps prevent breakouts by reducing future oil clogs and treating acne before it emerges.
Additional Information
Fights acne and helps give you clearer, healthier-looking skin
Clinically proven maximum level of effectiveness that works hour after hour to give long-lasting acne treatment
2.5% benzoyl peroxide is clinically proven effective
Kills acne bacteria that causes pimples and helps stop new ones from forming
Absorbs quickly and works invisibly
Gentle formula
#1 Dermatologist Recommended Acne Brand
Specially formulated for acne-prone skin
0.75-ounce tube of medicated spot treatment
Reviews
Yarihdz
Really work
Neutrogena On the Spot Acne Treatment is a rock. I had acne, I can't explain why, but I had a lot of breakout. I'm tried with Neutrogena Acne Collection and I had great results. When I have a breakout I use a little amount to apply in my acne. The next day, my breakout gone. I love this stuff. Highly recommended it.
elowder
Perfect Overnight Zit Zapper!
I've been using this product for over a year now and I stand by it with everything I have. My skin is super oily and sensitive and dries out very easily. I put this on before I go to bed on any trouble spots and wake up with them 75%-100% gone. Now, I'm sure it would work better if I didn't touch my face all the time and pick at my acne, but even with me doing all that it works incredibly fast. I only wash my face at night, then I put on this cream. Try not to touch your face after you put it on, I try to put it on right before I fall asleep, so that it doesn't get messed with. In all seriousness, this is such a great product and it lasts forever. For paying 5 dollars and having it for over a year, I'm definitely getting my money's worth. I highly recommend this to anyone who gets surprise attacks by their acne. It works fantastically!
baylor1
Go-to fast easy treatment for a pimple!
Best treatment for a pimple - ever! I had finally (after many years) used up the tube I had that was "tinted", which both covered it up and healed it. Just used it again recently and realized there was none left, so ordered this - same ingredients. It usually clears it up in 1-2 days! Chop, chop! Done! Can't beat that with a stick!
Dehliaa2003
Dehliaa2003
I woke up with adult acne and panicked! Washed my skin daily and before bed to remove make-up, moisturized, toned, exfoliated, everything; the acne came out of nowhere. Never being affected in my life, it was foreign to me and wasn't sure what to do or control it. Cleaning, toning, and moisturizing almost helped, but this product minus any alcohol in the skin cleaning products worked! In a week, the scars have faded from the acne, my skin is clearer, and I can walk out now with beautiful clear skin again! P.S. In the morning I drink lemon juice (Pure) and water, every morming, a capful of Apple Cider vinegar before bed. In a month, my skin has never been cleaner, clearer, toned, and conditioned like it is now, Removing toxins in my body, helped allow the product to eork its best for me in a short petiod of time, like a week!
StarMA
Not happy about formulation change
Not happy with the formulation change. The old formulation was a perfect cream. This new formulation is gel-based, so it leaves a shiny residue. Please bring back the old formulation!