Neutrogena Anti-Residue Gentle Clarifying Shampoo, 6 fl. oz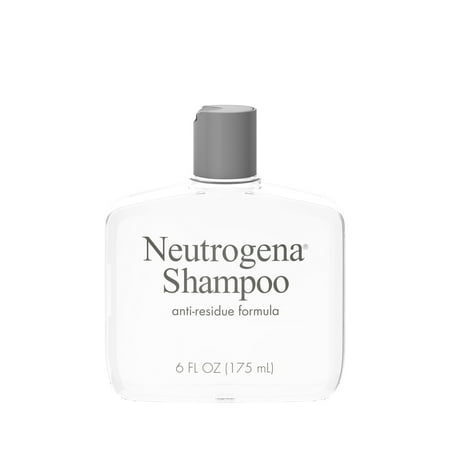 MSRP :

$7.9





Sale :

$4.83

Sold & shipped by Walmart
Product Description

Additional Information

Reviews
Product Description
Use Neutrogena Anti Residue Shampoo once a week to remove residue that can cause bad hair days. Continue using your favorite shampoo for the rest of the week. Neutrogena Shampoo removes over 90 percent of heavy, dulling residue caused by shampoos, conditioners and other styling products. This mild shampoo cleans hair thoroughly and easily rinses clean. Neutrogena Shampoos are made with a mild formula that won't cause irritation. Neutrogena Anti Residue Shampoo can be used for all hair types. Neutrogena Shampoos are available in 6 oz and other size bottles.
Additional Information
6-fl. oz bottle of Neutrogena Anti-Residue Shampoo to help remove hair build-up and residue
Instantly removes up to 90% of dulling residue caused by shampoos, conditioners & styling products
Revitalizing shampoo also works to boost hair volume by gently removing heavy build-up
Use our anti-residue shampoo only once a week to see your favorite daily shampoo work even better
Clarifying shampoo features a gentle and mild formula that is recommended for all hair types
This non-irritating clarifying shampoo cleans your hair and instantly rinses away build-up
Gentle hair shampoo is designed as an easy, once-a-week treatment that rinses away clean
Volumizing shampoo helps stop bad hair days and is gentle enough even for color-treated hair
Reviews
Christianmom
Product build-up STILL STUCK!
I have Residue buildup from cheap hairspray in the ends of my hair and I used this shampoo, lathered it up really good, scrubbed my hair in nice warm water, it felt clean, it smelled good, but when I looked at my ends when I got out of the shower all the residue was still stuck in my hair! I'm very disappointed!
GoodStuffs
Excellent for buildup
I thought I had dandruff, so I started using a dandruff shampoo (Head & Shoulders). The flakes appeared gone but my hair always looked dirty. Especially near my scalp. It looked piecey and greasy...but it wasn't?? It was dry and heavy. I'm not sure if that makes sense or not, but it definitely didn't look good. I couldn't get any volume. I thought maybe it was because it was a Shampoo plus Conditioner. So I tried H & S Shampoo only---it didn't help with the grossness. Finally, I started researching clarifying shampoos. I looked at many and bought this one. It is excellent. I used to have an expensive brand of aloe gentle clarifying shampoo, but it was discontinued. This Neutrogena shampoo isn't as gentle, but it is great at getting ALL the buildup out of your hair and off your scalp. If you have very damaged hair, I would recommend only using it near your scalp, as it will strip your hair of moisture. I only use it once a week and I make sure to condition afterwards.
djcm
My hairdresser told me about this product.
I have recommended this product so many times I should be receiving royalties lol. I have used this product ever since it first came out on the shelf. I have very long color treated hair but you would not know that? I get asked all the time how do I keep my hair so healthy, shiny and soft. That's when I tell them about this product. I use Infusium volume builder shampoo and the replenishing conditioner. I wash my hair every morning and color it every 6 weeks. Yet as I stated, people are amazed to find my hair is in such a healthy condition when they find out how often I color and wash my hair. I use the Neutrogena anti residue shampoo right after coloring my hair to rid any additional residue from the hair color. This is not a shampoo you should use every day. However, if you use other shampoos and conditioners than what I use, that are filled with waxes and oils, then you would want to use it once a week at least to rid your hair of all the residue some shampoos leave on your hair.
LSMcG
USED to be the best shampoo out there
I've used this product for longer than I can remember (20 years?) and have always loved it and recommended it to others. I found it working less well than it always had but figured I got a "bad batch" (I buy in bulk). Just came to find out your ingredients were changed including the addition of propylene glycol which is a cheap filler, considered a top product to AVOID, and to which I am allergic. So, unless you change back I will never use your product again. Such a same. SO disappointed in you Neutrogena.
misangeles
Allergic reaction
I have been using this shampoo for years and have enjoyed how clean my hair feels after using it. I felt that it made my regular shampoo work better afterward. By using the shampoo this way, a bottle would last for months, if not longer. I had just run out of my old bottle and purchased a new one at the local store, and that's when the allergic reactions started. Neutrogena must have changed something in the formula. because this never happened before. Little bubbly bumps started cropping up all over my chinline, the sides of my neck, and along my upper back. No new bumps appeared when I went back to my regular shampoo. I would use the Neutrogena shampoo the following week, and new bumps started appearing. I tried another week to confirm the connection, but by then, I had an army of unsightly bumps all over my neck and back -- just in time for the hot weather and ponytails. I'm beyond disappointed in this Neutrogena purchase. I wish I had kept my receipt so I could return this!