Meguiar's Ultimate Compound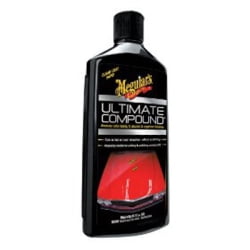 MSRP :

$134.99





Sale :

$9.78

Sold & shipped by Walmart
Product Description

Additional Information

Reviews
Product Description
Meguiar's Ultimate Compound is ideal for restoring color and clarity to neglected or abused finishes on a variety of vehicles. Meguiar's Compound contains a ground-breaking formula that cuts fast, without scratching your vehicle's surface, including clear-coat finishes. This formula will help you save time and effort when removing defects, swirl marks from prior polishings, oxidation and scratches from your vehicle's body. Meguiar's Compound saves time while producing better quality results than more traditional rubbing and polishing compounds. Meguiar's Rubbing Compound utilizes an exclusive micro-abrasive technology that was developed from sophisticated professional detailer and body shop products to produce high-quality vehicle restoration for their clients.
Additional Information
Quickly and easily restores color and clarity to abused and neglected finishes
Clear coat-safe formula
Cuts fast, but will not scratch
Use by hand or with Dual Action (DA) Polisher
Model# G17216
Reviews
Molliekeeper
Still doesn't help metalic finish.
There is a reason the cars they show in their video advertiseing is not metalic finish. I have always onley owned vhehicals with a metaic finish. This one and any and all otheres I have done some good but not the same as the ones in the videos with special lighting and staegeing. This pictuer was taken close up with a flash. It is what I see as I am driving. Back up 5ft and it is ok but I can't drive My vhical from 5ft away.
VolvoGuyS60
Brought my 2004 Volvo s60 back to life
I love this stuff! It gets all the swirl marks out and even got out a bad mark by the gas tank door. Here are some tips for those who say it's not working. 1. Wash your car first. This is important because you want to get all the dust and dirt off so you don't grind it into the paint. 2. Shake well and use CLEAN and DRY microfiber cloths. Don't use the same one you washed the car with or cleaned the tires with. Using the same one you cleaned the car with will contaminate it and it won't work the way it should. 3. Do one section at a time. Use about a dime to nickel sized drop and polish a section of the car, then use another CLEAN and DRY microfiber cloth to buff it to a mirror shine. 4. Make sure you wax afterwards. This seals the paint and protects it. Below you can see my results.
jriv
Best Compound
Worked better than expected, best compound I'v used in a long time. Love this product.
BobP8888
Best Compound
Wow !!! This is a terrific product easy to use and the results were nothing short of spectacular. I used this product on my daughters 2008 Honda that she had totally neglected over the years, color and shine were virtually nonexistent. Product was very easy to use and required a minimal amount of elbow grease to bring the color and luster of the paint back. I gave the hood trunk and roof two coats to get them back to like new condition. I then followed up with Meguiars NXT wax, which went on and came off very easily; the car now looks like it belongs on a dealer's floor. Hats off to Meguiars for a great product, I would highly recommend this product to anyone..
BuzzFlewhart
Works great on clearcoat
Bought the Ultimate Compound AND the Ultimate Polish for my 2010 Impala upon a recommendation on the internet. I've used Meguiar's products in the past and have been more than satisfied. This combo worked great and well work the price. Easy to us, just follow the directions guys ! ! ! and don't get too far ahead of yourself.