Meguiars G1016 Smooth Surface Clay Kit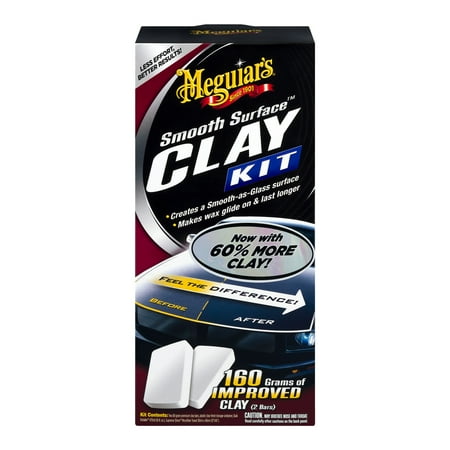 MSRP :

$18.97





Sale :

$18.97

Sold & shipped by Walmart
Product Description

Additional Information

Reviews
Product Description
Eliminate all kinds of contaminants above the surface of your vehicle's paint with the Meguiar's Smooth Surface Clay Kit. This kit helps you to easily maintain the paint on your vehicle, as the non-abrasive clay can effectively clean paint splatters, fallout, environmental contaminants or most anything else to make waxing easier and longer lasting. This Meguiar's Clay Bar Kit comes with two 80-gram clay bars, a 16-oz Quick detailer. A full-sized Supreme Shine Microfiber come included. The kit helps wax glide on and creates a smooth-as-glass surface. The Meguiar's Smooth Surface Clay Kit is a smart choice for those who take pride in their vehicle.
Additional Information

Meguiar's Smooth Surface Clay Kit:
Makes waxing easier and longer lasting
Non-abrasive clay bar safely, easily, and instantly removes paint overspray, fallout, environmental contaminants and more
Meguiar's clay kit includes two individual 80g clay bars, a 16 oz Quik detailer lubricant and a Supreme Shine Microfiber towel
Eliminate water and detergent spots with efficiency
Suitable for use on various surfaces
Useful in a commercial or residential setting
Leaves your car's exterior smooth and glass or mirror-like in appearance
Quick and easy to use
Helps you achieve a professionally detailed look on your vehicle from the convenience of your driveway
Reviews
homeowner
great product
Well like others I was hesitate at first to spend $18-20 dollars on something I've never tried. But even before I bought it I went to all 4 of my cars to check the quality of the finish and noticed the rough touch. So purchased this clay bar product and was really impressed. It really does what it clams. I used it right by the instructions, wash, dry, spray detailer, use clay bar, dry with clean towel provided. One note I did 4 cars on the same weekend with the same 1 clay bar, if you use both sides and knee the clay, and flatten it back out it will continue to work fine. Cars were smooth as the first day I purchased them. Wax application was nice and easy very pleased with the results. I will defiantly use again and will refer to anyone to try it. Pros: worked as advertised plenty of clay bar to use for all 4 of my cars. Cons: maybe more detailer spray but hey I did 4 cars so not much of a con.
Rinzler1337
Great Products for a 350z PPW. Just Like New!
My friend just spent 150$ to have his car professionally detailed. I was wow'ed but I personally did not want to spend so much money to get my Nissan Pike Peaks White 350z. So I looked around for the best reviews on car care products. I ended up spending $41.19 with tax for the following Meguiar's Products: Meguiar's Ultimate Wash and Wax http://www.walmart.com/ip/Meguiar-s-Ultimate-Wash-and-Wax/16550244 Meguiar's Smooth Surface Clay Kit http://www.walmart.com/ip/Meguiar-s-Smooth-Surface-Clay-Kit/16386193 Meguiar's White Wax http://www.walmart.com/ip/Meguiar-s-White-Wax/22083706 Using these products I was able to bring back the new car shine back to my car. I made the mistake of using dish soap as car soap and had water spots and detergent marks all over my car. I first used the Ultimate Wash and Wax to get the car prepped for the Smooth Surface Clay Kit, Once I clay Barred the car I finished off by applying the White Wax which made my car look slightly whiter than before but still maintaining the Pike Peak White look. I am a complete newb when it comes to this kind of stuff and could not believe how easy it was to apply and follow the directions on each product. I loved the fact I was able to use the clay bar micro shammy to remove all the White Wax. I highly recommend these products if you have detergent marks, water marks, or dull looking paint. I must also add the clay bar removed all the oil streaks I had near the underside of the molding. I feel I saved 100$ just by doing it myself and these products. After I was done I still have enough product to clay bar my car one more time, two or three more white wax applications and like 100 more car wash. Hope someone finds this helpful.
HometownHero
Paint as smooth as glass!!
This is the first clay bar kit I've ever used and I wish I had done it sooner! Meguiars makes some awesome products and this clay kit is just one of many. It left my black car smooth to the touch and it left a mirror like finish. After that I waxed it with a Meguiars wax and the car looks amazing.
MajorEvent
Easy to use
Used on both my cars, a 2013 and a 2006. Neither had ever been clayed before. The difference in the surface smoothness between the before and after was noticeable on both cars but especially on the older 2006 where the surface felt a bit rough even after washing before using the clay. I was particularly surprised with the new 2013 car, it cleaned a lot of contaminants from the surface that I didn't expect to find. The older car took a lot longer to complete, about 2 hours, with frequent turning of the clay to keep the clay surface fresh. I did both cars with the clay kit and I have enough Quik Detailer for one more use. I used a lot less wax as a result of the smoother surface too and it looks great.
mikeg13
Box contents = misleading
Item descriptions shows: Includes: 2 x 80 gram clay bars, 16 oz Quick detailer, Supreme Shine Microfiber towel and 6 oz Ultimate Quick Wax There is no Quick Wax in the box.