Meguiars G1016 Smooth Surface Clay Kit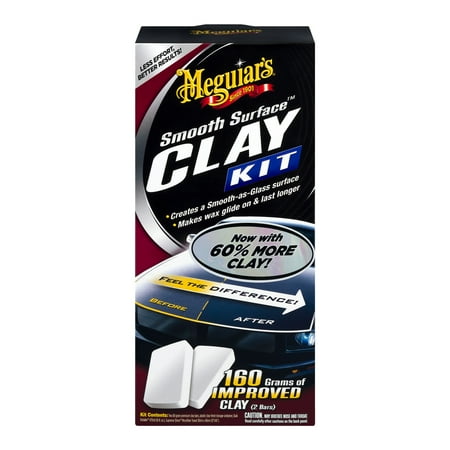 MSRP :

$43.79





Sale :

$13.99

Sold & shipped by Walmart
Product Description

Additional Information

Reviews
Product Description
Eliminate all kinds of contaminants above the surface of your vehicle's paint with the Meguiar's Smooth Surface Clay Kit. This kit helps you to easily maintain the paint on your vehicle, as the non-abrasive clay can effectively clean paint splatters, fallout, environmental contaminants or most anything else to make waxing easier and longer lasting. This Meguiar's Clay Bar Kit comes with two 80-gram clay bars, a 16-oz Quick detailer. A full-sized Supreme Shine Microfiber come included. The kit helps wax glide on and creates a smooth-as-glass surface. The Meguiar's Smooth Surface Clay Kit is a smart choice for those who take pride in their vehicle.
Additional Information

Meguiar's Smooth Surface Clay Kit:
Makes waxing easier and longer lasting
Non-abrasive clay bar safely, easily, and instantly removes paint overspray, fallout, environmental contaminants and more
Meguiar's clay kit includes two individual 80g clay bars, a 16 oz Quik detailer lubricant and a Supreme Shine Microfiber towel
Eliminate water and detergent spots with efficiency
Suitable for use on various surfaces
Useful in a commercial or residential setting
Leaves your car's exterior smooth and glass or mirror-like in appearance
Quick and easy to use
Helps you achieve a professionally detailed look on your vehicle from the convenience of your driveway
Reviews
Shawn
This is not clay!
I've used Meguiars clay bar system over the years and was an excellent product until now. The clay bar is not the same. There is much less actual clay and more of some type of resin. Feels like plastic and hard to break apart. Seems like the formulation has changed for the worse. Does not perform well. I would be returning this and not purchase again.
homeowner
great product
Well like others I was hesitate at first to spend $18-20 dollars on something I've never tried. But even before I bought it I went to all 4 of my cars to check the quality of the finish and noticed the rough touch. So purchased this clay bar product and was really impressed. It really does what it clams. I used it right by the instructions, wash, dry, spray detailer, use clay bar, dry with clean towel provided. One note I did 4 cars on the same weekend with the same 1 clay bar, if you use both sides and knee the clay, and flatten it back out it will continue to work fine. Cars were smooth as the first day I purchased them. Wax application was nice and easy very pleased with the results. I will defiantly use again and will refer to anyone to try it. Pros: worked as advertised plenty of clay bar to use for all 4 of my cars. Cons: maybe more detailer spray but hey I did 4 cars so not much of a con.
kman89
Worked great, love it
Having never used a clay bar before, I was nervous about doing it. Don't be. It's super easy to use if you follow the directions. Leaves a smooth, contaminated free surface that's ready for polish or wax.
Jae
Worked great, love it
I always use this clay bar since it is really great. I have used this on my cars especially the one that was not washed properly for a good while and has a had rough texture on the body until I used this product. After a good moment using the clay bar, the car's body is now smooth to the touch and ready to apply other detailing products. It may not be the best clay bar compared to more professional clay bars but it never let me down.
Aj
Great product
This product was really easy to use and I could really tell the difference when I was done. Great value for the price.