ULTIMATE LIQUID WAX (16OZ)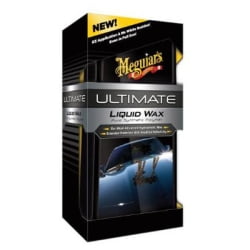 MSRP :

$19.97





Sale :

$15.99

Sold & shipped by Walmart
Product Description

Additional Information

Reviews
Product Description
Protect the look of your vehicle with Meguiar's Ultimate Liquid Wax. This product is a pure synthetic wax that gives you extended protection, and you also won't have to worry about a white residue being left behind on any plastic or trim. It is easy to apply and remove and provides longer results with a shine that you can be proud of. Meguiar's Ultimate Wax gives you more reflectivity in your paint job that you can show off when you drive around town. Take a Saturday afternoon to give your car or truck the attention it deserves with a high-quality wax job.
Additional Information
Meguiar's Ultimate Liquid Wax 16.0 fl oz:
Since 1901
Includes soft foam applicator pad and supreme shine microfiber towel
Meguiar's ultimate wax uses a pure synthetic polymer
Our most advanced hydrophobic wax
Extended protection with amplified reflectivity
Net 1 pint/16 fl oz/473ml
Won't leave any white residue after use
Featuring innovative thin film technology
Pad ensures smooth application
Reviews
jejm1975
Finally a wax that does not turn your bumper white
Yes, it is a bit pricey, but it is worth it. I've seen waxes that claim they don't turn your plastic trim and bumper white, but this one really doesn't. I put it on EVERYTHING, including my grill and the black plastic trim and rubber window seals. Stayed clear and went on easily and the excess came off easily too. I used it in my new car and there were some paint markings on the inside lip of the rear wheel wells. I tried to wash the marker off and most of it came off, but it left a faint blue smudge. This wax, when I applied it to the area, actually remove the paint marker smudge completely! Can't say how long it lasts yet, it has only been two weeks.
ASUSJOE
Money well spent
I'm a car guy. Let me rephrase that – I'm a shiny car guy. I have tried every bottle of car polish, wax and compound you can name. Most people now days have never even waxed their car outside of picking it as a spray option when going throught the automatic wash, but I was brought up that you waxed your car 3 times a year. I am also a guy that likes to test things for myself, so when I got Meguiar's Ultimate Wax I immediately went to testing. I stopped by my buddies scrap yard and borrowed a car hood from a 91' Corsica. I did 4 squares, the product in an orange bottle that says it lasts for a year, Meguiar's Ultimate, a bottle of the most expensive wax you can buy with a Viking on it, and a bottle all the way from, well, a Beach Boys song…you know the brands. Anyway, I waxed, buffed, waxed and buffed. First impression, Meguiar's left an equal shine to the stuff from California. Both were better than the orange bottle and the Viking bottle. Then I took it out to my farm and put it behind the barn on top of the roof of an out-building. Then I forgot about it for 3 months. After three months Meguiar's had the best shine. And the real test to me, when I sprayed it with a hose the Meguiar's and the orange bottle had the best beading effect. The Viking looked like it had never been applied and the other one, meh, it was blotchy at best. These are based on my own personal experience. So with the combination of best initial shine and the best beading effect after 3 months on a roof…my pick is Meguiar's Ultimate. Next time I see a newfangled wax or polish I'll test that against this product, but for now, I'm recommending it to everyone.
Bx4ever
The Best Wax I Ever Used
I waited a month to post this review just to truly test the lasting power of this product. We are in Spring mode here in the northeast and dealing with many rain storms, wind and pollen my car looks like I washed just yesterday. The polish was very easy to apply and remove with the supplied cloth. The white residue left by other wax brands always made my other vehicles look bad but this wax leaves no stain on the plastic. If you enjoy polishing your vehicle you will not be disappointed.
InOZ
Best wax I've used!! Period!!
I am a diligent car care guy. I've used various products over the years. Just used Meguiar's Ultimate Liquid Car Wax and it is without a doubt, the best car wax I've used. Very easy to put on and take off and it leaves a great wet deep shine. I have an 11 year year old Volvo and the paint and finish looks showroom new with this product. Hope it's durable and lasts through the Winter months.
JosephVH
Great product.
Easy to apply and lasts a long time. One of the best car waxes on the market!