BIC Silky Touch Women's 2 Blade Disposable Razor, 10-Pack, Assorted Colors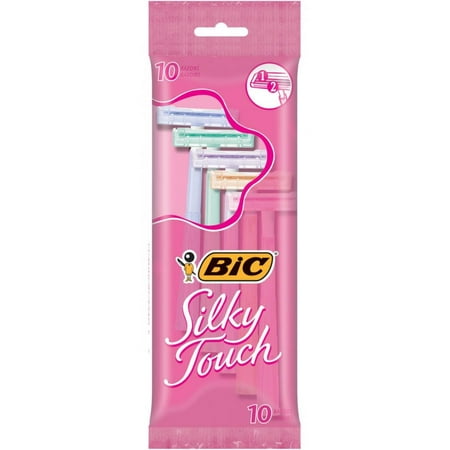 MSRP :

$3.29





Sale :

$2.97

Sold & shipped by Walmart
Product Description

Additional Information

Reviews
Product Description
These Bic Silky Touch Twin Select Shaver have a slim head and a longer, tapered handle for more control. They come in a pack of 10 and feature pastel colors. These disposable shavers are easy to use and have a twin blade design.
Additional Information
BIC Silky Touch Women's Disposable Razor, 10 Count:
Twin blades deliver a close and comfortable shave
Slim head and longer, tapered handle for added shave control
Handles feature pretty, translucent pastel colors
Convenient disposable razors with snap-on covers slip easily into a gym bag or toiletry kit for quick touch-ups
Includes 10 women's disposable razors in each package
Reviews
Priswifey
Great razor
After trying the Bic razor compared to my other razors I would have to say that it does a pretty good job. I usually use a blade with three blades and this one actually compared really close to it. The razor Glides against my skin smoothly without leaving any Knicks and it took off most of my hairs on one passage. The handle was easy-to-use especially when I would use it over my knees or under my arms. Prior to being able to use this razor I had seen it on the store shelves but I never actually tried it so I was really glad to be able to actually use it my own self and give it a try. I would definitely recommend this razor to friends and I would definitely allow my teenage daughters to use it. I always worry about razors that will Nick my daughter's skin because they have very sensitive skin but this is one that I can honestly say would not Nick them and would not leave razor burn. I should also add that I was able to use this razor while on vacation and I had no worries about it being too bulky in my bag Great little twin razor. [This review was collected as part of a promotion.]
westiegurl
Simply Perfect
BIC Silky Touch Disposable Razor is proof that you don't need a fancy, bells and whistles overloaded razor to have a close, nick-free shaving experience. The Silky Touch razor is a simple, classic design with just the right touch of modernistic, dare I say, aerodynamic styling. The handle of this razor gracefully tapers off to meet the perfectly down-positioned neck which in turn is crowned by a just the right size razor head. The blissfully light weight of the BIC Silky Touch Disposable Razor provides an easy fit in one's hand allowing for seamless,gentle, nick-free pivoting and gliding over your skin. I've had and used the bells and whistles-type disposable razors before and found them to be too bulky, awkward and clumsy to deliver that must-have close, nick-free, gentle shave we all want. I don't know how I allowed this gem of a razor to escape my orbit before, but now that I am happily aware of its existence and performance, I have a new, favorite razor and will be buying it regularly and encouraging my friends and family to do so, as well! BIC Silky Touch Disposable Razor is simply perfect. [This review was collected as part of a promotion.]
mjstkapbt
Did the job ok
I tried Bic Silky Touch Disposable Razors and they did their job. Not having a lubrication strip left me with razor Brun though. I'm not sure why they cost so much either. I can get three times as many no-brand razors at the dollar store for less than the cost of two of these. Super basic razor with no frills. [This review was collected as part of a promotion.]
Deekat10
Love!!
I am so happy with this razor! I've tried others but I always end up with nicks and razor burn. Not worth these!!! After using my legs were silky smooth and looked amazing!! I will be only buying these and will recommend to everyone!!! [This review was collected as part of a promotion.]
Autumn
It was ok
To me, I didn't really find any difference between this BIC Silky Touch disposable razor and other brands of disposable ones. I actually got just as many nicks from this razor as I have from other cheaper versions. I wouldn't buy it. [This review was collected as part of a promotion.]