Purina Tidy Cats 4-in-1 Strength Clumping Cat Litter - 35 lb. Pail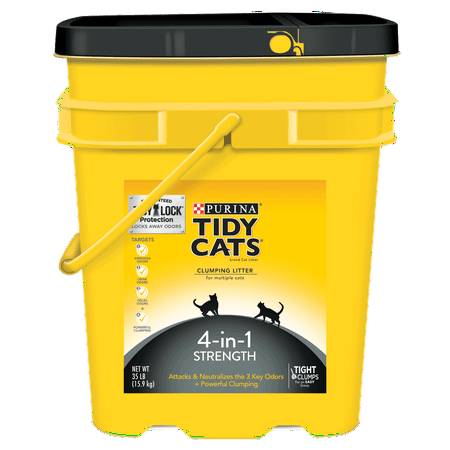 Sale :

$14.69

Sold & shipped by Walmart
Product Description

Additional Information

Reviews
Product Description
Tidy Cats 4-in-1 Strength In the litter box world, there are four offenders of clean — odors from urine, feces and ammonia and the mess of weak clumps. And 4-in-1 Strength knows just what it takes to put them in their place. With advanced odor control and powerful clumping, that quad-trocious mess is ours. And a fresh, clean home...well, it's all yours.
Additional Information
Attacks and neutralizes ammonia, urine and fecal odors
Powerful clumping action for easy cleanup
Locks in moisture to keep cats dry and comfortable
Offers advanced odor control to keep your home smelling fresh
Formulated for multiple cats
Reviews
Barb
Bella loves it
This is the only cat litter our Bella will use . I have tried everything and this is the one.
JPrice
Poor. Quality Doesn't hold up to orders urin
Gives odor does not cover or absorb odors doesn't work as well as arm and hammer Multi-cat climbs well but does not control odders well
Alisha
Clumps Break Up!
We use a lot of Purina products, our cats food, our dogs food etc, and for the most part are happy. This cat litter was a HUGE disappointment! We we're using freshstep and I thought I wasn't happy boy was I wrong, I actually miss it! This Tidy cat leaves little clumps of broken up urine all over the box. We clean our litter box at least 2x's a day and my house still smells like we own 2 cats. It does NOT block odor. I love leaving good reviews when I love something, and don't often leave a bad review unless a product was really bad, THIS WAS REALLY BAD! Purina please fix this issue. Its obviously a problem with most of your cat litter products from what I see by online reviews. Not only would I NOT recommend it, I sent my mom a message (she recommended it to me) asking her how she even uses this and recommended to her to switch to Freshstep. Now I understand why she also adds MiMi crystal cat litter to her boxes along with the Tidy cat, its to help with the smell.
SundripJournals
Solid clump, less dust, less tracking
I have a rather large cat so I always purchase multi cat litter. Some litters clump better than others, this one clumps nicely and doesn't fall apart as much during cleaning. I clean daily. There is no odor in my home. I didn't detect a perfumes from the litter either. It still gets tracked outside the box but even that has decreased significantly. When I've changed litter brands in the past she has gotten an eye irritant every single time. It is noteworthy that this change of litter didn't have so much dust that she got it in her eyes. I will continue to purchase this product.
kraesmom
AWFUL stench!!!
I used to be a faithful tidy cats purchaser. About a year and a half ago, it just became unusable. I'm not sure if they changed ingredients or sources or what happened, but it has been awful since. The clumps don't stay clumped, they fall apart, there's a cloud of dust...I quit buying tidy cats. I noticed this "NEW" Tidy Cats 4-in-1 a couple of weeks ago and thought maybe they realized their error and were correcting it with a new formulation. WRONG!!! Not only did they not correct the clumping/dust issues, they added the most abominable scent ever. It smells like Aunt Ida's house after she went a bit batty and let herself go. The urine smell with its overlying heavy perfume is overpowering. It triggered asthma attacks and the smell would hit me the second I opened the front door. It was so bad that I just threw the rest of the container away. I will never trust Tidy Cats again. Run Away. Run Away FAST!