Purina Tidy Cats Glade Tough Odor Solutions Clear Springs Clumping Cat Litter, 20-lb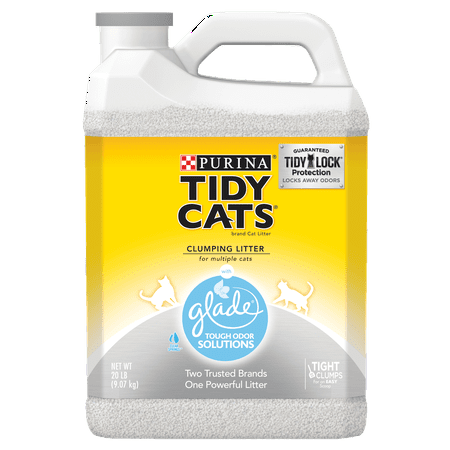 MSRP :

$41.99





Sale :

$7.98

Sold & shipped by Walmart
Product Description

Additional Information

Reviews
Product Description
Your Perfect Match Against Odor. What's better than one trusted name in odor control? Two. That's why Tidy Cats(R) and Glade(R) Tough Odor Solutions have teamed up to fight odors and leave behind a light, welcoming fragrance. And with Odor Erasers(R) in the mix to neutralize ammonia and tackle feces and urine odors, unruly smells don't stand a chance.
Additional Information
Two trusted brands, one powerful litter
Powerful odor control leaves litter boxes fresh and inviting
Locks in moisture to keep cats dry and comfortable
Forms strong, tight clumps for easy cleanup
Glade Tough Odor Solutions technology fights strong smells
Reviews
PaulieM67
Does the trick
I like that it keeps litter box smelling good for quite awhile. My cats seem to like the texture of the clumping brand better than the regular litter
thesweepster
Tidy Cat is Molli and Joli favorite litter
I have a robot cat machine which requires scoopable little. I like tidy cats because it does exactly that. I have never been disappointed with this product and have used a few other brands in the past. As soon as my cats uses the litter box the product starts to soak up and make a clump which is very easy to discard. The new febreeze smell isn't really that different to me than the other scents Tidy Cat produces. I think the standard scent is fine and I wouldn't waste time trying to find a certain scent. This was my first online purchase of this product which was great. I simply walked to the customer service counter where I showed them my receipt. The employees at Walmart loaded my cart for me (I didn't have to pick it up) and I loaded it in the car. Buying the 20lb package is not very light and I wouldn't buy any bigger size because of this. The fact that I didn't have to hunt around the store and that they loaded it was worth the shopping experience. vickistoughlove.com
Jasmin
Not worth it!
I was using this for about a year and a half. I recently switched to Fresh Step with Febreeze. I am so glad I did! First off, I have a pretty large room and I have the litter box closer to my closet. I can you not, every day I came home I would smell this awful smell! I dealt with this for months. I cleaned out his litter box put new litter (this one) and it still smelled after my cat would do his business. The smell would linger into my closet and make my clothes smell and it would make my carpet stink too! I couldn't take it anymore so a few days ago I switched to the Fresh Step and the smell is GONE! I swear this stuff does not work and to mention I had traces of litter on my carpet every time my cat would go to the bathroom. This would then cause my room to stink even more. The "clumping" would fall apart and it was just scattered everywhere. This cat litter is pretty expensive too. I don't recommend this product at all!
crappy
Sorry littler won't buy it again Dont clump
crap wont buy again does not clump has a great smell I give it that if I could give zero star I would worst litter I normally use a
Paulinknoxville
Best delivered item!
Heavy items like cat litter delivered to your front door is awesome!! This litter clumps very tight and easy to clean out and with a touch of Glade it rocks!