Purina Tidy Cats Breeze Cat Litter Box System Starter Kit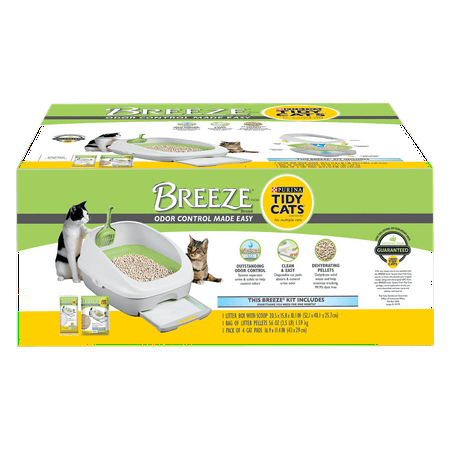 MSRP :

$111.99





Sale :

$32.99

Sold & shipped by Walmart
Product Description

Additional Information

Reviews
Product Description
How It Works. Instead of traditional clay litter, the BREEZE(R) Litter System uses specially designed, cat-friendly litter pellets that are 99.6% dust free and anti-tracking. The pellets allow urine to pass through, while leaving solid waste on top for quick, easy removal. The urine is quickly absorbed by the odor-controlling pad.

Litter System Contains: 1 Litter Box With Scoop 20.3 x 15.2 x 11.8 in. (51.7cm x 38.7cm x 30.1cm), 1 Bag of Litter Pellets 56 oz. (3.5 lb) 1.59kg, 4 Cat Pads 16.9 x11.4 in. (43 x 29cm).

Litter pellets and cat pad refills also sold separately.
Additional Information
All-in-one litter system is easy to maintain
Ammonia Blocker is guaranteed to prevent ammonia odor for 7 days for one cat
Absorbent litter pads for mess-free cleanup
Filtering litter pellets separate solid waste for easy removal
Anit-tracking litter pellets minimize messes around each litter box
Reviews
Zoe
Very good!
No more dust!!
fl03
Love it!
Im the owner of three cats and was always searching for a good cat box system that was clean/smell free. Sounds impossible with three, I know, however this Breeze System really does the trick! I bought the starter kit to try it out after reading several reviews. My cats all took to it very well right off the bat. They seemed to like the pellets instead of the litter that got everywhere. I was a little bit nervous about the price to use the pellets and pads every month but now after having it for 6 months, it takes the place of buying litter. I was buying litter so often and it really started to add up I like the idea of the pads that absorb the urine because it resolves the smell of litter soaked in it. The pellets make it easy to scoop daily. I change the pad every two days and there is no odor, however the one time I did wait three days I could smell the pad. Its very easy to remove the tray with the pad and dump it into the trash.The pellets can be a little loud when cat is using the box and if they come out of the box onto the floor they really hurt when you step on them! However i will take those two for only having to change the litter once a month! The pellets don't hold any odor and keep it smelling clean.
petlover68
Diarrhea can be a problem!!!!!!
This system is great as long as your cat does NOT get Diarrhea!!! My cat recently had a bad case for the first time and oh what a mess! I had just replaced the pellets when this happened. The pellets were NOT designed to be washed off. I called the company and they could NOT help me. They told me it was not designed for a cat with Diarrhea! I explained that my cat does not always have it, just first case of it and they did NOT know what to tell me. So my advice would be... Buy the system it does work great. If you have more than one cat, do not buy. I would Keep regular litter as a emergency back up just in case your cat gets Diarrhea. Other than that, I give the system 5 stars.
K1llerteddybear
Fantastic!!
I had an adult cat that was VERY picky about where she went potty at, and she took to this right away. I love the easy clean up and near odorlessness of the system. It honestly does everything it claims to. I went through a lot of money and time before finally opting for the Tidy Cat Breeze System. I never looked back. However, I have two 6 week old kittens right now and they can't use the system due to their size. This is definitely a litter box meant for 3 month and up cats. For the time being, I am using Desert's Sand litter, but once they are old enough I plan to ease them into the Breeze system. Saves me time, money, and a lot of headaches.
K1llerteddybear
TIRED OF SMELLING CAT URINE BUY THIS SYSTEM!
I seriously wish I had known about this system years ago! I was so completely fed up with the smell of cat urine, cat litter tracked thru my house, and the dust plume that came with every liter change (not to mention hustling 20lbs of liter up 2 flights up stairs). None of the other cat litters would kill the smell completely and they are all messy, dusty and would clump on my cats feet. With the Breeze system I NO longer have to deal with sandy cat liter tracked all thru my house, or a stinky litter box. I no longer have to wash the hard clumped cat urine litter combo off my cats paws. LIFE IS SO GOOD thanks to the Breeze system. I LOVE this new liter box!!! I bought 2 systems, and opposite of the instructions I took my 2 basic liter boxes away immediately! My cats are all older than 7 years old (2 males & 1 female) and they transitioned with no problems whatsoever! Do yourself a favor and buy these litter boxes you will not be sorry! This system is worth EVERY PENNY and so much more sanitary and healthy for a household. BTW... the pictures are pictures of my female cat's Breeze box and her current pad which was installed on 4-9, today's date is 4-19. Her pad is 10 days old and still has no smell. We're happy campers over here, you should join us :)