Purina Tidy Cats Breeze Pad Refills For Multi-Cats, 4 Ct.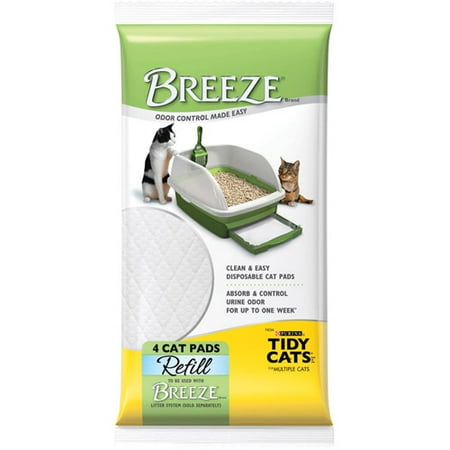 MSRP :

$44.99





Sale :

$5.36

Sold & shipped by Walmart
Product Description

Additional Information

Reviews
Product Description
Additional Information
Clean & easy disposable cat pads
Absorb & control odor for up to one week (or 3 days for 2 cats)
Unscented
To be used with the Breeze Litter System, sold separately
Reviews
3CATRESCUE
BEST CAT BOX EVER
This is by far the VERY BEST system for cats and their "by-products." We have three indoor cats and the Breeze has virtually eliminated odor AND dust. The only problem is local Wal-Marts now do not carry these items altho they did for a while. We have three Breeze "systems" and the biggest problem is finding pads, with a slightly less frantic problem finding pellets. Interestingly enough, my sister in Florida has NO problem getting either in her local Wal-Mart. Also, the price varies on both the pellets and the pads, but specifically the pads -- from this good price at Wal-Mart at under $5 for a package of four pads to OVER $10 at package at a local pet supply store! Too, we were just charged over $11 per package (including postage and packaging) for having them sent from an on-line pet supply company! From now on, Wal-Mart PLEASE KEEP THEM STOCKED IN LOCAL ATLANTA METRO STORES, or at least don't EVER let them disappear on line! Tidy Cat should bring the price down significantly so that those who think this is expensive might at least TRY it! It's worth every penny not to have mainly the odor, and then dust and clumps of litter clay to discard or have scattered around. Congratulations to Tidy Cat for inventing this marvel and to Wal-Mart for carrying it, at least for SOME of us! :-)
jaime024
BEST cat box EVER!!!
After years of wiping litter box sand off the bottom of my feet, it has been awesome to finally find a litter box system that eliminates that problem AND actually works!! We have two cats and two boxes. After the initial cost of buying the boxes, it costs us about the same to use the Breeze system as it did to fill the boxes with the sand type litter. There's much less mess, they don't stink, and they are SO much easier to take care of. There's only one or two Wal-Marts that carry the pellets and the pads so I worry all the time that they will stop selling it. I hope it doesn't happen, because it truly is a great system!!
kimme
No litter tracked
I love the Breeze litter system. Once my cat got use to it(about 2 days) it's been great. The pads are so easy to change and really hold the smell. Plus no litter tracked all over the house.
Pupsie
No litter tracked
This is the best cat litter on the market. No smell, no dust and reasonably priced. I have 2 cats and 1 box, I change the litter once a month and the pads once a week. Very happy with it.
JBBooks
No more smell
I would recommend the Tidy Cat Breeze cat litter system to anyone. The pads hold the liquid waste much like the pad does under a piece of meat you buy in the meat department of your grocery store. You simple lift out the pad by the edges and replace it with another one. There is no touching of the liquid but best of all there is no more ammonia smell in my house and the tracking of the cat litter has practically gone away. Yes, there are a "few" pieces of the litter still around the house but not like with having the kitty litter stuff. The instructions that came with the litter system say that you should replace the litter pellets once a month, I replace them on an as needed basis, usually after 6 or more months. The pad needs to be replaced at least once a week for those who have just one cat, more than one cat will need a replacement at least twice a week. I love the Breeze Cat cat litter system.