Purina Tidy Cats 24/7 Performance for Multiple Cats Non-Clumping Cat Litter, 30-lb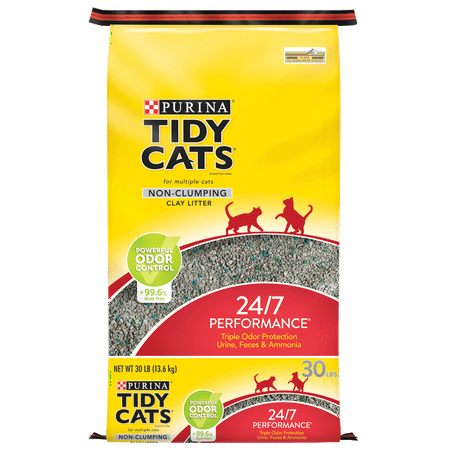 Sale :

$8.69

Sold & shipped by Walmart
Product Description

Additional Information

Reviews
Product Description
You want a clean that lasts. And so does Tidy Cats 24/7 Performance. With triple odor protection, plus a form so simple you barely have to think about it for nearly a week, it gives "continuous clean" a whole new ring.
Additional Information
Extended-release deodorizing system for a fresh, clean scent
Around-the-clock odor control
Designed to accommodate multiple cats
Non-clumping formula for easy cleanup
Great absorption to keep your cats dry and comfortable
Reviews
Rena1961
Great product
Tidy Cat has always been my one and only litter. It does as it says. It last long, controlling the usual cat waste. Having 2 cats for the last 17 years this product is tried and true.
Rena1961
NO CLUMPING 24/7
PURINA TIDY CATS LITTER IS THE BEST. IT CONTROLS ODOR AND MY CATS AND MY RABBITS USE IT. THANK YOU PURINA!!!
mrblueu
Mostly Dust Free
I've used this cat litter for many years. I don't buy 'clumping' litter and I don't sift or scoop. I use cat litter box liners and I change the bag and all every few days. Primarily what I appreciate about this litter is the fact it is mostly dust free. Although I do use tracking mats there is always some that get on the floor but that comes with having a house cat. I keep the litter box in the utility room that has ceramic floor, easy to sweep, vacuum, and mop. I don't know about everyone else but I don't want to spend a fortune on cat litter, something that is consistently tossed out. At the same token, I want a good cat litter that won't choke my cat to death and dirty up the house. So altho I don't have multiple cats in the house (only one), this is primarily what I buy.
Doc
Mostly Dust Free
It's like sand. It's not non clumping litter. It's awful to clean the litter box. And I'm being charged more. Hate it. I cleaned out the box no later than 3 days and it's like mud.
kmaccoy
Mostly Dust Free
I have four cats and you would not know it due to my tidy cats litter. EXCELLENT product.