Go & Grow by Similac Milk-Based Toddler Drink, Powder, 1.5 lb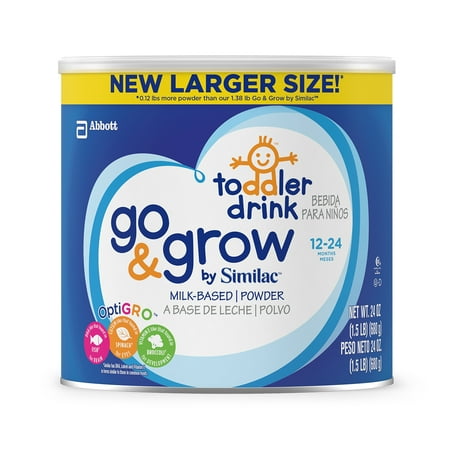 Sale :

$18.98

Sold & shipped by Walmart
Product Description

Additional Information

Reviews
Product Description
Go & Grow by Similac, For Helping Balance Toddler's Diet. Now that your baby is growing bigger and eating more table food, it can be hard to tell if she is getting the nutrition she needs. Go & Grow by Similac has over 25 essential vitamins and minerals to support growth and development.
Additional Information
Similac is the #1 infant formula brand chosen by moms* and the #1 brand fed in hospitals (*Total US infant formula all outlets as of 6/6/15, Nielsen Data)
Features OptiGRO, our exclusive blend of DHA, Lutein, and Vitamin E; Nutrition beyond DHA alone
Designed to support brain, eye, and physical development
Complement to toddler nutrition
Reviews
mrob0905
Great product for my stubborn eater
My 13 month has suddenly stopped eating (he still eats of course but is stubborn about it) and he needed a little extra help. His pediatrician recommended the Go and Grow toddler drink to make up for what he's missing out on at meal time. I saw in a lot of the reviews that people didn't understand how to measure the powder/water ratio. If I could attach a picture I would. The can says 1/3 cup to 8oz of water, but it also says 1/3 cup = 4 scoops. So that comes out to 1 scoop per 2oz of water, just like with infant formula. It's a great product. I never thought we'd need it, but we do and it's a great help!
Nuyeny
Amazing
We started out with the newborn formula and he did so well, to the point that everyone would always say " u can tell that is one breast feed baby" I would smile and just keep walking because I knew that my son only had 2 days work of breast milk and the rest was similar formula. Once he turn 13 months I realize that it was time to transition to regular milk but that did not go so well. So we looked up other similar products and realized that they had a toddler drink ( thank God) so we move from baby formula into grow and go and it has done wonders for him ... now we often get " he is so chunky and healthy" makes me feel like I have done something well, he loves his milk so much that he drinks 4 bottles and he is only 16 months yet docs say he is one healthy baby. Thanks similac for making one amazing product. [This review was collected as part of a promotion.]
Sarahrose4u
"The Good Stuff"
No problems here! Would recommend
Sarahrose4u
Worst decision ever.
My son was doing great on his infant milk. I decided to switch him over and he has the runs constantly not to mention a horrible diaper rash.
sandy2011
This product is good for baby from 12 months. I am so confused about the direction.
I love similac products. it is a very great brand. But for this product, the instruction is not clear. it shows 1/3 cup powder with 8OZ water. I am not sure the 1/3 cup is for the spoon in the powder or 1/3 cup of the normal size(43g). It really confused me. And I saw the in here. the 1/3 cup means 35g. how does this calculate. Thank you.