Similac Pro-Sensitive Infant Formula with 2'-FL Human Milk Oligosaccharide (HMO) for Immune Support, Ready to Feed, 32 fl oz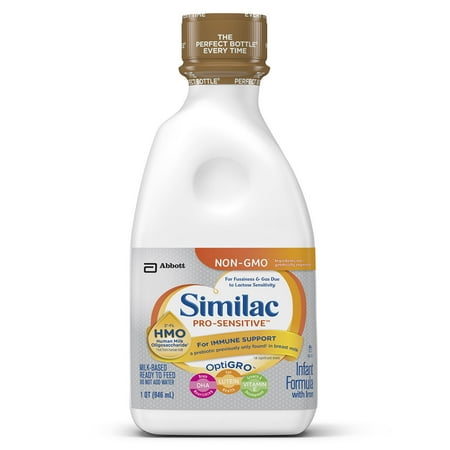 MSRP :

$10.98





Sale :

$9.86

Sold & shipped by Walmart
Product Description

Additional Information

Reviews
Product Description
Many babies are fussy and gassy at times. But if it seems your baby has more frequent fussiness and gas, it could be a sign that he might need another baby formula. You can trust Similac Sensitive OptiGRO Non-GMO Milk-Based Ready to Feed Infant Formula to provide a strong start for your baby's developing digestive system.
Additional Information
Similac Pro-Advance and Pro-Sensitive infant formulas are the first and only formulas with 2'-FL Human Milk Oligosaccharide (HMO)*, an immune nourishing prebiotic previously only found** in breast milk (*Not from human milk **At significant levels)
2'FL HMO helps support your baby's developing immune system by closing multiple gaps in immune function* between formula-fed and breast-fed infants (*As measured in blood samples in a clinical study)
All ingredients are carefully selected to meet our high standards and are Non-GMO* (*Ingredients not genetically engineered)
Designed for fussiness and gas due to lactose sensitivty. Not for infants or children with galactosemia. Complete nutrition for your baby's first year from the #1 brand chosen by moms* and the #1 brand fed in hospitals (*Total US infant formula all outlets as of 12/31/16, Nielsen data)
Reviews
favoritephone
Great for traveling with a child
We have used the Similac line of baby products. The reason I have given this only 4 stars is that our little girl spits up after feedings with the liquid. I'm not sure why, but when we are home, we mix our own. We used Similac Sensitve Dry Formula and love it. I will say that the liquid is great when we travel, one bottle vs water, and dry formula container. I also like the fact that Similac uses Non GMO Milk. With all the additives in our foods today, why not start your child as natural as possible. I would recommend Similac formulas. Please try both forms, it might just be my little girl who has a problem with spitting up after feeding.
s1sterjunus
Similac Sensitive Non-GMO Feed Infant Formula
This similac formula is for those special babies with tender a stomach, due to fussiness and gas due to lactose sensitivity. My youngest granddaughter has this and this is the main formula she can tolerate. This is infant formula fortified with Iron, non-gmo and with added opti-gro combination of DHA, Lutein, and Vitamin E. All contribute to the health of your baby who suffers through gassy stomach and fussiness due to tummy hurting. This type of similac is highly recommended for these babies with this problem and I can verify that it does help my 6 month old granddaughter. This comes ready to serve, do not warm in microwave, as it might heat it too hot. The container holds 1 qt of liquid formula, all you need to do is shake it while in bottle, twist cap off and use cap to puncture the seal, pour into bottle and warm for the baby. Once bottle is opened it needs to be refrigerated and used within a time of 48 hours. If any happens to be left over, it needs to be poured out. This formula is made by Abbott Nutrition, Abbott Laboratories in Columbus, OH, USA. The formula is gluten free. I highly recommend this formula if your child has the lactose sensitivity of regular formula or milk. It is made for stage one of infancy, birth - 12 months of age.
Vicmad
Great price
Worked great for the grand kid
Mandy
Baby loves it
Switched to this after using Organic powder. My baby was grunting and gassy and not doing well with the powder. Once we switched I seen the reliefs in one day.
chrisandsherry
It is Easy to Use! Baby Does Not Like It!
We took this with us to my in laws for the day. Our baby is still being breastfed, but, we have to supplement breast milk with this Similac only, in powder form. This sensitive type is perfect for breastfed babies, in powder form. First of all, this bottle frustrated me, because, I could not get it opened without a knife. I tried with my nails and teeth. The foil and then plastic under the foil makes it very hard to be an on the go option for a baby. I love the fact that it is pre-made, but, if you can not get into the bottle, then what good is it to you? Our little man seems to not like the pre-made type. I ended up having to sneak off and breast feed him constantly, because he did not care for it. He loves the powder version of this formula. You can tell a difference. The powder form is more white. The pre-made form is dark yellow. Apparently it taste different as well. I think Similac should work on their ease of getting into the bottle and maybe try to make them taste alike. I recommend this if your baby does not mind the taste difference. I actually trust Similac. They make great formulas for nursing mothers who need to supplement their milk. When we add baby oatmeal with the powder form of this formula, he poops with ease!